Fix: Driver Update Loop after Windows 10 Version 2004
Jul. 10, 2020 / Updated by Bessie Shaw to Windows Driver Solutions
"I have installed the Windows 10 version 2004 update and now get the following message 'A current driver on your PC may be better than the driver we're trying to install. We'll keep trying to install.' The Intel driver version 26.20.100.7325, which is trying to install, has already been loaded with the Window 10 version 2004 update. So why does the update keep trying to load it again? How do Microsoft intend to resolve this situation? Thanks." - Quoted from Microsoft Community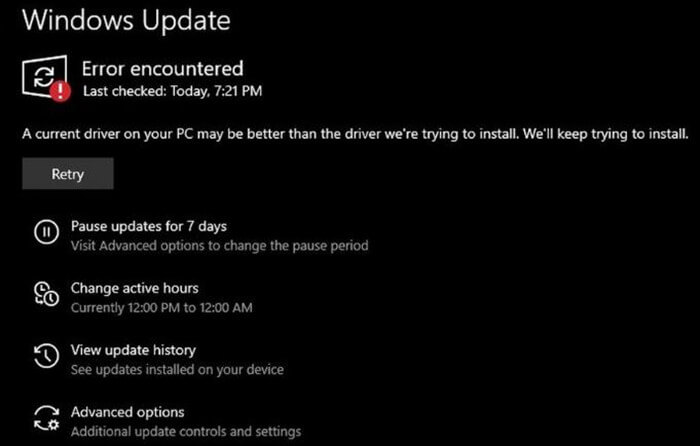 According to Microsoft's design, Windows 10 will automatically retrieve and update drivers via Windows Update by default. Driver update loop is a common and frustrating issue with Windows 10, which could be caused by Windows Update cache or a bug with the installed drivers. It has been around since the early days of Windows 10 version 2004 (also known as Windows 10 May 2020 Update). More users have reported this issue over the last few days.
Unlike the driver installation loop problem that occurred earlier, it seems that Microsoft is unable to deal with the new version and the old version of the driver this time. As a result, the Windows system will continue to try to perform driver installation, especially for graphics drivers. During the installation process of the graphics driver, the screen may briefly go black, which interrupts the work of some users.
If you are one of the users who are affected by the driver update loop issue after Windows 10 version 2004, don't worry. You can try to get rid of it by disabling driver updates in Windows Update. Here are the detailed steps for your reference.
How to Disable Driver Updates in Windows Update in Windows 10
There are several ways to do this. Just choose one of them.
Method 1. Disable driver updates in Windows Update via Local Group Policy Editor
To troubleshoot the driver update loop issue, this is the first method you can try. Take these steps:
Step 1. Press the Windows and R keys simultaneously to open Run.
Step 2. Type "gpedit.msc" into the Run dialog box and hit Enter to open Local Group Policy Editor.
Step 3. Navigate to: Computer Configuration > Administrative Templates > Windows Components > Windows Update.
Step 4. Double click on the "Do not include drivers with Windows Updates" policy in the right pane.
Step 5. Select Enabled and click on OK to save the change.
Step 6. Close Local Group Policy Editor and check if the driver update loop issue is gone.
Method 2. Disable driver updates in Windows Update via Driver Talent
If method 1 doesn't work or if you think it is too complicated, this method would be your saver. It is the easiest and fastest way to disable driver updates in Windows Update by far. Do as follows.
Step 1. Click the Download Now button below to get Driver Talent directly.
Step 2. Launch Driver Talent and get to the Settings section. Then click on Drivers.
Step 3. Check the "Exclude driver update from windows update" option.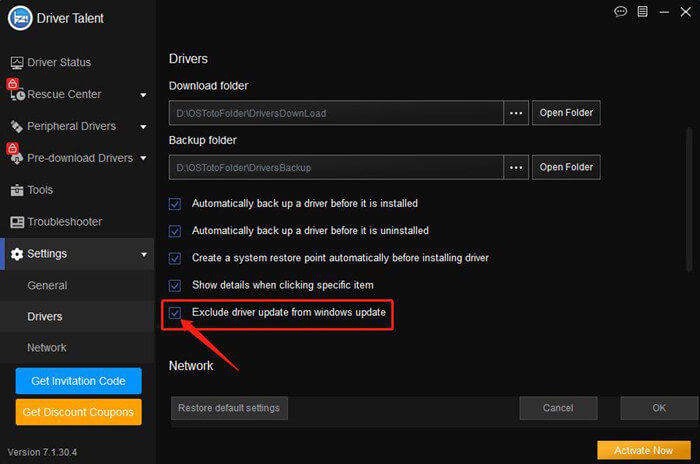 Pretty simple, huh? Please note that this option only disables automatic driver updates for Windows 10 and the Windows Update feature will not be affected.
In addition, Driver Talent is a professional and powerful Windows driver updater tool that can help you quickly download and update all drivers to keep your computer running properly. After disabling the automatic driver update function with Windows Update, it is highly recommended that you keep Driver Talent on the computer to better manage your device drivers.
That's it. If you have any questions about how to fix the driver update loop issue after Windows 10 version 2004, please leave your comments below. Any advice or comments would be greatly appreciated.
Recommended Download