Black Screen on Windows 10 Issue – Top 7 Ways to Fix Windows 10 Black Screen
Oct. 18, 2017 / Updated by Bessie Shaw to Windows 10
Symptom: Stuck in Black Screen during Windows 10 Install or after Windows 10 Upgrade
It's a very nerve-wracking but also hot issue that your computer is stuck on a black screen after Windows 10 upgrade. We've received lots of reports about this Windows 10 black screen of death issue, like
"updating from 8.1 to 10 from the ISO and after a few reboots it just hangs at a black screen",
"downloading Windows 10 for a good few hours, a black screen with Windows 10.0.10240 at the top and the prompt X:\Windows\System32> with a flashing icon afterwards",
"black screen when booting my laptop after upgrading to Windows 10",
"Windows 10 black screen during install",
"Black screen after Windows 10 upgrade",
"Windows 10 shows black screen after sleep",
"Black screen when booting my computer after Windows 10 update",
"Windows 10 black screen with cursor after login"
"Windows 10 black screen with a spinning circle or white dots"
…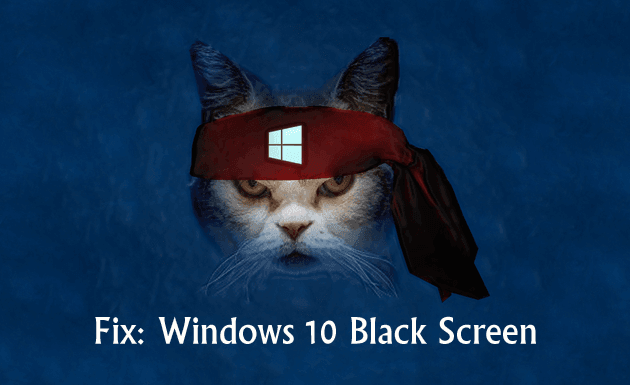 In fact, black screen is not a unique error in Windows 10. You may encounter this black screen or even blue screen of death when installing Windows 10, updating from Windows 8.1, Windows 8 or Windows 7. Luckily, there are workable solutions to fix it. Below are the top 7 ways we've summed up for you. Try any of the solutions when your computer is hang or frozen in black screen during Windows 10 install or after Windows 10 update.
See Also: Free Windows 10 Update - How to Successfully Update to Windows 10
Updated: "How can I get into the Windows screen to do all the tips you mentioned? I can't see anything but just a black screen or a screen with a stupid blue window frozen after Windows 10 update!" ---- Since we've received many messages like this, we'd like to detail more to help you out.
Black screen after Windows 10 update is caused by many issues. You need to enter your Windows to fix it with the top 7 tips below.
See Also:
First of all, you can try Safe Mode to enter the Windows system if you've previously set it up on your system. Refer to the fourth tip (Top 4) to enter Safe Mode. Don't miss anything.

Important: If you still can't enter Safe Mode and get stuck in the black screen or blue screen, the only thing you can do is to boot your computer from the installation CD or DVD or USB flash drive, and then reinstall Windows 10. See How to Start Windows from a CD or DVD.
Top 7 Solutions to Fix Windows 10 Black Screen during Install or after Update
All the solutions can help to fix black screen on Windows 10 for all laptops, desktop PCs, or notebook computers, including Asus, Acer, Dell, Lenovo, HP, ThinkPad, Toshiba, IBM, Sony, Gateway, Samsung, etc.
Top 1. Update the Display Driver
If the display driver is outdated or not compatible with Windows 10, it may cause the Windows 10 black screen issue after update. Some users reported that they had installed the correct display driver but still didn't work. This is because the driver installed from OEM or display card manufacturers can't work properly in Windows 10. To fix this, you can try Driver Talent (formerly called DriveTheLife). It helps you to check if the video driver is outdated or incompatible, and then intelligently install the official and also the best-matched video driver for Windows 10 to work properly.
Download and install Driver Talent on your PC.

Updated: DriveTheLife has been updated to the new version called Driver Talent with a fresh new look.

Step 1. Launch Driver Talent to scan your computer to check the driver issues.
Step 2. If the display driver is damaged, missing or corrupted, Driver Talent will inform you to fix it; if it is outdated, you are allowed to update to the latest display driver that is best-matched with your Windows 10.
Restart your computer after the driver is fixed.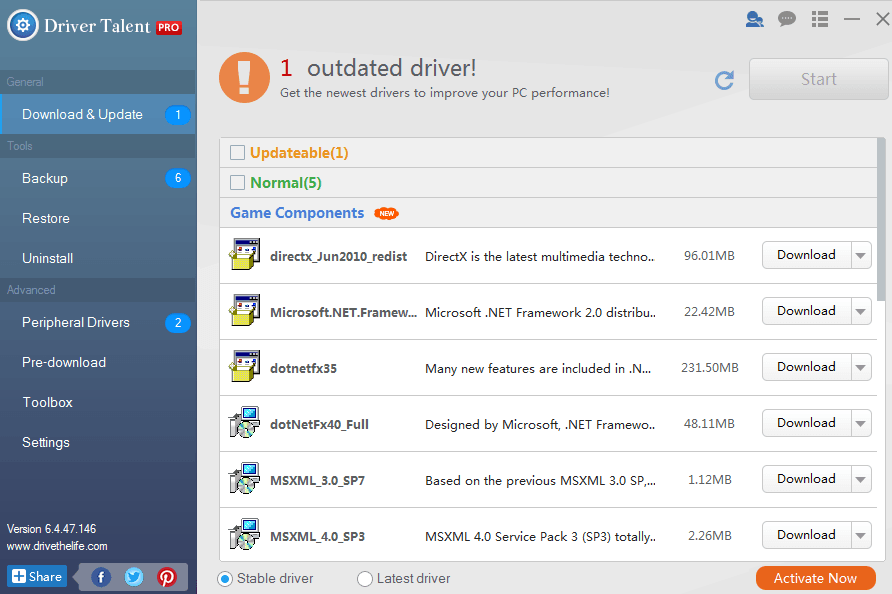 Top 2. Restore to the Earlier Drivers
Reverting to the earlier drivers is another workable tip to fix Windows 10 black screen problem. There are 2 ways to go back to the previous drivers:
1. Try Driver Talent (formerly called DriveTheLife). In the "Restore" menu, you can restore the drivers to previous ones if you have backed up them.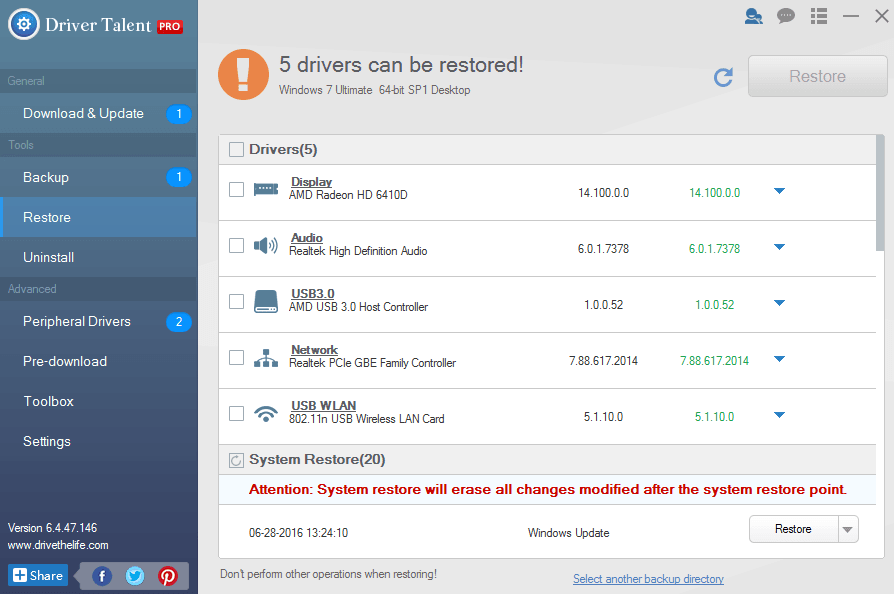 2. Go to the Device Manager, expand "Display Adapters", right-click on the Display Adapter listed and click on properties, click the Driver tab, and then click Roll Back Driver.
Top 3. Check the External Devices
Some external devices you plug into the computer might also cause Windows 10 black screen with cursor or black screen of death after update.
Step 1. Unplug all external devices.
Step 2. Restart the computer.
Step 3. If the black screen has disappeared, plug the devices again at a time to see which piece of hardware is causing this issue.
Step 4. Install updated drivers for the hardware with Driver Talent.
Top 4. Enter Safe Mode
Safe Mode can help to get out of black screen on Windows 10.
Step 1. Boot computer to Safe Mode with Networking.
Step 2. Press Windows key + C.
Step 3. Select Settings and Change PC settings.
Step 4. Select Update and recovery and Windows Update.
Step 5. Select View details and Check for updates. Under Optional, install the updates.
Top 5. Disable Fast Startup
Some users posted that disabling fast startup help to solve the black screen on Windows 10. You can have a try.
Step 1. Go to Control Panel, select Power options, and click on "Choose what the power button does" (located in the left pane).
Step 2. Click on "Change settings that are currently unavailable".
Step 3. Unmark the checkbox "Turn on fast startup".
Top 6. Run CMD
If you are currently in the black screen with the pointer, you don't need to reinstall the OS, because the keyboard inputs work. If you have an on board Intel graphics controller as well as an add on graphics card, Windows thinks that you have one more monitor connected than you actually have. So when Windows loads its outputting, the video signal gets to a bogus monitor.
If you have a local account with auto-logon on, you can run CMD by pressing Windows key + R, type cmd and press enter. Wait seconds and run the command shutdown.
Top 7. Take Out of the Battery
If you are using a laptop, unplug your computer and take out of the battery. Then hold on and wait for a little while. Put the battery back in the computer, plug it and restart your computer.
We don't create this method, but just know it from forums. Some users reported that it worked. You can have a try.
Above are the workable tips we've known till now to resolve the Windows 10 black screen issue. We will update you if there are newer solutions to fix this issue. If you have any new solutions or any questions, you can go to the left menu or share it with us in the comments section below.
Recommended Download