Driver Talent FAQs (Frequently Asked Questions and Answers)
1. What to do when "Failed to connect to the server"?
It is server connection failure. Please send us the error via Feedback or email.
2. What to do when there is "No internet connection"?
The reason why you get this error message is probably that your network card is disabled. So check network settings and make sure your network adapter is enabled. Also, don't ignore the obvious: Make sure that the wire is connected normally.
Other solutions:
>> Run Network troubleshooter built in your computer.
>> Check router settings and reset it when necessary.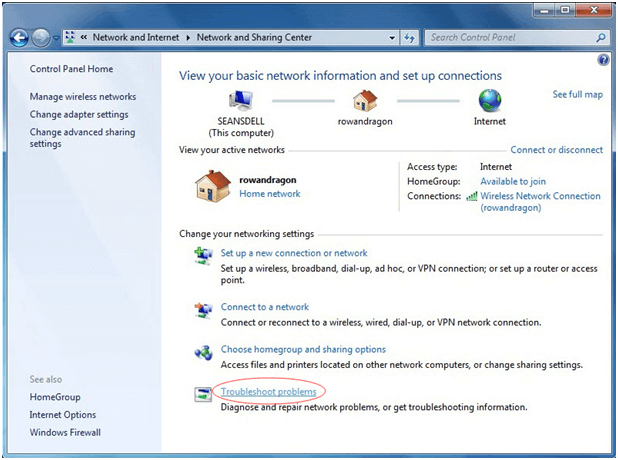 3. What if "Network driver is not working"?
If your network driver is not working, please try our Driver Talent for Network Card which has a built-in network driver library to fix it. It can help to download and install network driver without internet connection!
If you have a backup of the previous network driver, you can also restore network driver from the backup to fix the problem.
4. What to do if "The network card is not found"?
Firstly, open Device Manger to see if network card is listed.
If you are using a laptop/notebook, make sure the WiFi device is not closed.
5. How to exit Driver Talent?
There are 3 ways to exit Driver Talent.
No 1: Exit through the taskbar icon. Find the icon and right click it, choose Exit.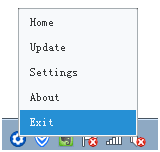 No 2: Exit through the interface Menu. Click Menu and choose Exit.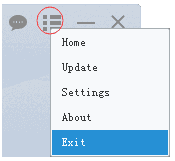 No 3: Exit through the close button on the top right corner.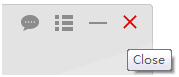 Note that by using the third method, you need to uncheck the Settings "Minimize to tray when program is closed".
Remember that you need to exit Driver Talent before uninstalling it. Or the uninstallation is not allowed!
6. Do I Need to Quit the Download when Avast Blocked the Downloading?
Some users reported that when using Driver Talent to update drivers, Avast will block the downloads saying "Threat Detected" and suggesting that the URL contained Malware.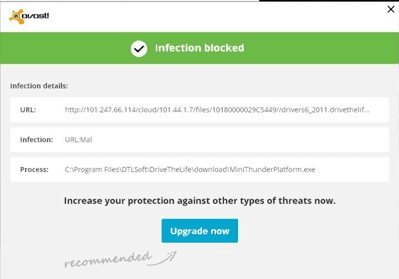 From the picture, we know what is blocked is the ThunderPlatform, an installer we used to download the drivers. It is running on the background and won't harm your computer in any behavior! We promise the 100% security and are responsible for the brought harm.
7. Windows SmartScreen blocked Driver Talent from downloading.
Question: I just purchased your program and while attempting to download the software I continuously get an error message stating that the file is corrupt and receive a warning message about the file not passing the credentials from my virus programs. Can you please help?
Answer: The SmartScreen is the Windows system filter which is used to prevent so-called unrecognized program from downloading and installing. However, it is somewhat wide of the mark. Many authorized programs will be blocked by this annoying filter. In order to run and keep Driver Talent on your Windows 10/8, you need to click "I understand the risk and want to run this app."
If you need to disable the SmartScreen option and don't let it delete the legitimate programs, you can do as follows:
a. Navigate to Start\Control Panel\System and Security\Security and Maintenance.
b. Then click "Change Windows SmartScreen settings" in the left.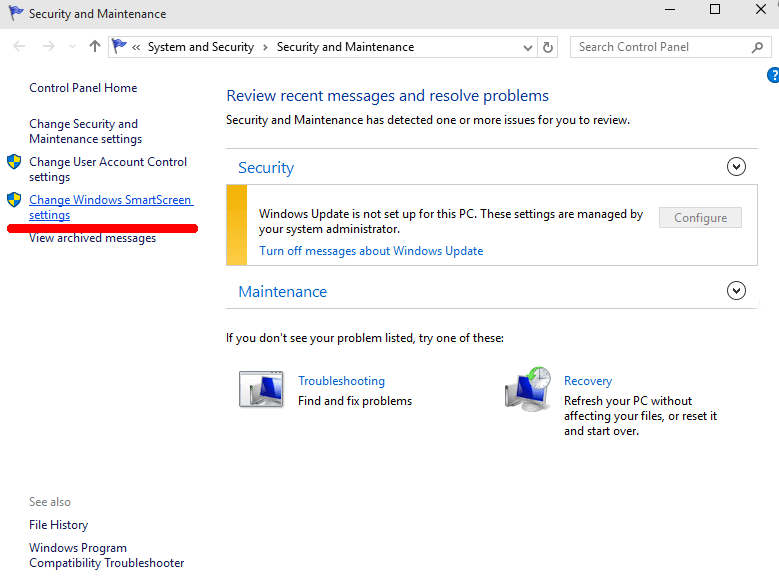 c. In the pop-up window asking "What do you want to do with unrecognized apps?", choose "Don't do anything (turn off Windows SmartScreen), and click "OK" to complete the change.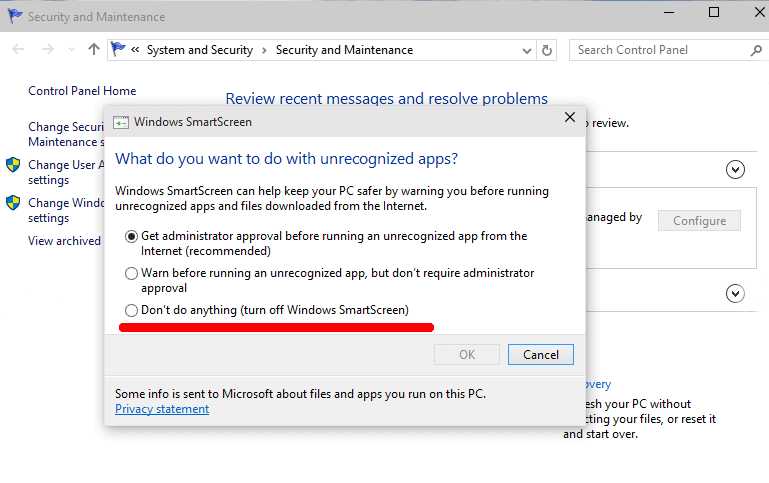 8. How to install drivers that are in .inf format?
If you have a driver file that is in .inf format, for instance, the driver downloaded by Driver Talent, you may not install it by simple clicks because it is not executable application.
However, if you have activated Driver Talent Pro, it will install the .inf files automatically. If you didn't buy the licence, you need to install it from Device Manager. Follow the steps below to learn how:
1) Unzip it if it is a compressed file. (If you don't have file archiving software, you can download a free one from here)
2) Open Device Manager: Search "device manager" from Start menu.
3) Locate the device that needs to install the driver.
4) Right click the device and click "Update Driver Software".
5) Choose the option of "Browse my computer for driver software".
6) Then choose "Let me pick from a list of device drivers on my computer".
7) Choose the device from the device list (if applicable) and click "Have Disk".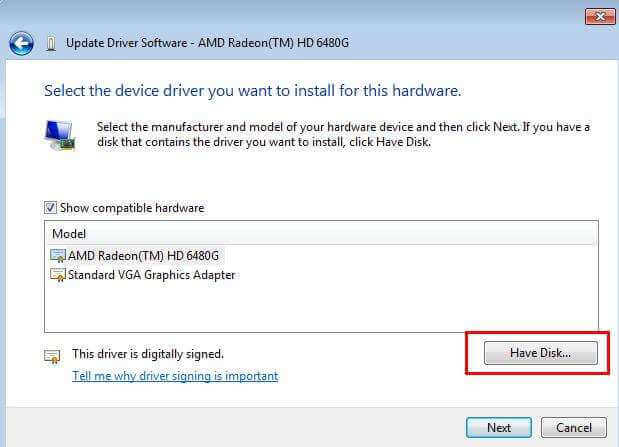 8) Copy the path where the .inf file is saved and paste it into the box as below: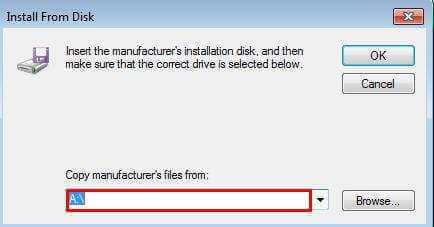 9) Click "OK" and wait the process to complete.
9. How to use the restore point to restore system?
If you encounter serious problems like blue screen, black screen, device not working, etc. caused by driver updating, you can either restore the driver from backup or restore your system to the point where the driver updating is not processed. It is easy to restore system to the previous point with Driver Talent.
1) Go to Restore section.
2) Click System Restore.
3) Choose the point which you want to restore to.
4)Click Restore button along with the restore point.
5) Wait the process to complete.
Note: By default, Driver Talent will create a system restore point before installing or updating each driver.
System restore does not affect any of your documents, pictures, or other persona data. Programs and drivers installed after the point might be uninstalled.
10. Why the devices shown on Driver Talent are less than other competitors?
Many users may wonder why the devices shown on Driver Talent are less than other competitors. Is Driver Talent unprofessional? Absolutely not. Below are the reasons for this.
First of all, driver is a specialized thing. For ordinary users, a wrong operation may lead to system crash. In order to be accountable to users, we have to pass strict tests before opening it up to users.
The main hardware on the computer like motherboard, CPU, graphics card, sound card and network card requires drivers to work properly. Driver Talent is designed to help users download, install and update drivers for these hardware easily and safely as well as address various driver issues.
Based on the user-friendly design, though there are also many other accessories that require drivers on the computer, Driver Talent shows only the driver status for the main hardware.
Driver Talent installs drivers according to the devices. We do this to make sure users know which exact device they are installing drivers for even though they are just computer novices. For example, you insert a mouse but the scan reveals four devices. Aren't you going to be confused?
Therefore, to prevent this from happening, we intelligently integrated some devices. Then users just need to care about the status of these major devices. It will avoid some unnecessary operations and minimize users' confusion. In addition, it will reduce the chance of computer issues. That's why the devices shown on Driver Talent are less than other competitors.
Can't find the answer you need? Learn more FAQ of Driver Talent from Driver Talent Help Page.