7 Solutions to Fix Wi-Fi Disconnecting Issue after Windows 10 Update

May. 31, 2017 / Updated by Bessie Shaw to Tips
Follow @BessieShaw
There are various network connection issues in Windows 10, including no Wi-Fi available, no Internet access, etc. Recently, numerous users report that WiFi keeps disconnecting after Windows 10 update. If you are one of them, here are some solutions to fix your WiFi disconnecting issue in Windows 10.
See Also: How to Reinstall Windows 10 on Your Desktop or Laptop
Solution 1. Restart Your Network Adapter
To fix Wi-Fi disconnecting after Windows 10, you could restart your network adapter before moving forward to other troubleshooting methods. Follow these steps:
Step 1. Press Windows key + R at the same time to open the Run dialog box
Step 2. Type ncpa.pl in the Run box and click OK
Step 3. Right-click on your network adapter and select Disable
Step 4. Right-click on your network adapter again, and then choose Enable
Solution 2. Update Network Adapter Driver to Fix Wi-Fi Disconnecting after Windows 10 Update
Outdated network adapter driver is the main culprit of the Wi-Fi disconnecting problem after Windows 10 grade, and you just need to update the wireless network adapter driver. If you prefer a one-stop driver update solution, you could free download a reputable driver download and update utility tool, such as Driver Talent, which could help you find out your outdated network adapter driver in a split of second and then automatically download and install the most updated version in 2 minutes.
Click the button below to download Driver Talent directly.

Perform the following 3 easy steps to use Driver Talent to update your network adapter driver fix the Wi-Fi disconnecting issue in Windows 10. For more details, you could also refer to the user guide of Driver Talent.
1. Scan Your PC
Start Driver Talent and click "Scan" to make a full scan of your computer. The outdated, corrupt, broken or missing drivers will be detected in a list.
2. Update Network Adapter Driver
Click "Repair" to fix the detected problematic network adapter driver. Driver Talent will automatically download and install the best-matched version. Of course, you are able to click "Update" to update all your drivers to the latest version. But don't update what ain't broken for security reason.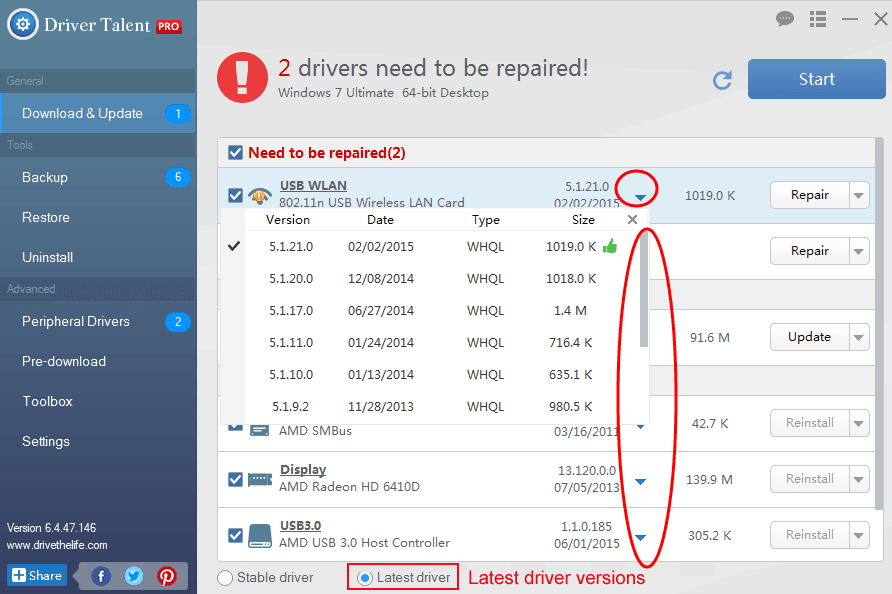 3. Reboot Your PC
Reboot your PC to allow the changes to come into effect.
Note: Bear in mind that use Driver Talent to back up you drivers before updating your network adapter driver in case of driver crashes or further severe computer issues.
You may also like to check out:
Apart from drivers download and update, Driver Talent includes other advanced features, such as drivers restore, drivers uninstall, drivers pre-download for another PC, PC Repair (no sound, no video, no Wi-Fi, etc.), hardware detection, VR support check and PC speed up, etc.

Solution 3. Roll Back to Previous Network Adapter Driver

You could roll back to a previous network adapter driver to get rid of the Wi-Fi disconnecting bug in Windows 10. To easily and quickly do it, please refer to Top 2 Ways to Restore Driver on Windows 10.

You could also manually install the previous network adapter driver, but it will take a period. Follow these steps:

Step 1. In the search box on the taskbar, type Device Manager, and then select Device Manager

Step 2. Select Network adapters and then the network adapter name

Step 3. Right-click on the network adapter name and then select Properties

Step 4. Select the Driver tab and then select Roll back driver

Step 5. Follow the on-screen prompts to roll back to the previous network adapter driver

See Also:

Solution 4. Wake Up Your Wi-Fi Adapter to Solve Windows 10 Wi-Fi Disconnecting

According to lots of Windows 10 users, waking up the Wi-Fi adapter could be an effective resolution to the Wi-Fi disconnecting issue in Windows 10. Here're the steps:

Step 1. Right-click Start and select Device Manager

Step 2. Locate Network Adapters and expand it

Step 3. Right-click on Properties

Step 4. Click the Power Management tab

Step 5. Uncheck the option "Allow the computer to turn off this device to save power"

Solution 5. Run Network Troubleshooter

You could also run the Network Troubleshooter to fix the Windows 10 Wi-Fi disconnecting problem. The Network troubleshooter is able to diagnose and fix common network connection issues. Follow these steps:

Step 1. In the search box on the taskbar, type Network troubleshooter and then select Identify and repair network problems

Step 2. Follow the instructions in the troubleshooter and see if that fixes the windows 10 keeps disconnecting from wifi

Solution 6. Turn Off Wi-Fi Sense to Resolve Wi-Fi Disconnecting in Windows 10

The issue that your Wi-Fi keeps frequently disconnecting in Windows 10 may also be caused by the attempts of your WiFi sense to establish a connection to another network. To solve it, you could turn off Wi-Fi Sense

Step 1. Click Start and then click Settings

Step 2. Select Network and Internet

Step 3. Click WiFi in the left panel

Step 4. In the right pane, locate Manage Wifi Settings and click on it

Step 5. Disable these two settings: "Connect to suggested open hotspots" and "Connect to networks shared by my friends"

Solution 7. Reset TCP/IP to Fix Computer Keeps Disconnecting from Wi-Fi

If your desktop or laptop keeps disconnecting from Wi-Fi in Windows 10, you could try to reset TCP/IP. Here's what you need to do.

Step 1. Open the Command Prompt and Run as Administrator

Step 2. At the Command Prompt, enter the following command, and then press Enter

netsh int tcp set heuristics disabled

Step 3. Enter the second netsh command below and hit Enter

netsh int tcp set global autotuninglevel=disabled

Step 4. Enter the third netsh command and tap Enter again

netsh int tcp set global rss=enabled

Step 5. Reboot your computer

Note: You have successfully reset the TCP/IP once you receive the OK message.

If you discover additional workarounds for the Wi-Fi disconnecting after Windows 10 issue, please share with us in the comments section below.

You may also like these related posts: