Fix Display/Video/Graphics Problems after Windows 10 Update
Sep. 21, 2017 / Updated by Bessie Shaw to Windows 10
Nvidia/Intel HD/AMD Display Issues after Windows 10 Update
Windows 10 update issues have involved numerous users, the problems including no Wi-Fi on Windows 10, no sound, black screen, screen flickering and the Windows 10 display issues. We've listed top solutions workable to fix those issues and you can try them. This post is focusing on the display errors after Windows 10 update and the solution to easily fix the Windows 10 display issues.
Note: A display card is also called a video card, a display adapter, a video adapter, a graphics adapter, or a graphics card.
The most common Windows 10 display issues are:
You get the error message "You may experience problems with the display" from computer when installing Windows 10.

The system's display output crashes after Windows 10 automatically updates the Nvidia graphics card drivers via Windows Update.

You get poor image rendering after Windows 10 upgrade.

You get stuttering issues when playing video games on Windows 10, especially when playing 3D games.

Windows 10 having problems getting the display driver installed.

A graphics problem has been detected.

Windows 10 not detecting graphics card.

GPU not detected after Windows 10 update.


The GPU driver is not working after installing Windows 10, or the video card is not detected on Windows 10.

Weird lines are all over the computer screen, or you get black screen after Windows 10 update.

After setup Windows 10 in PC video card not found.
In fact, Microsoft has warned you the problems with an Advanced Micro Devices (AMD) graphics when the Windows 10 Technical Preview came out. No matter you are using the Intel (R) HD graphics card, the Nvidia graphics, or the AMD Graphics, try the method below to fix graphics problems.
See Also: Display driver stopped responding and has recovered on Windows 10
How to Fix Display/Video/Graphics Driver Issues after Windows 10 Upgrade
The most effective way to fix this Windows 10 display/graphics issue is to fix the graphics driver issue, no matter if it's the Nvidia graphics driver issue, GPU driver issue, Intel HD graphics issue, AMD graphics issue, etc. Windows 10 update will remove anything that is not compatible with it, including drivers. Therefore, if you get the Windows 10 display issues, that's because the graphics driver is outdated, corrupted, damaged, or missing. How to solve Windows 10 display issues?
Locate the latest graphics driver in the manufacturer's website or from the OEM. This, however, costs you much time and requires some computer technique skills. If you prefer one-click simple method, try Driver Talent (formerly called DriveTheLife). This tool is pop among Windows users. It can help to check if the display driver has issues (if it's outdated, corrupted or missing), and then install the latest official display driver to best match with Windows 10, either 64-bit or 32-bit.
Try Driver Talent on any Windows laptop, desktop or notebook, such as Asus, Acer, Dell, Lenovo, HP, ThinkPad, Toshiba, IBM, Sony, Gateway, Samsung, etc. to fix your video card error in Win 10.
See Also: Driver Talent Review: Safest and Fastest Way to Update Drivers
Updated: DriveTheLife has been updated to the new version called Driver Talent with a fresh new look.
Step 1. Scan the Graphics Card and Driver on Your Computer
Run Driver Talent after you install it on your computer, and click "Scan". It will scan your computer to check if the graphics driver is outdated, corrupted, damaged, missing or incompatible with Windows 10.
Step 2. Update or Fix the Graphics Driver
Driver Talent will show you in details. If the display driver is outdated, it will provide the "Update" button for you to 1-clcik update the driver; if the display driver is damaged, corrupted, or missing, you will have the "Repair" button to repair the driver with 1 click.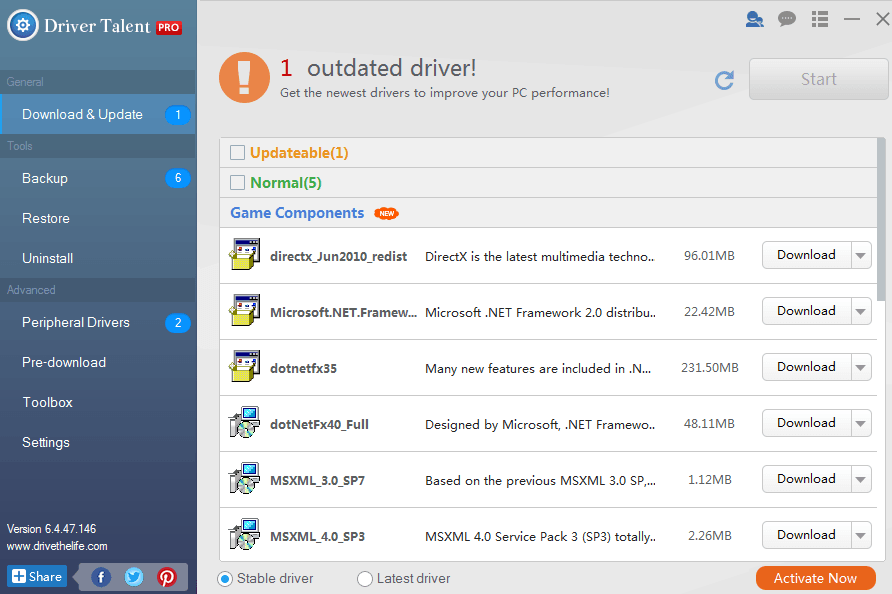 Step 3. Restart the Windows 10 Computer
The last step is to restart your computer. This will help to finish the driver installation.
Quick solution with Driver Talent!
Note: Some users reported that reinstalling the display driver can't help to solve this issue. This is because the driver you reinstall can't work properly on the Windows 10. Try Driver Talent to fix this driver issue.
These related articles may also interest you:
If you have any Windows 10 display issues, leave it in the comments section below. We'll try to help out.
Recommended Download