Best Way to Free Download and Update Lenovo Drivers on Laptop or Desktop PC
Sep. 21, 2017 / Updated by Bessie Shaw to Windows Driver Solutions
Lenovo drivers download and update are very important to keep your Lenovo computer or other Lenovo devices working properly. If the Lenovo drivers are outdated, missing, corrupted, broken or incompatible, you will get conflicts and errors, like if the Lenovo sound card driver is missing, there won't be sound from the speaker or microphone; if the keyboard or mouse drivers are outdated, the keyboard or mouse won't work properly; if the wireless driver is incompatible, you won't connect to wireless network or Wi-Fi, and all that.
Downloading Lenovo drivers is very easy with Driver Talent (formerly called DriveTheLife), including the drivers like Lenovo t61 drivers, t510 drivers, t410 drivers, x201 drivers, t500 drivers, t400 drivers, Lenovo Bluetooth driver, keyboard driver, etc.
Note: Driver Talent can quickly scan your computer to identify if the Lenovo drivers are outdated, missing or broken, and then help to download the best-matched drivers, update to the latest drivers. There is no spyware, no virus, no spam. Free download Lenovo thinkpad t400 laptop motherboard drivers, download Lenovo all in one desktop drivers, Windows 10 Lenovo drivers, Lenovo thinkcentre desktop drivers for Windows XP, drivers free download for Lenovo t510, or get any driver you want.
Driver Talent is free. Download and install it on your computer (64 bit or 32 bit Windows 10, Windows 8.1, Windows 8, Windows 7, Windows XP or Windows Vista).
Updated: DriveTheLife has been updated to the new version called Driver Talent with a fresh new look.
How to Free Download or Update Drivers for Lenovo for Windows 10/8/7/XP/Vista
Automatically downloading Lenovo drivers is much better than manually downloading. The former is less time-consuming and much more effective. Driver Talent is the all-in-one Lenovo drivers update utility, which can best satisfy all your need with quick Lenovo drivers download and update. If you decide to update to Windows 10, make sure all the drivers are working well. See How to Safely Update to Windows 10 on Lenovo.
Steps for Lenovo Driver Downloads and Updates
1. Launch Driver Talent on your laptop, desktop PC or notebook computer. Click on "Scan". It will have an safe scan on your computer.
2. You will have a very clear overview of all the drivers, which are outdated, broken, missing, or working properly.
Click "Repair" to repair the broken drivers. Click "Update" to update to the latest Lenovo drivers in PC or laptop. For the computer peripheral devices, go to the "Peripheral Drivers" menu to install the drivers for USB connected devices.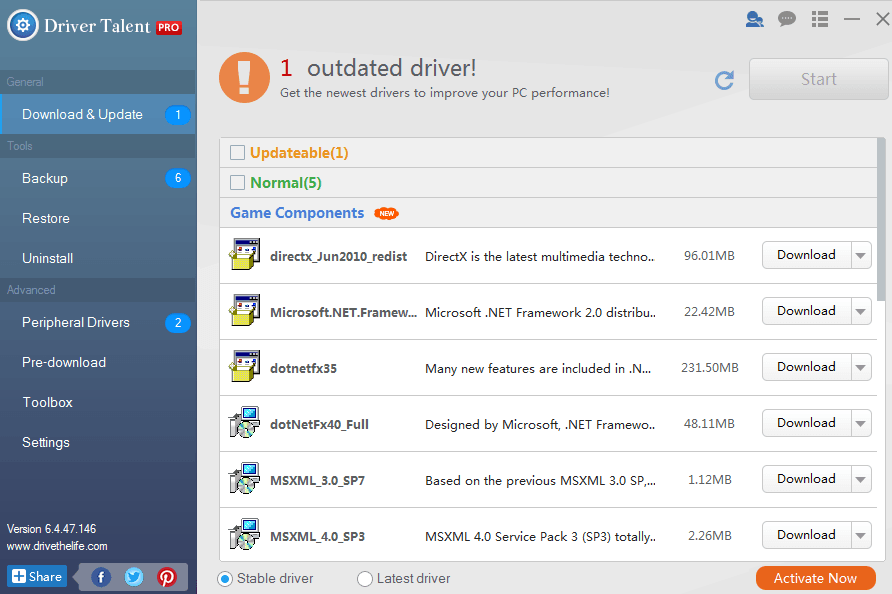 Reboot your computer. After that, your Lenovo computer or Lenovo devices will work properly.

Note: Make sure your computer has stable internet connecction when downloading and installing the Lenovo drivers. If you can't connect to the internet, try Driver Talent for Network Card to install the network driver without internet connection. It will allow you to access the internent immediately.

The Most Common Lenovo Drivers and Downloads
Driver Talent is professional to help download and update Lenovo drivers for your hardware and devices, including Windows 10 Lenovo drivers, Windows 8.1 Lenovo drivers, Windows 8 Lenovo drivers, Windows 7 Lenovo drivers, Windows XP Lenovo drivers and Windows Vista Lenovo drivers. Here are the most common Lenovo drivers you need:
| | | | |
| --- | --- | --- | --- |
| Lenovo t61 drivers | Lenovo t510 drivers | Lenovo t410 drivers | Lenovo x201 drivers |
| Lenovo t500 drivers | Lenovo w510 drivers | Lenovo thinkpad drivers | Lenovo t400 drivers |
| Lenovo t60 drivers | Lenovo t420 drivers | Lenovo thinkcentre drivers | Lenovo x61 drivers |
| Lenovo w530 drivers | Lenovo x200 drivers | Lenovo t530 drivers | Lenovo w520 drivers |
| Lenovo keyboard driver (Lenovo driver for keyboard) | Lenovo t61p drivers | Lenovo w500 drivers | Lenovo t440s drivers |
| Lenovo bluetooth driver | Lenovo r61 drivers | Lenovo y500 drivers | Lenovo y580 drivers |
| Lenovo g560 drivers | Lenovo monitor driver | Lenovo touchpad driver | Lenovo mouse driver |
| Lenovo audio driver | Lenovo wireless driver | Lenovo thinkpad t400 drivers | free all in one drivers download for thinkpad Lenovo t61 |
| Windows 10 free Lonovo x200 drivers | Lenovo Wi-Fi drivers for Windows 10 | audio driver for Lenovo computers windows 8.1 | Lenovo t400 audio video software drivers |
| Lenovo thinkpad t400 drivers for Windows 8 | Lenovo thinkpad t410 driver for Window 8 | Lenovo x201 drivers Windows 7 64 bit | Lenovo x61 free drivers download for Windows XP |
| Bluetooth drivers for Lenovo t61 on Windows 7 64 bit | Ethernet driver lenovo Windows 8 | All in one Lenovo WiFi driver | Latest g560 Lenovo drivers |
| Lenovo desktop audio drivers for Windows xp free | Lenovo motherboard network drivers Windows 8 | Bluetooth software drivers for Lenovo t60 | Lenovo x201 motherboard graphic drivers |
| Lenovo laptop drivers | Lenovo notebook drivers | Lenovo desktop drivers | And more |
Recommended Download