2022: 5 Tips to Fix the Headphone Echo in Windows 10
Jul. 27, 2022 / Updated by Amy to Windows 10
Nowadays, in many cases, people need to wear headphones to get better experiences. So if the headphone cannot function properly, it can be frustrating.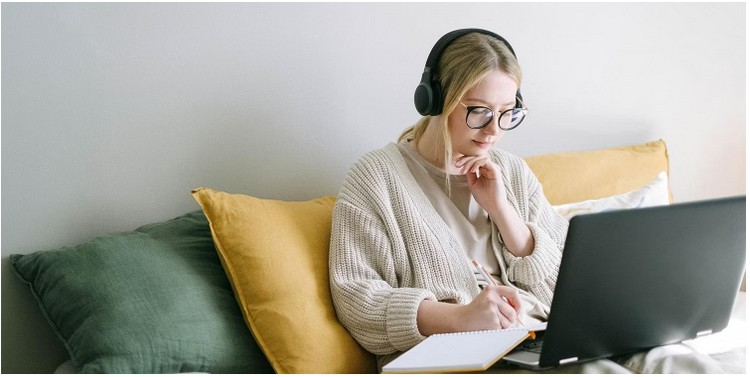 There are plenty of reasons to explain the headphone echo, like low-quality device, improper audio setting or even just poor connection. No matter what the reason is, it can distract your attention and upset you. Fortunately, here are several tips for you to fix it. Just scrolling down to find more details.
Contents:
1. Check the Microphone Settings
2. Try the Windows 10 Audio Troubleshooter
5. Fix the Echo While in a Conference Call
1. Check the Microphone Settings
Let's assume that you have unplugged and replugged microphone to rule out the situation that it's issue is caused by poor connection.
Next thing you need to do is to check the mic settings. The Listen to this device feature connects a music device to your laptop or computer to use its speakers. However, sometimes it can also bring echo when it is turned on, even you didn't connect any external music devices. So turn it off might be helpful to this issue. Here is how to do this:
1. In the Start menu search bar, search for control panel and select the Best match.
2. Open the View by menu and click Small icons or Large icons.
3. Select Sounds.
4. Click the Recording tab.
5. Right-click Microphone > Properties.
6. Click the Listen tab and untick the Listen to this device setting.
Then click apply and OK to save the changes.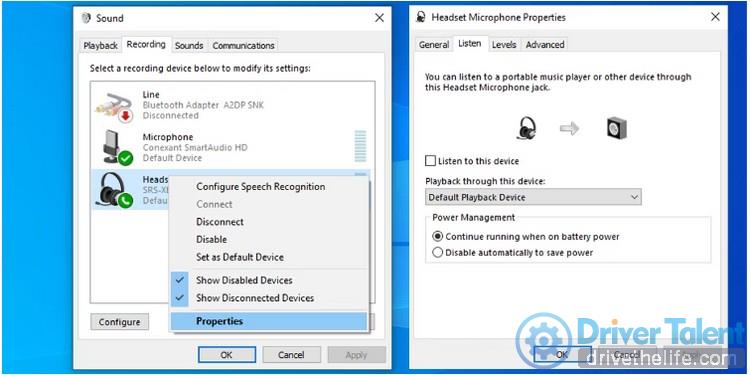 2. Try the Windows 10 Audio Troubleshooter
Another way to fix it is to try the built-in troubleshooter in windows 10. It is designed to solve the microphone and speaker issues. The steps are below:
1.Right-click Start and select Settings. Also, you can open the Settings menu by pressing Windows Key + I.
2.Head to Update & Security > Troubleshoot > Additional troubleshooters.
3.Below Get up and running, select Playing Audio and click Run the troubleshooter.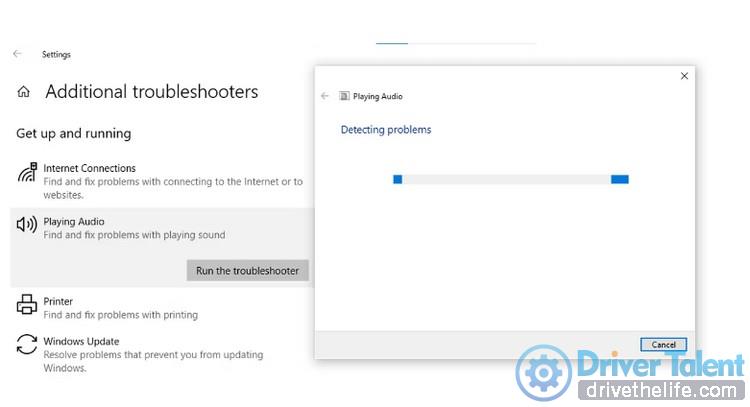 After you are done, keep scrolling down to Find and fix other problems menu and run the troubleshooter for Recording Audio and Speech.
Attention please, you should also run the Bluetooth troubleshooter if you are using Bluetooth headphones.
3. Update the Audio Driver
Audio driver plays a key role in your computer, You need to pay attention to it's version and status. An outdated, buggy, or corrupted driver might cause an echo in your headphones. When you updates the drivers, keep in mind to avoid third-party software.
You can find the drivers you need on the manufacturer's website or update your audio driver using the Device Manager. Here is how to do this:
1. Input device manager in the Start menu search bar and select the Best Match.
2. Unfurl the Audio inputs and outputs section.
3. Right-click the audio driver for your headphones and select Update driver.
4. Select Search automatically for drivers.
5. Install the latest version of the driver, then restart the system.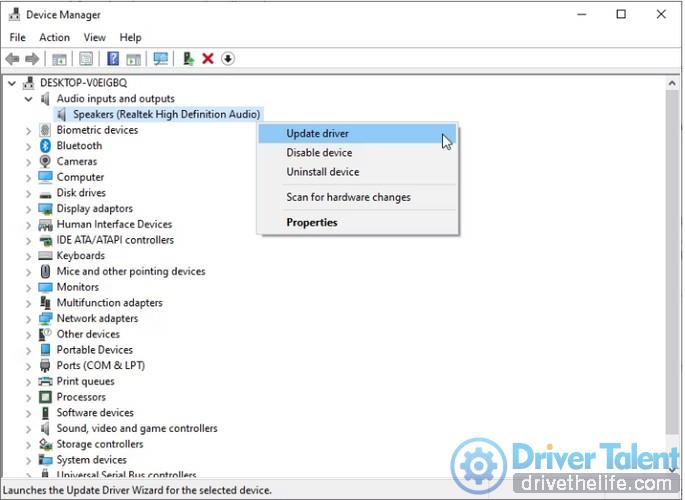 But there is a easier way to do this. Download a driver tool like DriverTalent to take care all of it for you. It is able to download & install the latest drivers for various devices, including Motherboard, Network card, Display card, Audio card, USB WLAN card and so on, from famous brands such as Intel, AMD, Nvidia and Realtek, thus keeping the computer running smoother. It can also repair the issues occuring in the audio driver. You can click here to know more information about it first:
Now you can follow the steps to update your audio driver to fix the mic issue.
01. Scan the driver.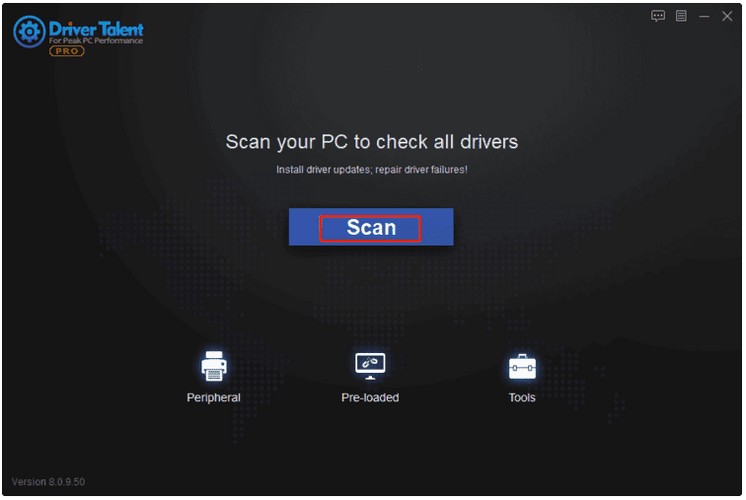 02. Update the audio driver.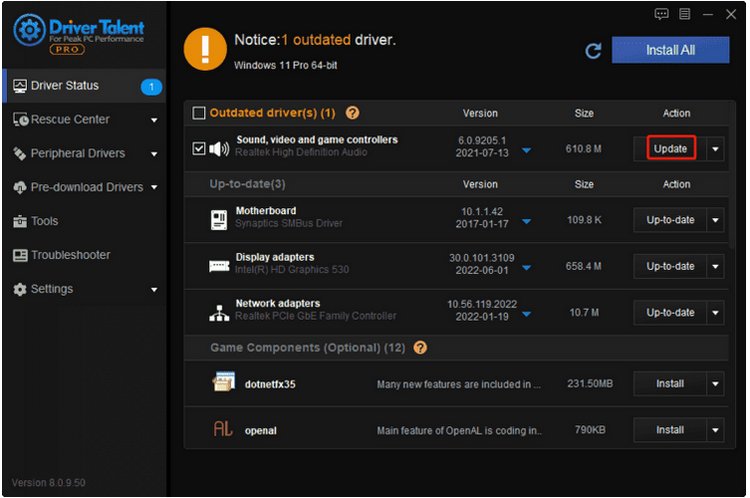 03. Reboot the computer to take the full effect.
You can also install all the outdated drivers with just one click, but that requires a Pro version.
Buy the Pro version, you can enjoy the full features and a 30-day money back guarantee, no risk for your trial experience. And Pro version comes with full technique support, they can solve your problems online during usage. If you need any assistance, please feel free to contact with their support team at support@drivertalent.com.
4. Check Speakers Properties
Audio Enhancement aims to personalize the headphone's output through its settings to improve your experience, but it can also cause to echo if it is not compatible with your microphone. Here is how you do to close it:
1.In the Start menu search bar, search for "control panel" and select the Best match.
2.Open the View by menu and click Small icons or Large icons.
3.Select Sounds.
4.Right-click Speakers > Properties.
5.Open the Enhancements tab and tick Disable all sound effects.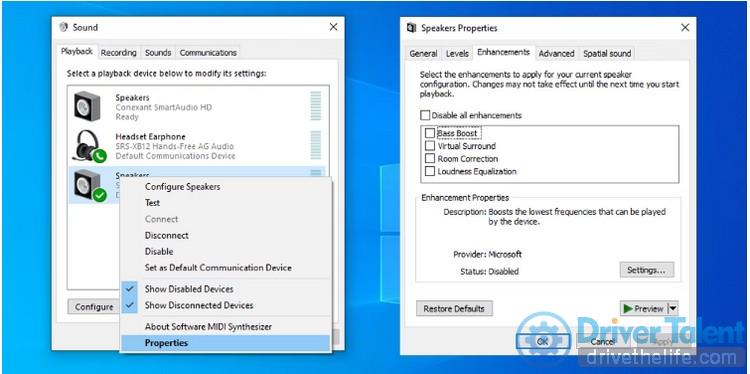 5. Fix the Echo While in a Conference Call
If there are echoes during a conference call, it can seriously affect your concentration and work efficiency. So you should try the best to avoid it.
Here is what you can do. First to pinpoint the cause of it, if no one else but you are hearing the noise, then the problem is most likely falls on your microphone. If other people can also hear the sound, the problem might be caused by the program you are using. Then you should use the program's troubleshooter to get rid of the echo.
But you can also try the faster way: To leave and rejoin the call. If that doesn't help, you can ask your colleagues to mute their mics if they are not speaking, that is because when too many people in the same room altogether, their microphone might be interfered with each other. So try muting while not speaking might fix the problem.
Last but not least, always remember to keep your microphone clean at all times, as this will also extend the life of your microphone and avoid other unnecessary problems pops out.
That's all. We would be thrilled if these tips mentioned above can help you to solve the problem. And you are warmly welcomed if you have any questions or new ideas want to share.
Recommended Download