5 ways to fix speaker not working on Windows 11
Mar. 08, 2023 / Updated by Renata to Windows 11
Speakers not working, speakers no sound issue happen time to time. No matter in Windows 11 nor Windows 10, the speakers disorder problems might appear in any cases.
The reasons causing speakers no sound issue properly are: sound settings, sound card driver problems, silent virus, Windows Audio service stop, and other hardware peripherals problem.
In this article, it provides ways for users to fix the speaker not working issue from software to hardware.
Page content:
Solution2. Fix sound card driver
Solution4. Enable the Windows Audio
Solution1. Check for settings
You should check if you have muted the speaker. Mute speaker is the easiest reason to ignore. Sometimes our computer does not have sound because there is a problem with the software or hardware of the computer, but we have turned it to mute. The solution is very simple, just turn on the sound.
Solution2. Fix sound card driver
Before we talk about fixing drivers, you should know what is driver. A driver is a software that allows your computer to communicate with hardware devices. Without drivers, the devices you connect to your computer—for example, a mouse or external hard drive—won't work properly. Windows can automatically check if there are drivers available for new devices that you connect to your computer.
Besides, sound card driver problems will cause:
1.There is a red cross on the lower right corner of the speaker, but the speaker does not work
2.The device manager prompts sound card error codes 43, 52 etc.
3.The microphone and earphone are not working and there are no sound on them.
4.The sound balance is abnormal, which may cause gamer can not hear footsteps in games.
There is the way to check if the computer have a sound card driver:
First, we find the sound device through the control panel, and then click on the sound and audio device. If the interface that pops up is gray, it proves that the driver is not installed. You only need to download a driver and install it.
If you are not familiar with computer application settings or modifications. It is highly recommended to download a third-party driver software, Driver Talent, so as not to make your computer worse.
Driver Talent is a free software for those who affected by driving issues. Thousands of drivers are configured in the software, suitable for Windows 11, Windows 10, Windows 8, is also suitable for desktop and laptop. Check which drivers need to be updated and which drivers can be backed up and reinstalled for free.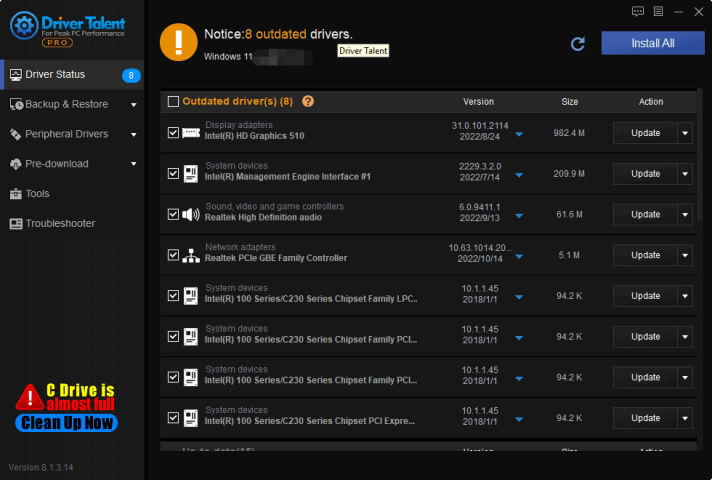 Solution3. Scan for virus
The speaker not working might result from mute virus: the performance of this virus is that the computer is turned on mute, there is no system startup sound, the waveform audio is adjusted to the minimum, and the sound cannot be played. Even if it is adjusted, it will be automatically muted after a few minutes. If it is caused by a virus, the solution is to check and kill the virus.
You can follow the below steps to scan and remove computer virus yourselves:
1. Press WIN+I together and open settings
2. Choose Privacy and Security
3. On the right panel, click Windows Security option
4. On the Windows Security window, select virus and threat protection
5. Then, click on quick scan
Solution4. Enable the Windows Audio
You might have disabled the Windows audio during the boot optimization.
The consequence of this is that the audio service is not started after booting, so the computer speaker is not working.
The solution is very simple, just let the audio service start automatically after booting:
1. Right-click on this PC
2. Click Manage option
3. Navigate to the Service and application
4. Choose Services
5. Double-click to enter, find the Windows Audio option to see if it is turned on, if not, turn it on and set it to automatic.
Solution5. Check for hardware
If the above solutions as mentioned failed to fix the speaker not working issue on your windows 11, you can check for the hardware state.
Move1. Speaker Jack
Interface problem: Whether you use earphones or speakers, you need to connect through a fixed interface. If the connected interface is not in good contact or has been damaged, the computer will have no sound. The solution is very simple: just replace the interface.
Move2. Headphone
If you are using headphones to listen to the sound, if there is no sound, you must first try another interface. If there is no sound, you can change another earphone for testing. If the other earphone has sound, it proves that the original earphones are broken. Replace the earphones and fixed.
Move3. Sound card broken
It is hard to judge if the sound card broken. Specifically whether the sound card is damaged or not needs to be judged by professional repair personnel. If so, only replacing the sound card can solve the problem.
Recommended Download