7 Causes Lead To Your Game Crashing--Solutions are followed behind
Jul. 27, 2022 / Updated by Amy to Gaming Solutions
If the game crashes while playing, it can be very disruptive to the game experience, and apart from server issues with the game itself, our computers can sometimes have a series of unexpected problems. The purpose of this article is to list some of the potential causes of game crashes and what to do about them.
Why Does The Game Keep Crashing?
To make sure the game runs properly on your PC, it's important to run the demo version of the game before installing the full version to save some unnecessary hassle.
If you cannot figure out the cause of game crashing on your PC, Windows Event Viewer can be useful to check what is happening to the PC when the game crashes.
And if that's still confused you, you can pinpoint the exact reason by walking through the following list.
1. Games are running in the wrong mode;
2. The settings in the game are wrong;
3. Your operating system is outdated;
4. You need to upgrade device drivers;
5. You need to upgrade your PSU;
6. Antivirus programs are crashing game;
7. VPN can be a potential cause.
Now you can rule out the reasons one by one by following the list above.
1. Games are running in the wrong mode
First, of course, you need to make sure that your computer's hardware specifications are adequate to run the game, and network speed won't be in the way during the game.
Then, avoid running other software while gaming is quite important, sometimes running multiple apps at the same time can also cause a game to crash. This rule applies across operating systems, from Windows, mac OS, and Linux, to iOS and Android. Close all other software before launching the game you want to play.
But there is one winning spot on Windows: game mode. In this mode, you can switch freely with minimal interference with each other, and notifications from other apps will be muted during the game.
There is how to enable the Game Mode:
01. Press Windows + I to open Settings;
02. Go to Gaming > Game Mode;
03. Click the toggle to enable the feature.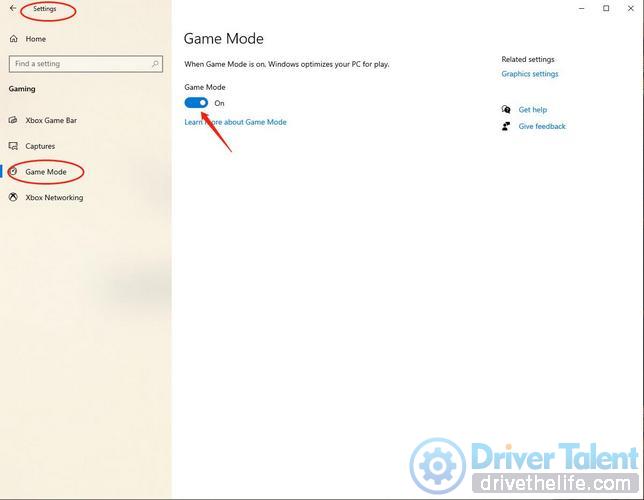 Then restart your game to see if everything is all set now.
2. The settings in the game are wrong
Most system-demanding games have a dedicated video setup screen. Designed to give users the best possible gaming experience and maximize their enjoyment of the game, today's game startup configurations are often designed for system hardware as well.
But it can also sometimes cause game to crash. The reason varies in different conditions, from a high-end graphical experience like Elden Ring to a more basic Minecraft crash in the middle of a game. And it can even be worse--the entire PC broken down.
You can avoid these problems by opening the video configuration screen and lowering the settings. Switch every option down a single step, then try playing it again. Repeat it until you find the best mix of performance and graphics.
If that doesn't work either, it's time to consider the best new graphics card to stop games crashing your PC.
3. Your operating system is outdated
Plenty of games will run on Windows 8.1 and later. An increasing number of games can run on Ubuntu and other Linux distros thanks to the right hardware and compatibility layers. A the same time, most games intended to run on Apple computers typically require OS X 10.4 (Mojave), or later. Similarly, most AAA games are designed for 64-bit systems.
Therefore, the operating system and hardware are closely related. You can run the most up-to-date video games with older hardware, but an outdated operating system has a great chance to make your game crash. So keep your operating system updated.
4. You need to upgrade device drivers
Computer hardware can also explain a lot if your game crashes all the time. But it is very expensive to update hardware, so you can fix this by trying to update the drivers first.
You can visit the manufacturer's website and download the latest version of the driver that compatible with your computer's operating system. Then follow the on-screen guide to download them manually.
If you don't want to waste time in such complicated operations and want it to be done quickly and automatically, then there is something that covers your needs--Driver Talent. It can update your drivers automatically and regularly, more still, it can also detect the driver issues on the PC within seconds, then to repair or reinstall the most compatible version automatically for the PC.
You can click here to begin its trail.
If you have downloaded it, now follow me on this:
01. Scan the PC
Start Driver Talent, click Scan to have a whole check on all drivers.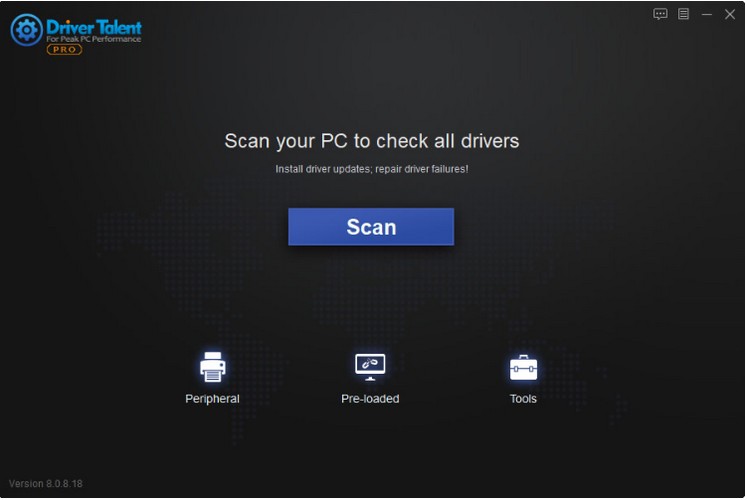 02. Update your target driver
After the scanning process is complete, click "Update" to update your drivers to the latest version.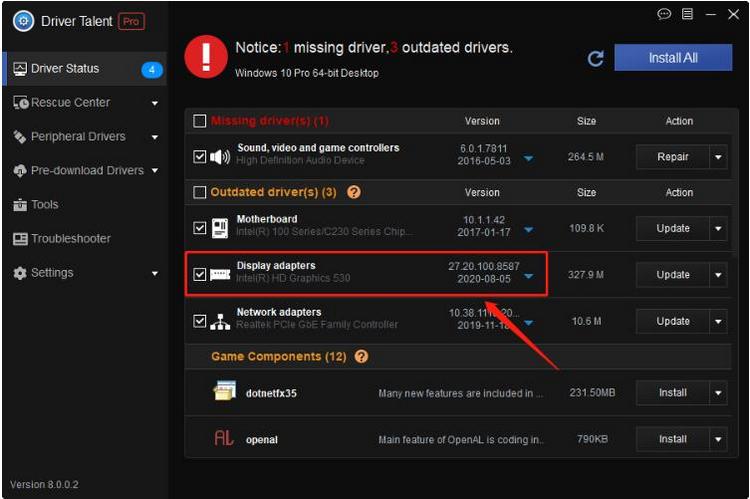 03. Reboot the PC
The last step is to restart your computer so you can take all effects.
You can also update the outdated drivers all at once through buying our Pro version. In Pro version, you can enjoy the full features and a 30-day money back guarantee, no risk for your trial experience. What's more, Pro version comes with full technique support, they can solve your problems online whenever you are in need. Driver Talent can do more than above, other issues involved Motherboard, Network card, Display card, Audio card, USB WLAN card and so on, can also be taken care of.
5. You need to upgrade your PSU
One common reason for games crashing lies in the power supply unit (PSU). This is often contributed by the graphics adapter demanding more power than is available. You can easily fix it by updating to the most suitable PSU.
Before swapping out the PSU, however, make sure that the graphics card and PC interior is absolutely free from dust. Too much dust will increase the temperature inside a PC and put additional load on the CPU and video card. Greater load means a higher temperature. If the dust is considerable and the fans are not sufficient for cooling, disaster will strike.
6. Antivirus programs are crashing game
Another problem that can make your games keep crashing is antivirus and anti-malware software.
Just like mentioned before, the game performance can be interfered with anything that is running background. But antivirus is slightly different, as it is actively looking for suspicious files.
Thus scanning those files will bring two potential results:
01. The PC crashes due to security scanning;
02. Your game crashes because some files are identified as dangerous and quarantined
But don't worry, you have three fixes:
01. Reduce the level of (or disable) file scanning when gaming;
02. For the duration of your gaming session, disable the software (if possible – antivirus software recognizes this action as malware);
03. Change your security software for one with a "game mode".
Check the online help for your security software to find the correct steps on these solutions.
7. VPN can be a potential cause
It may go unnoticed at times, but VPN software can also be the cause of games crashing on computers all the time, especially online games.
This can happen if the VPN server is brought down, or if the VPN client isn't able to maintain a connection. Distance can also be part of the story. If you're intended to play a specific game server – perhaps one based on the other side of the planet – then you have a dual issue of latency and any delay through the VPN. Either of these alone can bring a game crashing.
Here are the solutions:
01. Upgrade to a faster VPN;
02. Avoid using a VPN to access that specific server, even if it does mean restarting the game;
03. Invest in a faster internet connection.
Now you should know where the problem is when your game crashes all the time, and you have learned several tips to fix them. So, have fun gaming!
Recommended Download