Satisfy Your Diablo Cravings: Best Action-RPG Games like Diablo 4
Jul. 25, 2023 / Updated by Eloise to Gaming Solutions

Diablo 4 is finally here, and it's everything you hoped for and more. The latest installment of the legendary action-RPG series delivers a thrilling and immersive experience that will keep you hooked for hours. You can explore a vast and varied open world, fight against hordes of demons and other enemies, collect tons of loot and gear, and customize your character with different classes, skills, and talents. Diablo 4 is a masterpiece of the genre, but it's not the only game that can satisfy your craving for action-RPGs. There are plenty of other games like Diablo 4 that offer similar gameplay, features, and quality. In this article, we will introduce you to six of the best action-RPG games like Diablo 4 that you should try in 2023.
Top 6 Diablo Style Games for PC
1. Path of Exile
It is a free-to-play online action-RPG that has been compared to Diablo 2 in terms of its dark and gritty atmosphere, complex skill system, and deep endgame content. You can choose from seven classes and customize your character with a huge passive skill tree and various active skill gems. Path of Exile also features a robust player economy, seasonal leagues, and regular updates that add new content and features. Path of Exile is available on PC, PS4, PS5, Xbox One, Xbox Series X, and Switch.
2. Lost Ark Lost Ark
It is a massively multiplayer online action-RPG that combines the hack-and-slash combat of Diablo with the open world exploration and questing of an MMORPG. You can choose from 15 classes and embark on an epic adventure across the vast continent of Arkesia. Lost Ark also features a dynamic combat system, a variety of activities such as fishing, sailing, and crafting, and a stunning graphics engine that brings the world to life.
3. Titan Quest: Anniversary Edition Titan Quest
Anniversary Edition is a remastered version of the classic action-RPG that was released in 2006. It takes you on a mythological journey through ancient Greece, Egypt, and China, where you can fight against legendary creatures and gods. You can choose from nine classes and combine them to create your own hybrid build. Titan Quest: Anniversary Edition also includes the Immortal Throne expansion, as well as improved graphics, performance, and multiplayer features. Titan Quest: Anniversary Edition is available on PC, PS4, Xbox One, and Switch.
4. V Rising
This is an upcoming online action-RPG that lets you play as a vampire in a dark medieval world. You can explore the open world, hunt for blood, and fight against other players and creatures. You can also build your own castle, recruit minions, and join clans to wage war against other factions. V Rising promises to deliver a unique vampire experience with dynamic gameplay, rich customization options, and stunning visuals.
5. Victor Vran
Victor Vran is an action-RPG that puts you in the role of a demon hunter in a gothic fantasy world. You can use different weapons, outfits, and powers to slay hordes of enemies and bosses. You can also change the difficulty and rewards by activating various hexes that modify the game rules. Victor Vran also supports co-op multiplayer for up to four players, as well as two expansions that add new content and features. It is available on PC, PS4, Xbox One, and Switch.
6. Borderlands Series
Borderlands is a series of action-RPGs that combine the loot-driven gameplay of Diablo with the first-person shooter genre. You can choose from different characters with unique skills and abilities, and collect thousands of guns with different stats and effects. You can also explore diverse environments, complete quests, and fight against enemies and bosses with your friends in co-op mode. Borderlands has four main games in the series: Borderlands (2009), Borderlands 2 (2012), Borderlands: The Pre-Sequel (2014), and Borderlands 3 (2019). Borderlands is available on PC, PS4, PS5, Xbox One, Xbox Series X6.
Bonus Tip: How to get the best game experience?
One of the most important factors that affect your gaming experience is your graphics driver. If your graphics driver is outdated or corrupted, you may struggle with problems such as low FPS, crashes, glitches, or compatibility issues with some games. To avoid these problems and enjoy the best performance from your graphics card, you need to update your graphics driver regularly. However, finding the right driver for your device can be tricky and time-consuming. That's why you need a tool like Driver Talent.
Driver Talent is a professional driver updater software that helps you find missing or corrupted drivers on your computer and fix them. It also helps you update the outdated drivers by finding the best-matched ones from the internet. Driver Talent has many features that make it a great choice for gamers, such as:
Fast download speed: Driver Talent can download drivers directly through the program with fast speed and without any pop-ups.

Automatic backup: Driver Talent can backup your drivers automatically before updating or uninstalling them, so you can restore them if anything goes wrong.

Offline mode: Driver Talent can install an offline version of the software that includes network drivers, which is useful if you don't have internet access or need to update drivers on another computer.

Customizable settings: Driver Talent allows you to adjust the maximum download speed, choose the download location, and schedule automatic scans according to your preferences.
Step 1: Open Driver Talent and click Scan to let it scan your computer for driver problems.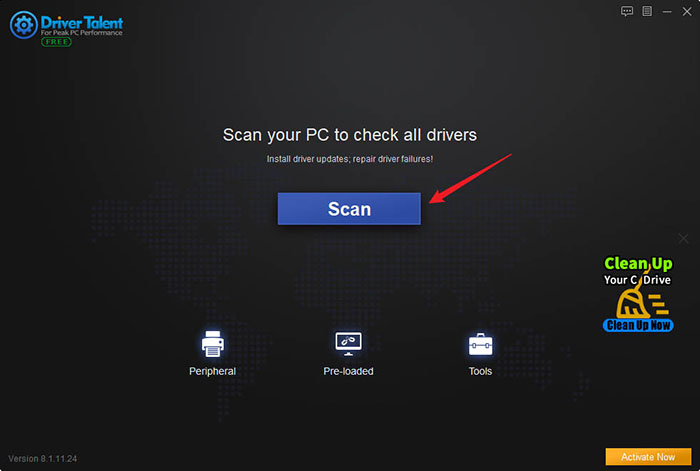 Step 2: Find your graphics driver on the list and click on Update or Download.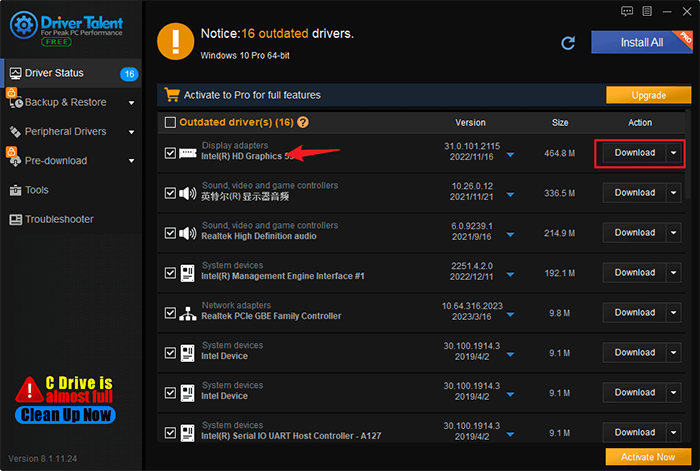 Step 3: Wait for the download and installation to finish and restart your computer if needed.
You may also like
Recommended Download