Bluetooth Audio Delay in Win11, What to Do?
Jul. 27, 2022 / Updated by Hope Law to Windows 11
Bluetooth Audio delay in Win11, is this problem bothering you? Do not worry, it is simple to fix.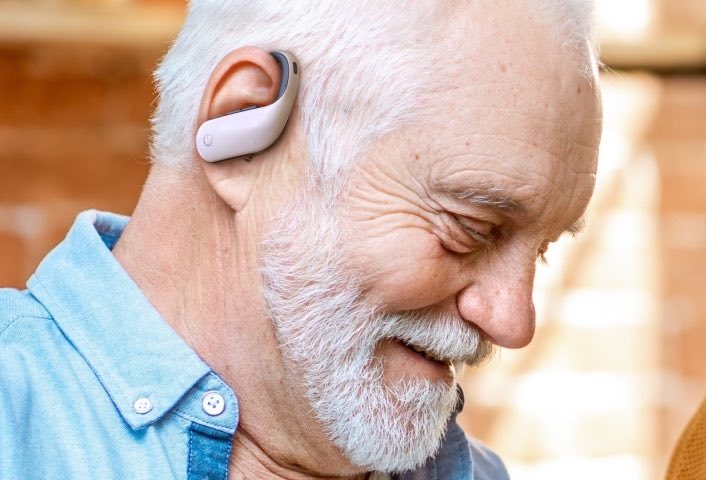 Nothing is worse than delayed audio, especially when it comes from expensive Bluetooth technology. This problem typically affects the operating system rather than the hardware, and Windows 11 users are more likely to encounter it.
We've given several workarounds below to repair the problem if you're using Windows 11 and encountering lagging or delayed audio from your Bluetooth gear.
01 Connect Bluetooth hardware again
Before you begin troubleshooting, make sure the delay in your audio output isn't the result of a brief interruption. To rule it out, remove the Bluetooth-enabled devices from your computer and add it again. Continue to the following steps if creating a new connection does not resolve the issue.
02 Check for other device interference
Make sure none of the items you've linked to your computer are interfering as a next step. To identify the problematic Bluetooth device, disconnect each one one at a time. After unplugging a certain device, if the audio gets fluid, you've identified the problem. In any case, rule out the chance of hardware failure if it makes no difference.
03 Update the bluetooth driver
If the above methods can't solve the existed problem, try update the bluetooth driver on your PC. You can visit the specific official website for manual download, or let DriverTalent help you.
Using an outdated or incompatible graphics driver may cause your bluetooth audio delay. So, you can try to update the driver on your PC. DriverTalent can easily do it for you automatically.
After you install DriverTalent, your system will be automatically recognized by it, which will then locate the appropriate drivers for it. DriverTalent PRO or FREE versions both allow you to automatically update your drivers. But, using the Pro version only takes 2 steps to finish. And it comes with a 30-day refund policy.
1. Download and install DriverTalent.
2. Run DriverTalent and click Scan button, DriverTalent will then scan your PC to find any problematic drivers.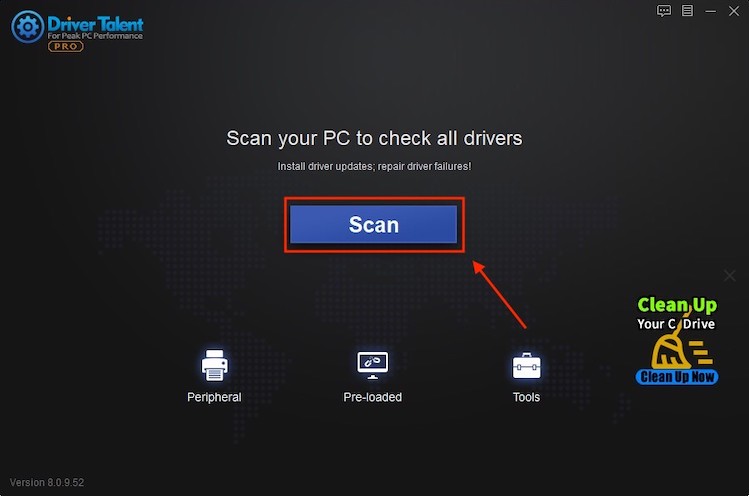 3. Click Install All to automatically download and install the most recent versions of all the drivers that are missing or out of date from your system. (This step requires the Pro version. When you click Install All, you'll be asked if you want to upgrade).
Alternately, you can click Manual button on the right side of each drivers, to automatically download the right version of that driver, then you can manually install it (you can do this with the FREE version).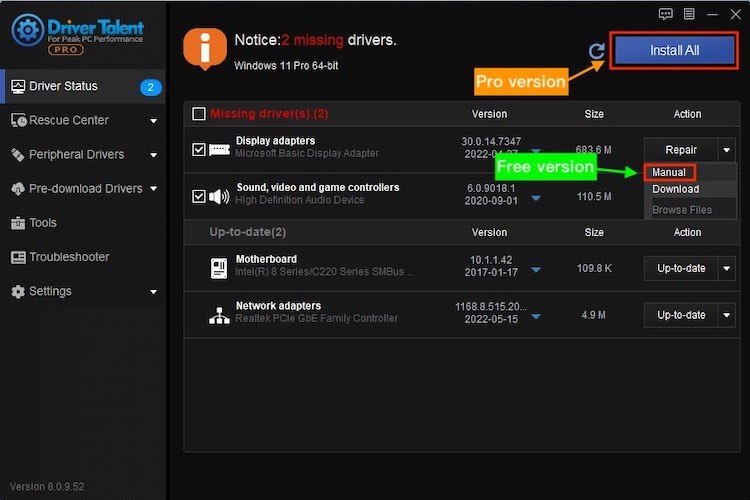 DriverTalent have a 30-day Money Back Guarantee. If you find the application marked your hardware as available but was unable to provide an available device driver when scanning it for you, we guarantee that all your money will be refunded immediately.

✓The Pro version of DriverTalent comes with full technical support. If you have any technical questions, please have your visit on our Support site.
Restart your computer, see if anything has changed.
04 Switch off the audio enhancements
Audio enhancements can make your headphones sound nice. Despite largely being successful, it occasionally has unsettling aural quality. It is therefore better to disable this setting if you have already enabled it to see if it resolves the issue.
To disable audio enhancements:
1. Open Settings.
2. On the left sidebar, click the System tab.
3. In the right-hand pane, click Sound.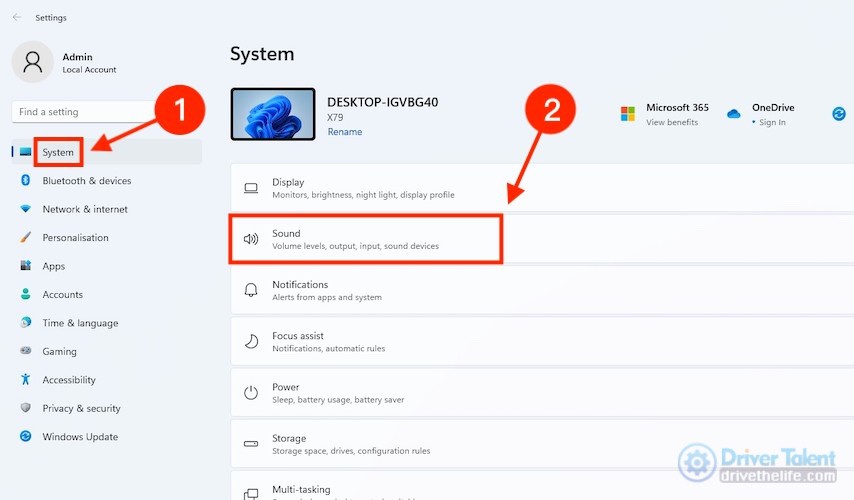 4. From the Output section, select your relevant audio device.
5. Click on Advanced under Enhance audio in the Output settings.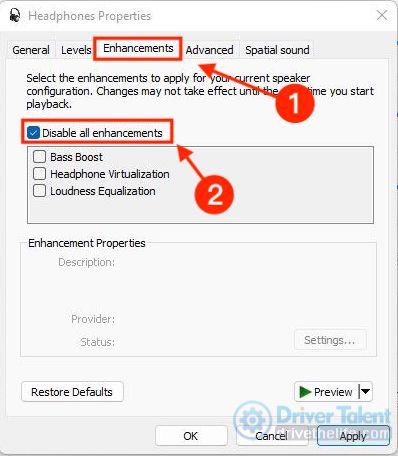 6. In the Properties window, click the Enhancements tab.
7. Check the box that says Disable all enhancements.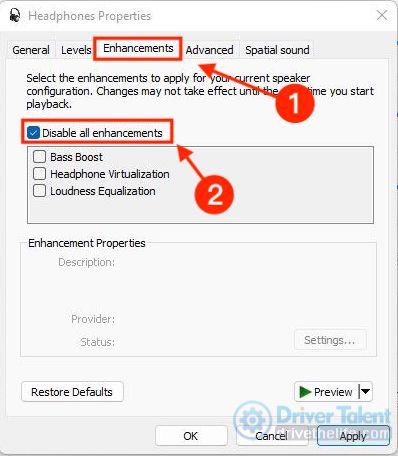 8. Click Apply and OK
A more fluid audio experience might be obtained by turning off the audio improvements. Continue with the following solution if it doesn't work.
NOTE: On occasion, turning off audio improvements causes the sound quality to get worse. To activate audio enhancements, uncheck the same item once again for the same outcome.
05 Check out hardware issues
Hardware problems should be ruled out if you're certain it's not a short-term glitch. So, unplug your computer's audio output device and connect it to a different computer or a phone. Your hardware is to blame if the other device's audio delays.
If the audio output changes, step closer to the receiver to rule out range difficulties. If you're certain that the hardware is at blame, you'll need to either fix it or replace it.
When you attach your speaker or headphones to another device, they may begin to function properly, signaling an issue with your operating system. If so, you might find the following checks useful.
06 Check out your media player
Make sure the audio delay does not come from your media player that you are using to play the audio or video, after ruling out hardware and operating system issues. Although it is less frequent, media players can result in bothersome problems like the one we are talking about.
Play the media file in another media player you have to rule out this possibility. Check to see if the audio delay isn't happening while running a certain file or files in a specific format if it appears in several media players.
---
You should be able to eliminate delayed audio and improve fluidity by using the preceding modifications. If you have any questions or suggestions, feel free to contact us.
Recommended Download