Dell Drivers Free Download and Update for Windows 10 to Fix Errors
Jun. 24, 2022 / Updated by Bessie Shaw to Windows Driver Solutions
Dell Driver Errors after Windows 10 Update on Laptop, PC or Notebook Computer
Your Dell computer's sound or audio not working after Windows 10 update? No wireless connection or no Wi-Fi (Internet connection) after installing Windows 10? Touchpad or keyboard not responding on Windows 10, display driver not responding when playing games? These are Dell driver errors and you need to update to the latest Dell drivers. After updating to Windows 10, your Dell device may get some other errors like, you can't access the Dell hardware device, your Dell hardware device is not working properly, Your Windows computer is not recognizing the installed Dell hardware device, etc.
No worry at all. There are workable solutions to fix these Dell driver problems.
Why You Get Dell Driver Problems After Windows 10 Upgrade
Some of you might be confused why you have the Dell driver problems and conflicts on Windows 10. Here are the main causes:
The drivers are not compatible with the new Windows 10 after you update from Windows 8.1/8/7/XP/Vista.

You did not install drivers when you install the Dell hardware device.

The Dell drivers are out-of-date. You upgraded your Dell device but did not updated to the latest Dell drivers accordingly.

The Dell drivers are missing when you install the Windows 10 or install other programs.

The Dell driver files are corrupt or broklen.
How to Fix Dell Driver Errors – Free Download and Update Dell Drivers for Windows 10
Updating to the latest Dell drivers not only fixes the errors but also is a good maintenance to add more new features the manufacturer offers. You can go to the manufacturer's website to search the Dell drivers, but in many cases the drivers are difficult to locate or simply no longer available.
Therefore, using a professional Dell driver update utility is a good choice. You can try Driver Talent (formerly called DriveTheLife), which is free and has been used by billions of people. It helps you have a safe scan of driver problems, and update to the latest Dell drivers that are best-matched with Windows 10, either 64-bit or 32-bit. This all-in-one Dell drivers download manager can download and update all Dell drivers online once, such as Dell touchpad drivers, Dell printer drivers, Dell sound drivers, Dell Nvidia drivers, Dell Inspiron 3521 drivers, Dell Inspiron 3421 drivers, Dell drivers e6410, Dell 6420 drivers, Dell 6400 drivers, Dell drivers e6430, Dell drivers e7440, etc. If some of you are looking for Dell drivers download UK, Dell drivers download Australia, Dell drivers download India or any Dell drivers download, you can have a try with this software.
Download and install Driver Talent on your computer, like a laptop, desktop PC or notebook. It also supports drivers update for Windows 8, Windows 7, Windows 8.1, Windows XP and Windows Vista.
Updated: DriveTheLife has been updated to the new version called Driver Talent with a fresh new look.
Steps to Install Dell Drivers for Windows 10
Step 1. Run Driver Talent on your computer and click on "Scan". It will find and list the driver problems.
Step 2. In the scanning result, select the drivers you want to download and update. Click "Start" and this software will start downloading the latest drivers and installing them. For computer peripheral devices (USB connected devices), go to the "Peripheral Drivers" menu to install USB drivers.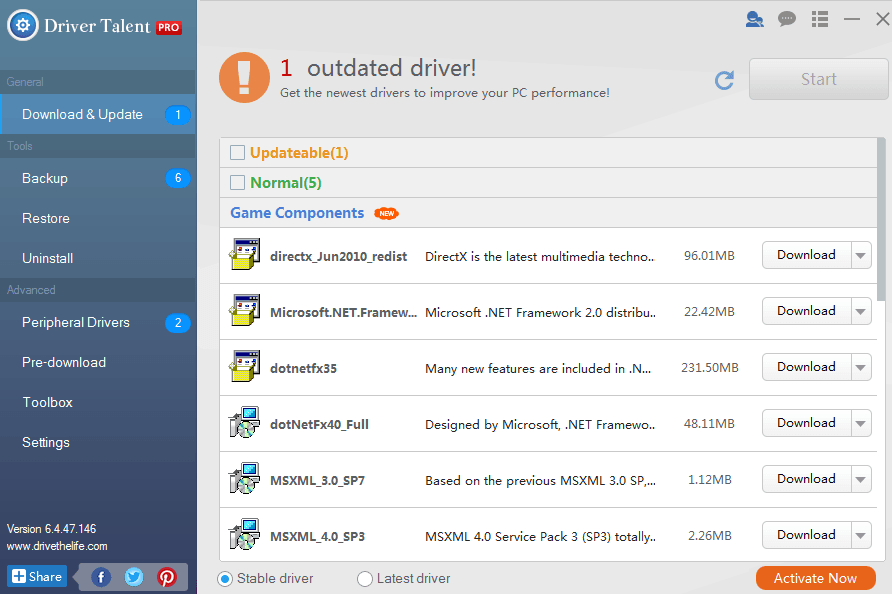 Step 3. Restart your computer to make the newly-downloaded drivers work properly.
The Most Common Dell Drivers for Windows 10
Here is the list of the most common Dell drivers for Windows 10, including Dell laptop drivers, Dell PC drivers, Dell notebook drivers, and the drivers for other Dell devices. We do not cover all Dell drivers since there are thousands. If the driver you are looking for is not in the list, tell us.
| | | |
| --- | --- | --- |
| Dell printer drivers for Windows 10 | Dell video drivers for Windows 10 | Dell sound drivers for Windows 10 |
| Dell Nvidia drivers for Windows 10 | Dell USB drivers for Windows 10 | Dell drivers e6410 for Windows 10 |
| Dell Inspiron 3521 drivers for Windows 10 | Dell Inspiron 3421 drivers for Windows 10 | Dell e6420 drivers for Windows 10 |
| Dell e6410 drivers for Windows 10 | Dell 9020 drivers for Windows 10 | Dell e6440 drivers for Windows 10 |
| Dell inspiron 6000 drivers for Windows 10 | Dell b1160 drivers for Windows 10 | Dell smo8800 drivers for Windows 10 |
| Dell Optiplex 3020 drivers for Windows 10 | Dell Optiplex 7010 drivers for Windows 10 | Dell Optiplex 9020 drivers for Windows 10 |
| Dell smo8810 drivers for Windows 10 | Dell e5430 drivers for Windows 10 | Dell e6530 drivers for Windows 10 |
| Dell drivers e6430 for Windows 10 | Dell drivers e7440 for Windows 10 | Dell driver cab e6440 for Windows 10 |
| Dell support drivers for Windows 10 | Dell monitor driver for Windows 10 | Dell touchpad driver for Windows 10 |
| Dell audio drivers for Windows 10 | Dell 3130cn driver for Windows 10 | Dell e6510 drivers for Windows 10 |
| Dell keyboard driver for Windows 10 | Dell video drivers for Windows 10 | Dell Bluetooth driver for Windows 10 |
| Dell d610 drivers for Windows 10 | Dell d620 drivers for Windows 10 | Dell v305 driver for Windows 10 |
| Dell 2330dn driver for Windows 10 | Dell d600 drivers for Windows 10 | Dell network drivers for Windows 10 |
| Dell inspiron drivers for Windows 10 | Dell 5110cn driver for Windows 10 | Dell latitude drivers for Windows 10 |
| Dell 1320c driver for Windows 10 | Dell 3100cn driver for Windows 10 | Dell webcam driver for Windows 10 |
| Dell 1110 driver for Windows 10 | Dell 5100cn driver for Windows 10 | Dell a940 driver for Windows 10 |
| Dell b2360dn driver for Windows 10 | Dell 2335dn driver for Windows 10 | Dell a920 driver for Windows 10 |
| Dell e7440 drivers for Windows 10 | Dell e6430 drivers for Windows 10 | Dell e6420 drivers for Windows 10 |
| Dell v515w driver for Windows 10 | Dell 1710n driver for Windows 10 | Dell wireless driver for Windows 10 |
| Dell xps drivers for Windows 10 | Dell e6520 drivers for Windows 10 | And more |
Recommended Download