How to Fix 0xc0000135 Error on Windows 10/8.1/8/7/Vista/XP
Jun. 24, 2022 / Updated by Bessie Shaw to Gaming Solutions

0xc0000135 error, which reads "The application failed to initialize properly (0xc0000135). Click OK to terminate the application", may appear when running any program like PlayerUnknown's Battlegrounds on Windows 10, 8.1, 8, 7, Vista or XP. The most common cause for this error is the absence of the proper version of the .NET framework. Sometimes, it may also be caused by corrupt or missing system files, registry errors or even the driver or program compatibility issues after Windows OS updated. To troubleshoot this nettlesome issue, you can refer to the workarounds below which apply to Windows 10 and other OS.
Workaround 1. Install the Proper Version of the .NET Framework
In most cases, 0xc0000135 error may occur when you run a program that requires the .NET framework, but your computer doesn't have the .NET framework or doesn't install the .NET framework properly. To fix this issue, you just need to install or reinstall the proper version of the .NET framework. At first, determine if there is the .NET framework on your computer. Follow the easy steps below:
Step 1. Type "control panel" in the search bar to open the Control Panel.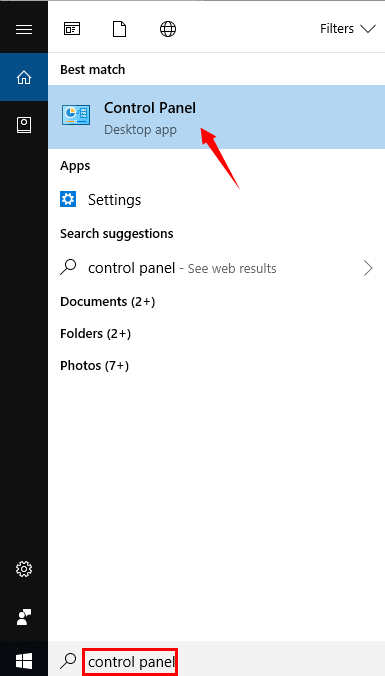 Step 2. Click Programs in the Control Panel, then find Programs and Features and click it.

Step 3. All the programs installed on your computer are listed. Check if there is any form of the .NET framework.
If there is the .NET framework, just uninstall it and then have it reinstalled. If not, click here to download the proper version of .NET framework from Microsoft official website and install it. After the .NET framework installed, remember to reboot your computer to let the installation take effect. If the 0xc0000135 error still persists, try the remaining workarounds.
Note: .NET framework is a Windows-only version of .NET. You need to see system requirements before installing it. Refer to: .NET Framework system requirements.
Workaround 2. Perform a Clean Boot to Fix 0xc0000135 Error
To fix 0xc0000135 error, another workaround is to perform a clean boot on your computer, seeing if a third-party application is causing the issue. Log in Windows as an Administrator firstly and take the steps below:
Step 1. Press Windows + R to open the Run dialog box. Then type "msconfig" into the box and press Enter.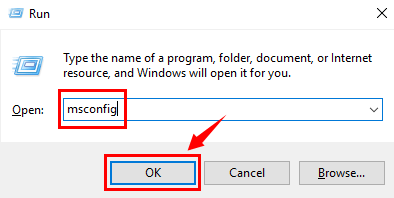 Step 2. Locate General on the System Configuration. Select "Selective Startup" and uncheck "Load startup items".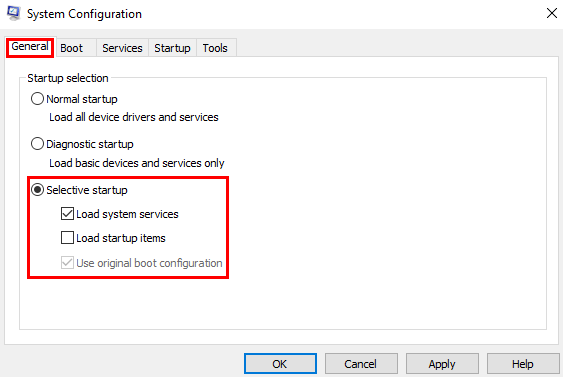 Step 3. Skip to Services and check "Hide all Microsoft services", then click Disable all and OK.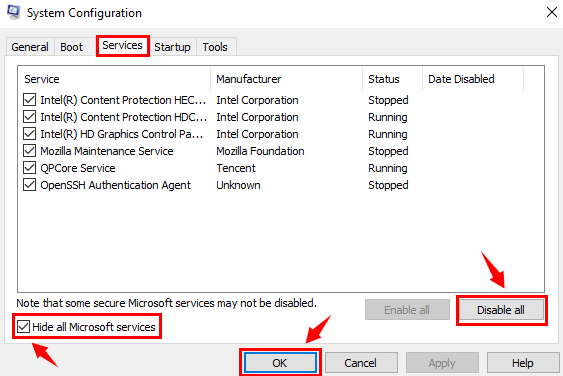 Step 4. Choose Restart on the new pop-up dialog box.
Read more:How to Use Windows 10 Clean Boot to Fix PC Errors
Workaround 3. Run System File Checker Utility to Detect Corrupt System Files
As we all know, broken or missing system files may cause many Windows problems, including 0xc0000135 error. So it's recommended to run System File Checker (a useful tool in Windows OS) to detect damaged system files, and then restore the files to fix the issue. Do as follows to run System File Checker by using sfc /scannow command:
Step 1. Press Windows + X or right click the Start button to open the Power User Menu.
Step 2. Click Windows PowerShell (Admin) on the Power User Menu to access the command prompt.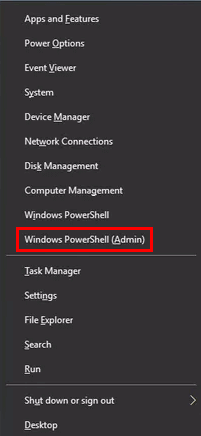 Step 3. Type "sfc /scannow" in the command prompt, and then press Enter.

Then the System File Checker will automatically scan the system and replace any corrupt or missing system files to troubleshoot the error. This process may take up some time. And you need to restart your notebook/PC after this process is finished.
Workaround 4. Use Driver Talent to Troubleshoot the Error
According to the request posts from social media websites, some users encountered 0xc0000135 error after they updated their Windows OS. Therefore, it may be caused by the driver's compatibility with the updated system. Outdated or incompatible drivers can also result in 0xc0000135 error. To troubleshoot this error, you can use a profession driver management tool, like Driver Talent, to update or repair your drivers with just one click. Click the button below to download and install it.
Step 1. Start up Driver Talent and click Scan to detect problematic drivers.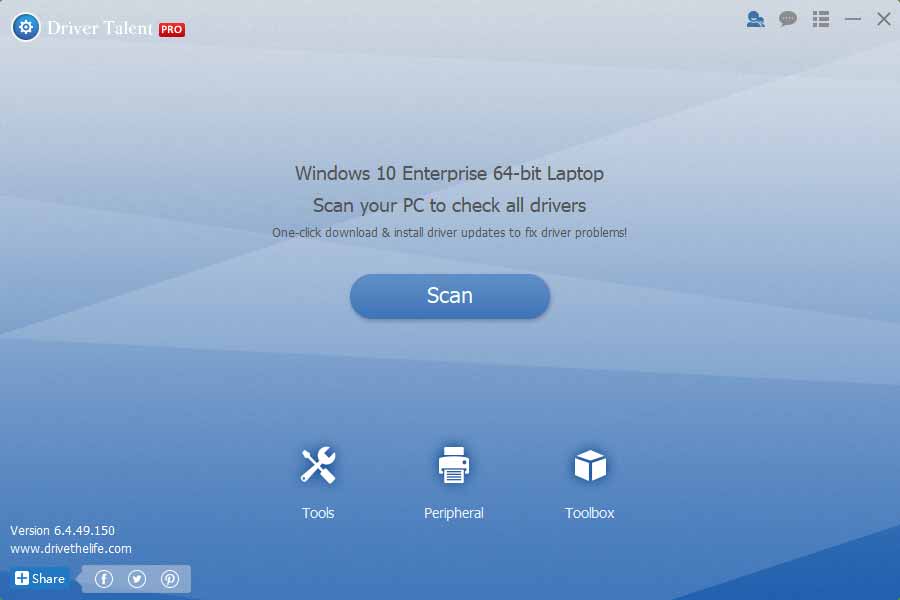 Step 2. Check all the problematic drivers and click Start to update or repair your drivers with one click.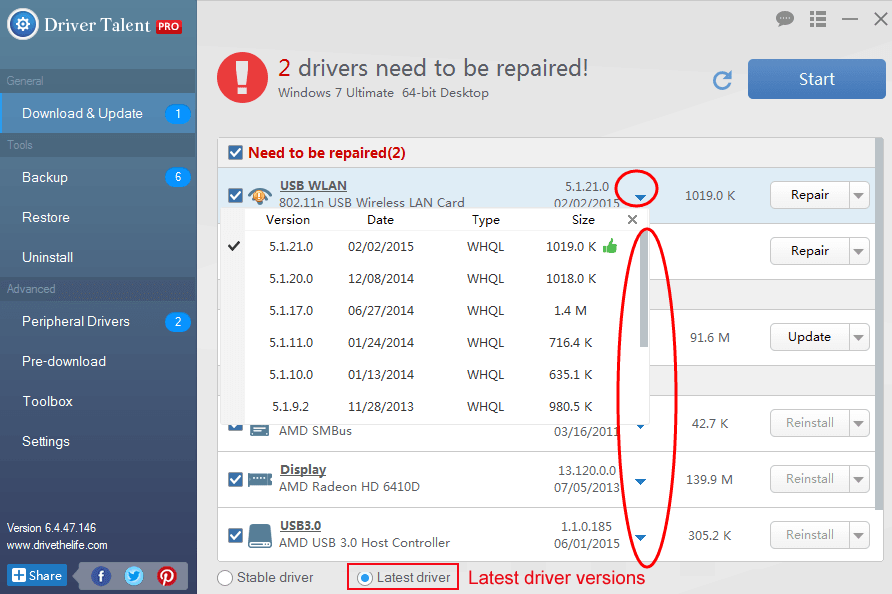 Step 3. Restart your laptop/desktop to make this process take effect.
Bonus tip: If you want to update your drivers manually, you can refer to this post: 2 Ways to Update Outdated Drivers in Windows 10.
If you encounter any problems during the process of fixing 0xc0000135 error on Windows 10/8.1/8/7/Vista/XP, do not hesitate to let us know. You can get to us by leaving comments under this post. More solutions to other error codes can be accessed below:

Recommended Download