4 Ways to Fix D3dx10_43.DLL Missing Error after Windows 10 Creators Update
Jun. 24, 2022 / Updated by Bessie Shaw to Gaming Solutions
A couple of d3dx10_43.dll issues occur after the Windows 10 Creators update, such as D3dx10_43.dll is missing or D3dx10_43.dll not found. The d3dx10_43.dll error often shows up when you try to launch a game. If d3dx10_43.dll is missing from your computer, the related game can't be started. To resolve the d3dx10_43.dll missing or not found issue after the Windows 10 Creators Update, you could try out the following troubleshooting methods.
Method 1. Uninstall the Game and Reinstall It
As said, the d3dx10_43.dll missing or not found error is often associated with a game. The first viable solution could be uninstalling the game program and then reinstall it. Don't forget to reboot your computer.
Method 2. Install Latest DirectX
In fact, the d3dx10_43.dll issues are often caused by Microsoft DirectX. Therefore, installing the latest DirectX could be an effective solution. Tired of spending a lot of time searching the compatible DirectX on the Internet, you could try a useful DirectX installation utility to quickly update to the newest DirectX file version, and it's highly recommended to utilize Driver Talent to help you.
Once you finish downloading and installing Driver Talent, you could follow these straightforward steps to immediately get the latest DirectX for your computer.
1. Launch Driver Talent. Hit "Scan" to perform a scanning process of your DirectX file on your PC.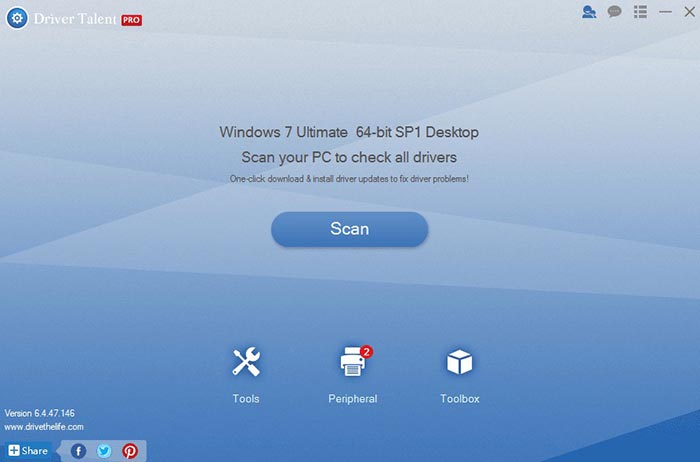 2. Under "Download & Update", scroll down to the "Game Components" section, then you can select the relevant DirectX file to download and install.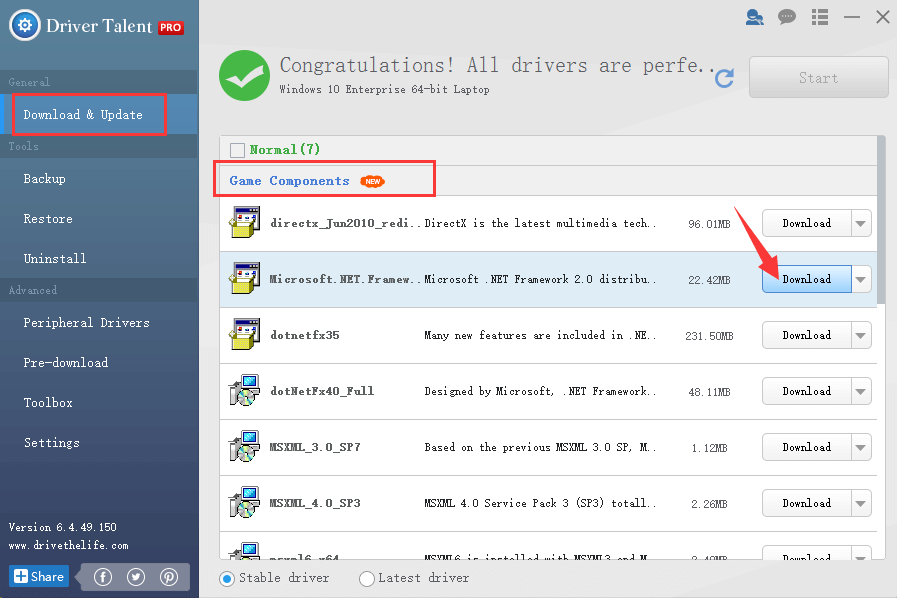 3. Reboot your computer to allow the change to take effect.
Note: Driver Talent could install the correct DirectX file for all versions of Windows, including Windows 10, Windows 8.1, Windows 8, Windows 7, Windows XP and Windows Vista. It is able to resolve any missing DirectX 11, DirectX 10, or DirectX 9 file.
Method 3. DLL File Helper
To solve the d3dx10_43.dll missing or not found error after the Windows 10 Creators Update, you could also utilize the DLL File Helper tool of Driver Talent. Take the following steps:
1. Start Driver Talent. Click "Scan" to detect your DLL file issues.
2. Navigate to the "Toolbox" menu, click the "DLL Files Helper". Type "d3dx10_43.dll" and click "Search". The d3dx10_43.dll file name will show up.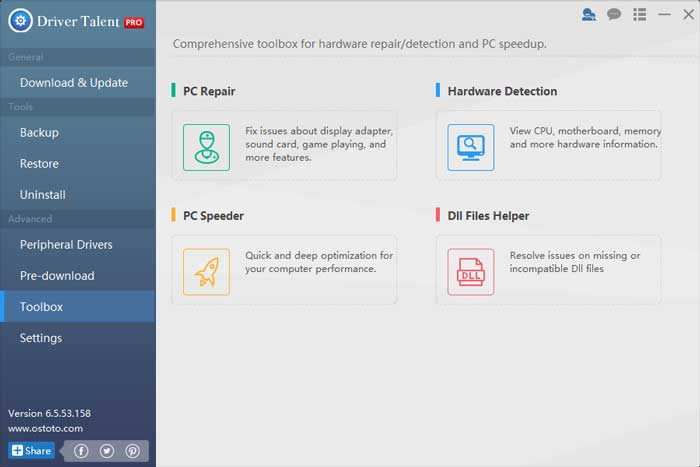 3. Click "Repair" or "Install" to load the file to the folder.
4. Perform a reboot to make the changes take effects.
Method 4. Download and Update Video Driver
Another fix is downloading and updating your video card driver. Incompatible video card driver could also lead to the d3dx10_43.dll not found error. To download and update your video driver, you could refer to this article: Free Download & Update Graphics Driver, Video Card Driver, Monitor Driver, Display Card Driver.
If you have some other ways to fix the d3dx10_43.dll missing error, you can leave comments in the comment section below or click the LEFT MENU on this page. Once you run across other gaming-related issues, please check out Game Solutions on this site.
Recommended Download