Fix: Nox App Player Error 1005 - Your Graphics Card Driver Is Outdated
Jun. 24, 2022 / Updated by Bessie Shaw to Windows Driver Solutions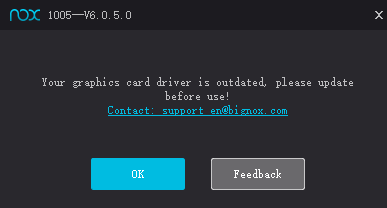 Have you ever met error 1005 with the message which reads "Your graphics card driver is outdated, please update before use!" when you are using Nox App Player. It's reported that some users encountered this error during the game or running the App because of the update of the OpenGL graphics driver recently.
If you are bothered by this error, take it easy. Try the solutions provided in this post, and you may be able to get rid of it.
Solution 1. Change the Graphics Rendering Mode in the Multi-drive Management Panel
The first solution you can try to fix Nox App Player error 1005 is to change the graphics rendering mode in the Multi-drive management panel. Do as follows.
Step 1. Launch the Multi-drive management panel (also known as MultiPlayer).

Step 2. Change the graphics rendering mode between OpenGL and DirectX. If the error occurs in the OpenGL mode, switch it to the DirectX mode.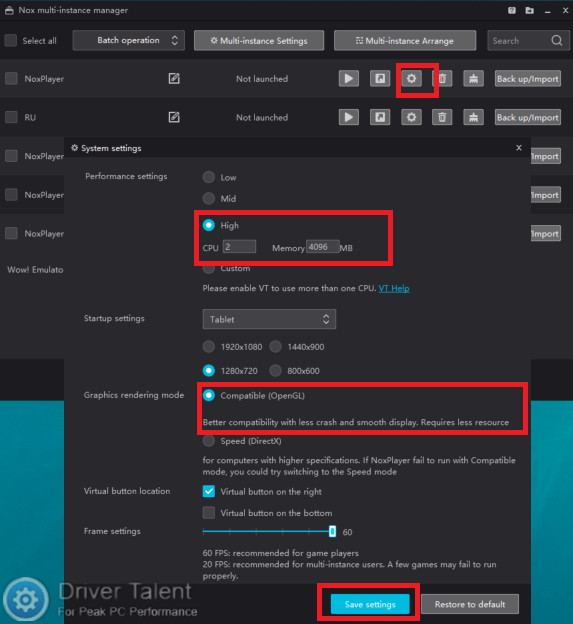 Step 3. Restart the emulator to see whether the error has disappeared or not.
Solution 2. Update the Graphics Card Driver
If the solution 1 doesn't change anything, it's the time to update the graphics card driver. To update drivers, this post is for your reference: 2 Ways to Update Outdated Drivers in Windows 10.
Read Also:
To update the graphics card driver easily and effectively, we recommend you to use Driver Talent, a professional driver update utility. It can detect the damaged, outdated and missing drivers on your computer automatically and help you repair, update or download and install them in several minutes. Click on the Download Now button below to get it immediately. And take the following steps to update the graphics card driver with Driver Talent.




To update the graphics card driver, take the easy steps below.

Step 1. Launch the Driver Talent and click the Scan button to perform a full scan on your computer.

Step 2. If your graphics card driver is detected as outdated, click the Update button in the right to update it.

Step 3. Reboot your computer to let the update take effect.

After the reboot, the error should be resolved when you restart the App.

You may also like to check out: How to Fix Nox App Player Not Working Issue

Now have you got how to fix Nox App Player error 1005? Hope you can resolve this troublesome issue favoringly. Don't hesitate to leave comments below to let us know if you have any questions. For more solutions to other computer issues, please click here.
Recommended Download