5 Ways to Fix Second Monitor Not Detecting On Windows 11
Mar. 08, 2023 / Updated by Renata to Windows 11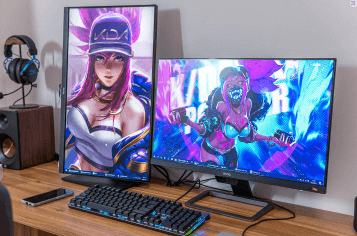 Windows 11 has updated a new start menu, UI interface, and added a search bar. The settings panel also ushered in a major revamp, and the selection bar on the left remains unmoved, allowing users to jump to the desired module at any time. Window grouping is called "Snap Layouts" in the new version. In addition to the newly added layout menu, the biggest difference between it and Win10 is that it adds a set of device-adaptive functions to improve ultra-wide screen efficiency. In addition, Snap Layouts can also be adjusted in real time according to the connected device. For example, when you connect a laptop to a large screen, or separate the main screen from the computer, Snap Layouts will automatically adjust the layout settings to ensure the best presentation effect. Therefore, compared to all past systems, Windows 11 is more suitable for 4K resolution displays and video, and the user experience is better. Many people install a another monitor in order to better experience the visual effects brought by high resolution.
However, there is also a problem: the second display cannot be connected after updating Windows 11.
Before trying the methods below, you should try the following basic solutions:
1. Make sure the HDMI cable is properly plugged in the port.
2. Clear dust or debris of HDMI port
3. Restart your computer and plug the cable again.
4. Make sure HDMI cable is not severely frayed or torn.
5. Change another HDMI port, as most another monitors and TVs have multiple HDMI ports.
Page contents:
Troubleshoot disconnection yourself
Solution1. Manually Detect Display
Solution2. Update Display Driver
Solution3. Reinstall Graphics Driver
Solution4. Update Win 11 Patch
Solution5. Replace Another Cable
Solution1. Manually Detect Display
If you have already connect the second monitor with the computer, but the Windows 11 does not detect the HDMI TV. In this case, you can manually detect the monitor first:
1. Press WIN+I together and open Settings Window
2. On system option, click Display on the right panel
3. On the right pane, scroll to the Multiple displays section and click on the Detect button.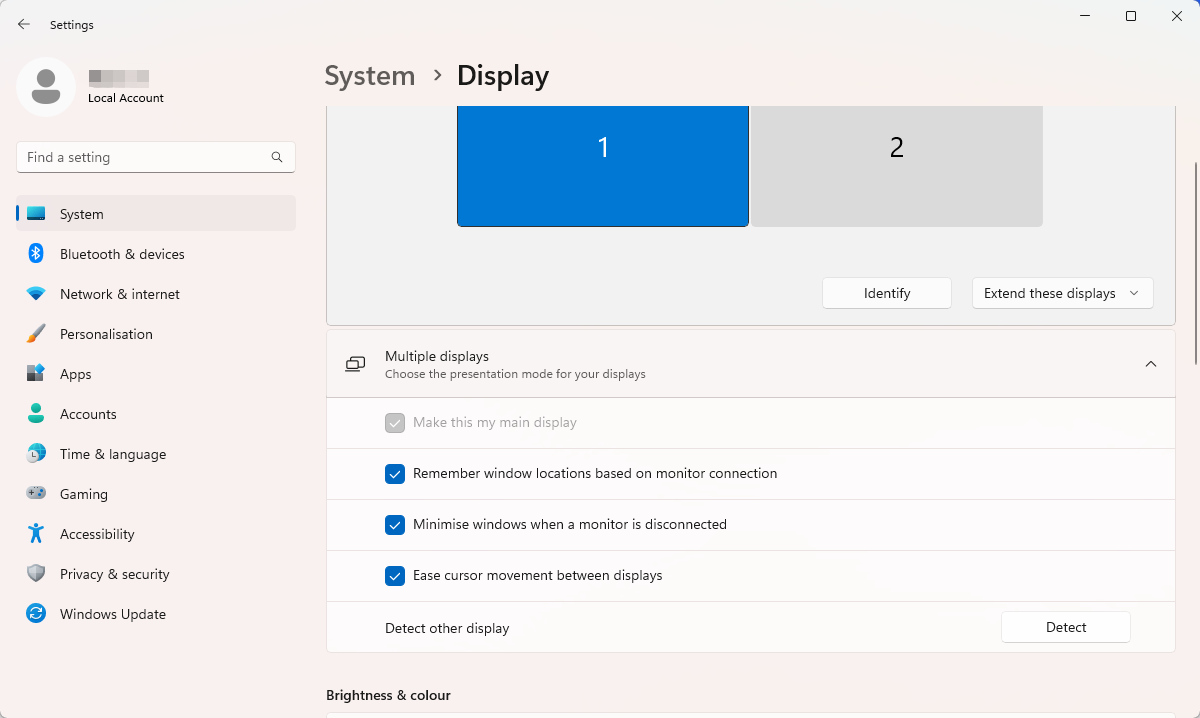 Solution2. Update Display Driver
It may be because the original display monitor driver does not support another display monitor, this problem can be fixed by updating the driver.
A driver is a software that allows your computer to communicate with hardware devices. Without drivers, the devices you connect to your computer—for example, a mouse or external hard drive—won't work properly. Windows can automatically check if there are drivers available for new devices that you connect to your computer.
It is highly recommend to download a driver updater. Driver Talent is a free software for those who affected by driver issues. Thousands of drivers are configured in the software, suitable for Windows 11, Windows 10, Windows 8, is also suitable for desktop and laptop.
Check which drivers need to be updated and which drivers can be backed up and reinstalled.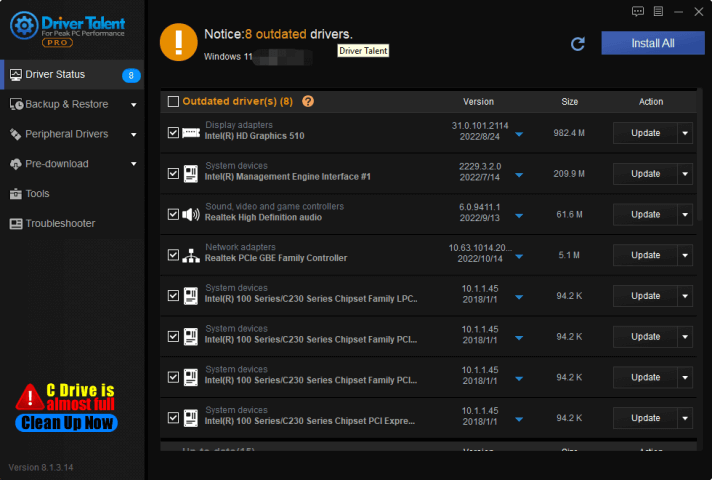 Another way to update drivers, for Windows 10, Windows 11 system, you can update graphics card driver as the following steps manually:
1. Press WIN+X at the same time
2. Enter into Device Manager
3. Choose your purpose device
4. Select drivers which need to be updated
5. Select Search automatically for drivers
Compared with the second method to update drivers, using Driver Talent is faster and easier.
Besides updating drivers, Driver Talent also provide multiple version of drivers for download.
Click the inverted triangle, users can choose the proper driver.
Download Driver Talent on the computer, so that any driver problems can be solved immediately in the future, without googling:
Besides provides display monitor driver, Drive Talent supports motherboards, graphics cards, sound cards of all brands Network card, modem, camera, wireless, printer, scanner, card reader, array card, Bluetooth, tablet, reader, USB interface, 1394. Identify and drive devices such as Bluetooth, Display, Image, MEDIA, Modem, Net, PCMCIA, SCSIAdapter, SmartCardReader, System, MODEM, serial ports, and parallel ports.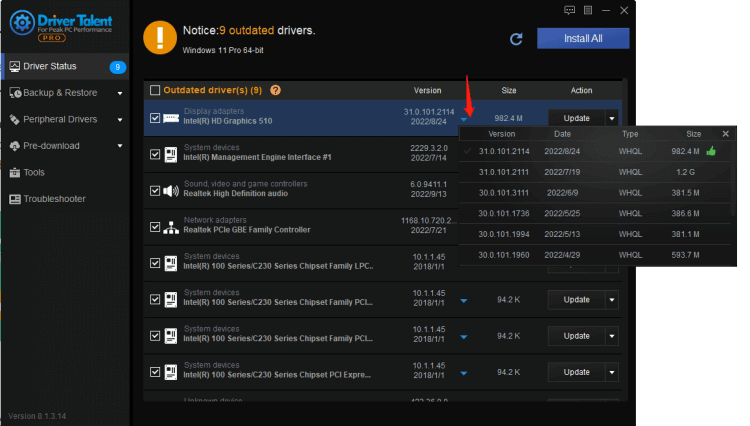 Solution3. Reinstall Graphics Driver
Sometimes updating the driver will leave the original old version of the driver, which will cause problems connecting to the second display. You can solve this problem by uninstalling the driver and downloading it again.
If your drivers are latest version, you can reinstall them:
Under the Device Manager, uninstall the graphics card device
Click the Action tab - scan for hardware changes
Then restart then computer, and the problem would properly be solved.
Solution4. Update Win 11 Patch
Unable to connect a second display is a very big problem with Windows 11 and it can be caused by a bug in the system itself that prevents it from connecting. So, go ahead and check for any available Windows 11 updates, which can be used to fix bugs.
Retrieve Windows updates, updated patches can fix some program bugs.
To update Windows 11 patch, you can follow the below steps:
1. Type WIN+I together, open the Setting Window
2. Choose Windows Updates
3. On the right panel, click Check for Updates
Solution5. Replace Another Cable
Due to the poor contact of the original HDMI cable, or internal damage, but the appearance cannot be detected, the display cannot be connected and used normally. You can try another HDMI cable to see if it can be connected normally.
Recommended Download