Optimal Ways to Connect 5GHZ WIFI on Windows Laptop
Jul. 17, 2023 / Updated by Eloise to Windows 10
Switching from 2.4GHz to 5GHz might be your best bet if you're seeking for a quick and simple approach to boost your internet connection. This post covers the easiest way to connect 5G WIFI on your laptop. The method listed below also applies to who has a dual-band router but the 5GHz WIFI won't show up. First of all, you need to make sure your computer supports 5GHz connectivity.
1. Check if your network adapter supports 5ghz
Step 1: Enter cmd in the search bar and select Run as administrator.
Step 2: Copy and paste netsh wlan show drivers in the Command Prompt window and press Enter.
Step 3: Locate Radio types supported and check the values next to it.
802.11g and 802.11n--This means your computer supports 2.4GHz only.

802.11n, 802.11g and 802.11b--This implies your computer supports only 2.4GHz.

802.11a or 802.11ac--This indicates that your PC supports 5GHz if you are able to find these among the values being displayed.
Normally, you will see "802.11a, 802.11g, 802.11n, and 802.11ac" being presented if the computer has 2.4 GHz and 5 GHz network capability. You must either get a new network card or a USB wifi adapter if you figure out that your network card isn't 5 GHz compatible.
2. How to connect to 5ghz on Windows
This method can help you if your computer doesn't detect the 5GHz WiFi regardless of whether you have a new dual-band router with a 5GHz radio or it's your first attempt at switching your router to 5GHz.
Bonus tip: Update your driver
Up-to-date network drivers allows you to enjoy a stable and optimized system, free from unexpected errors. However, finding the correct drivers for your system can be a daunting task, often leading to compatibility issues or even system errors. This is where Driver Talent comes to the rescue, which serves as an intelligent tool for anyone seeking a hassle-free and efficient way to update their computer's drivers. By automatically recognizing your system, eliminating the risk of wrong driver downloads, and providing error-free installations, it can simplify the entire process. Following steps will show you how to use it:
Step 1: Download and install Driver Talent on your computer.
Step 2: Launch a thorough scan on your Windows 10/11.
Start Driver Talent. Click the Scan button and currently of the out-of-date, damaged, corrupt, or missing drivers will be shown in a matter of seconds.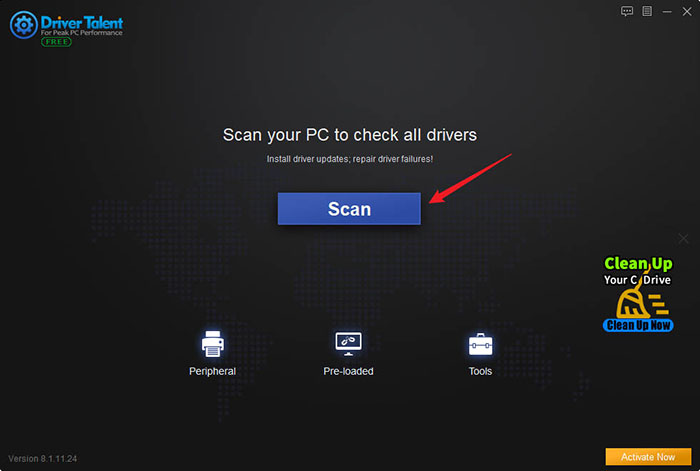 Step 3: Download and update the wifi driver automatically
You will be presented with a list of outdated drivers, click Download to get the latest version of the required driver.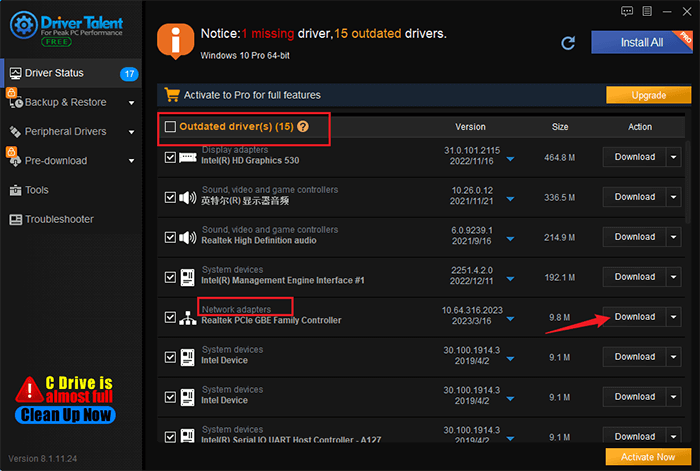 Besides, you can click up-to-date to keep the listed drivers up to date.
Step 4: Your computer needs to get restarted for your driver updates to take effect.
In addition to downloading and updating drivers, Driver Talent is stocked with a ton of other premium functions, including hardware recognition, drivers restoration, drivers installation offline, drivers pre-download for another PC, and disk clean, etc.
Note: In case you may run into a driver crash or frezeeing, try to backup your drivers at once.
Set the preferred band to 5GHz to enable 5Ghz wifi
Step 1: Open Device Manager and expand Network adapters. Then right-click WIFI adapter and select Properties.
Step 2: Switch to the Advanced tab in the pop-up dialog, and then locate the Preferred Band option in the Property list.
Step 3: In the Value dropdown box, select Prefer 5GHz band and click OK.
Step 4: Forget the 2.4GHz network. The specific steps are as follows:
Press Win + I keys to open the Settings window.

Select Network & Internet > Wi-Fi > Manage known networks.

Find the 2.4GHz network and click the Forget button next to it.

Try to connect to the 5GHz Wi-Fi band.
You may also like
Recommended Download