Find Windows Driver – Top 4 Ways to Find Computer Drivers on Window 10, 8.1, 8, 7, XP, Vista
Jun. 24, 2022 / Updated by Bessie Shaw to Windows Driver Solutions
Update to a new Windows OS (such as update to Windows 10) but drivers are missing? Install a driver but it doesn't work? Your computer can't recognize hardware or devices? The drivers you've installed are causing corrupt and even crashes on your computer? Can't find drivers for computer? There are so many sceneries in which you need to find a correct Windows driver for your computer.
In this post, you will learn top 4 methods on how to find computer drivers on Windows 10, Windows 8.1, Windows 8, Windows 7, Windows XP, Windows Vista, Windows Server 2003 (R2), 2008 (R2), 2012 (R2), and Windows Server 2016.
First, you need to know the importance of finding the right drivers for your computer. If you've pretty well known about it, skip to the next part to directly find all your drivers for computer.
Importance to Find the Right Drivers for Your Laptop, Notebook, or Desktop Computer
To find the right drivers for your computer is the only way to make your computer hardware and other devices work properly. If the drivers are incompatible with your Windows OS, or if the drivers are corrupted, damaged, missing or outdated, there will be lots of corrupts and errors, such as no WiFi, no Internet connection, no Bluetooth, no sound, display driver stopped responding, you can't play games (especially the 3D games), etc.
What's a right driver? A right driver is the driver that is well compatible with the device, your computer and the computer Operating System. For example, if your Dell computer is on Windows 10 64 bit, you need the Dell drivers for Windows 10 64 bit, not Asus driver Windows 10 32 bit.
Install the correct drivers and your computer as well as other USB or wireless devices connected to it will be on top condition. You can also find drivers for unknown devices on your computer.
Top 4 Ways to Find Windows Drivers for Windows 10/8.1/8/7/XP/Vista
"How to find out what drivers I need for my computer?" Locating the exactly right drivers is not an easy joy, and we've seen so many users getting the wrong drivers installed on computer, which results in problems. We've summed up 4 best ways to find all drivers for your computer. Try one of them to find the right computer drivers for 64 bit or 32 bit Windows OS.
Top 1. Use Software to Find Drivers Automatically with One Click
The easiest and quickest way to find the exactly right drivers for your computer is to use professional software. It helps you to instantly detect all your computer hardware and devices, download and install the best-matched drivers online, and fix all the driver issues automatically. One-click and one-stop. No need to search around the website which is time-consuming.
Driver Talent is such kind of software. It can find computer drivers with 10X faster speed than others. What's more, you can use it for free to find drivers for any computer PC, such as Asus, Acer, Dell, HP, Sony, Lenovo, Samsung, Toshiba, IBM, Alienware, Compaq, Gateway, LG, Microsoft, MSI, etc.
Free download and install Driver Talent on your computer.
Step 1. Launch Driver Talent and click on "Scan" to scan your computer hardware and devices.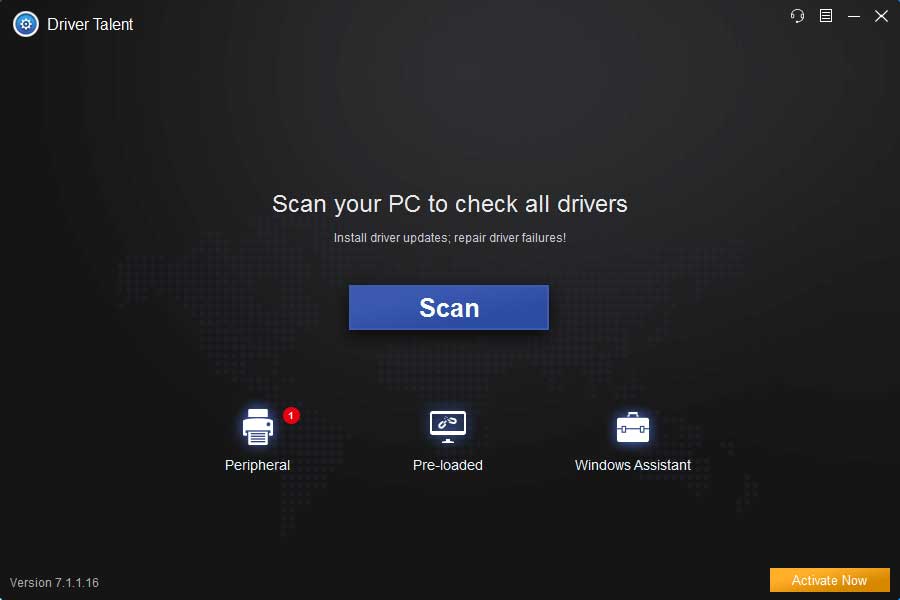 Step 2. In the scanning result, Driver Talent will display all driver issues, including the corrupted, incompatible and missing drivers you need to repair, the outdated drivers you need to update, etc. Select the devices that have driver issues and click "Repair" or "Update".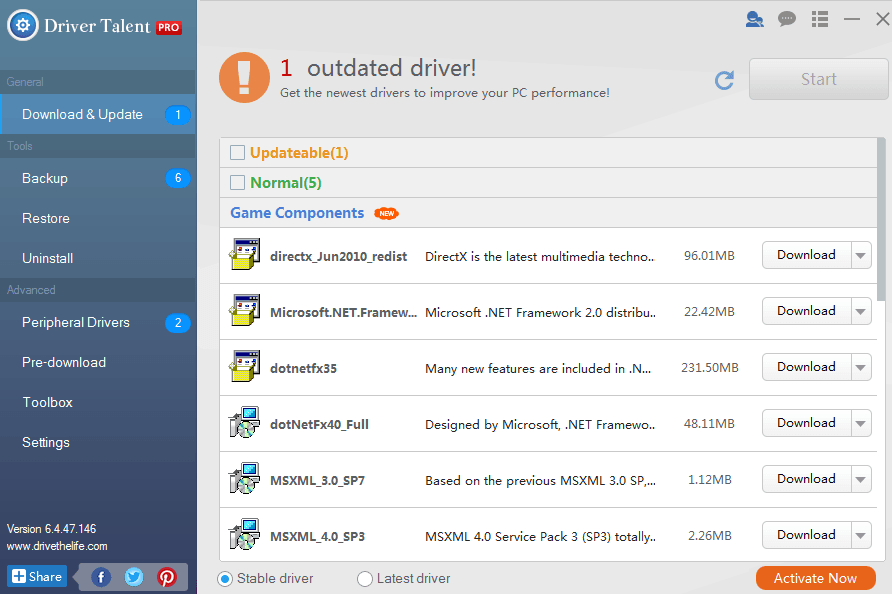 Step 3. After all is done, restart your computer for all changes to take effect.
Driver Talent has helped you to download and install the best-matched drivers for your computer hardware and devices.
You can use this utility to find and get all drivers including:
| | | | |
| --- | --- | --- | --- |
| Display/Video/Graphics card drivers | Motherboard drivers | Audio/Sound drivers | Printer drivers |
| WiFi drivers | Wireless drivers | Network drivers | Bluetooth drivers |
| Keyboard drivers | Mouse drivers | Touchpad drivers | USB drivers |
| Phone drivers | Digital camera drivers | Webcam drivers | Game drivers |
| Card reader drivers | Gamepad drivers | Asus drivers | Acer drivers |
| Dell drivers | HP drivers | Sony drivers | Lenovo drivers |
| Samsung drivers | Toshiba drivers | IBM drivers | Microsoft drivers |
| MB/AMD drivers | Nvidia drivers | Gateway drivers | Etc. |
Top 2. Try Microsoft Windows Update to Find Windows Drivers and Download Online
You can also try Windows Update on your PC to find drivers. This is an easy way. However, Windows Update might fail to install proper drivers for your hardware and devices (in many cases you will see the failed message saying the device is not installed properly), or drivers are not available from Windows Update (since not all drivers are digitally verified by Microsoft and many drivers for old devices are not available any more). Moreover, it's time-consuming, even taking several hours to find drivers sometimes.
In these cases, go back to top 1 solution Driver Talent to find your drivers for computer.
Here is how to use Windows Update find drivers on a computer.
Step 1. Go to Windows Update on your computer. You can go to Control Panel and select "Windows Update".
Step 2. Select "Check for Updates" and click on "Install updates". Windows Update now will automatically download and install driver updates for you.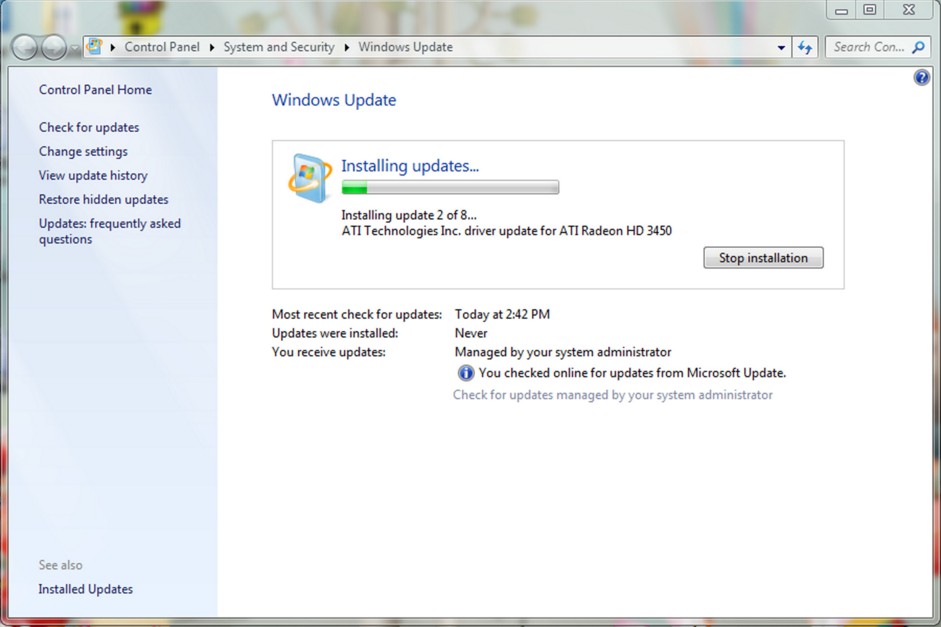 Step 3. Restart your computer to finish installing important updates.
It might take you lots of time since Windows Update downloads not only the drivers but also other updates for your computer.
Top 3. Go to Manufacturer's Website to Find Windows Drivers Manually
If you know the information about the hardware devices for which you need to install drivers, such as the device name, manufacturer, and model number, you can go to the manufacturer's official website to search for drivers. Manufacture will update drivers to fix bugs and add more features, and you can find the latest drivers.
However, many old drivers that are best compatible with your devices might not be available any longer, so that you won't find them. That's why we recommend Driver Talent in the first place. This utility has a large database in which all drivers from manufacturers and Microsoft are available all the time. And it can easily find the best compatible drivers for your computer hardware and devices.
Top 4. Go to OSToto Official Website to Search for Drivers Manually
Driver Talent is one of the products of OSToto. It helps you to one-click automatically find drivers. Similar to that, OSToto also provides quick option for manual driver searches, which allows you to search drivers manually like what you can do in manufacturer's website. All the drivers are collected from manufacturers and from Microsoft.
Go to OSToto official website for manual driver downloads and find drivers by manufacturers of your device. You can also use the search box in the website to locate the exact drivers.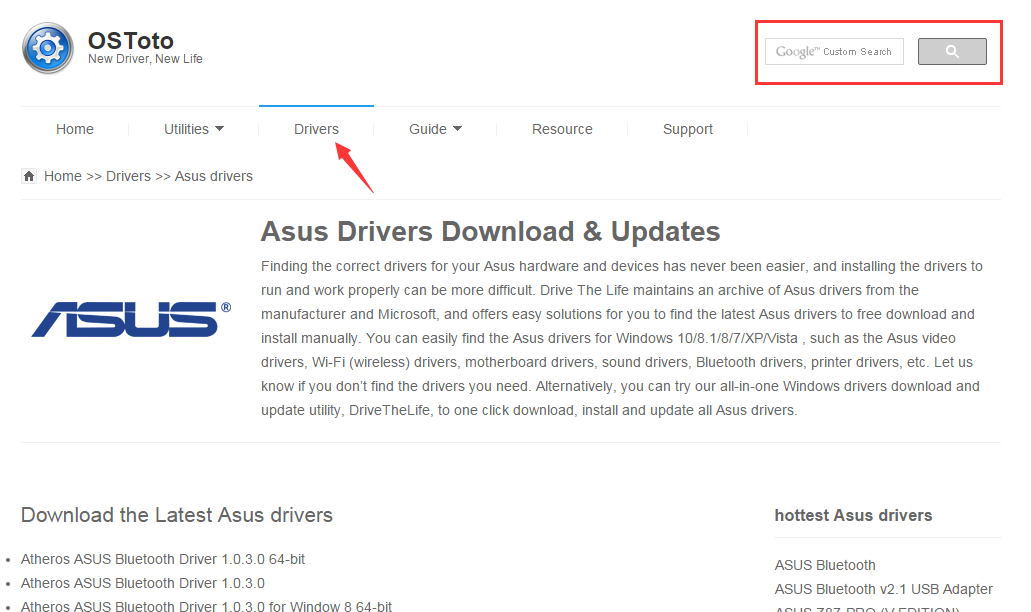 If you have any problem, leave it in your comment. We'll check to see if we can help you.
Recommended Download