How to resolve screen keep dimming issue
Mar. 20, 2023 / Updated by Renata to Windows 11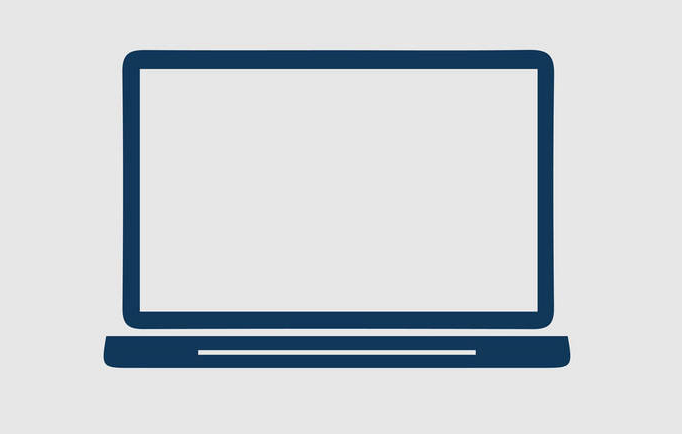 Screen dims issue happened in both desktop and laptop, it also happened in every operating systems. If your monitor /laptop's screen keeps dimming or brightening, it may point to a software problem or a hardware problem.
Users might encounter this problem(screen keep getting dark) when playing games, watching videos, or even working. To solve this problems, users can try read this article and fix the screen keep dimming issue:
Solution1. Disable the Game Mode
Solution2. Turn off adaptive brightness
Solution3. Fix graphic drivers
Solution4. Disable smart contrast
Solution5. Edit graphics settings
Solution6. Use Custom Screen Resolution
Solution1. Disable the Game Mode
If you are not playing games, please jump tosolution2.
Many users have recently come up with an issue when they were play computer games their monitor brightness dims in full-screen mode. As the brightness get decreasing, the monitor would eventually get completely black.
In this case, if users come up with the screen dims issue while playing game, they can try this method: disable the windows game mode and game bar
Step1. Press WIN+I at the same time and launch Settings Window
Step2. On the next screen, navigate to the gaming section and disable the game bar
Step3. Navigate to the game mode tab and then disable game mode
Step4. Check whether the screen dims issue go resolved or not
Step5. If the above steps failed to fix the issue: navigate to Setting and Click on System
Step6. Disable Night Light
Solution2. Turn off adaptive brightness
If the screen light dimmed, or the sensors considered it changed, the screen brightness would adjust itself to suit the level of light. This feature is called adaptive brightness and it might cause the computer screen dimming/screen getting dark or brightening. Users can follow the below ways to turn off adaptive brightness:
1. Open Control Panel.
2. Go to Hardware and Sound.
3. Select Power Options.
4. Click Change plan settings next to the current power plan.
5. Click Change advanced settings.
6. Expand Display.
7. Expand Enable adaptive brightness under it.
8. Turn it off for both battery and plugged in states.
9. Click OK.
10. Repeat this for all power plans you used.
Solution3. Fix graphic drivers
Outdated, corrupted or incompatible graphic drivers can trigger the screen monitor
Rollback the drivers, updating drivers or reinstalling the graphics driver might repair the damaged files. In this way, the screen dimming problem will be solved.
Use Driver Talent can help users to roll back, update and reinstall all drivers. Driver Talent can not only provides free drivers to download, but also provides former version.
After scanning the computer, Driver Talent will show all available drivers to update. In this page, users can click the triangle and choose the driver version that they need to download.
Move1. Update graphic drivers
With only one click, Driver Talent cam scan the computer within seconds and show a list of updating drivers. Users can see directly that which driver needed to update.
To fix screen dimming problems, users should update graphic card driver.
rrr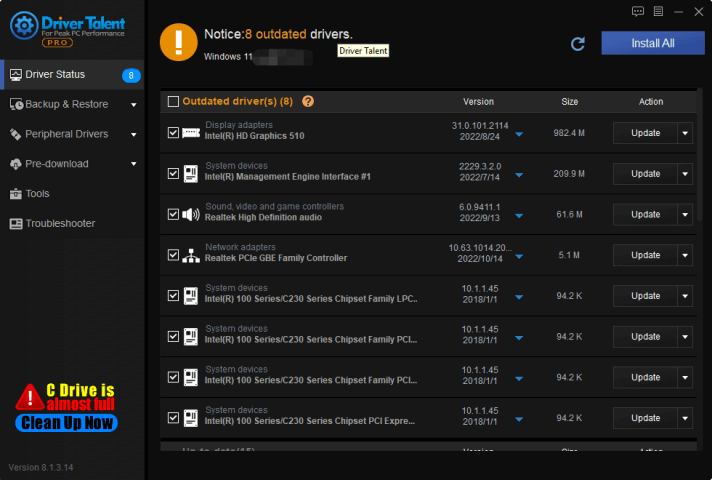 Move2. Roll back drivers
Click the inverted triangle, users could see different version(in different date and different size) are providing. This feature is similar to roll back function, which means users can download former driver as a way to roll back drivers.
rrr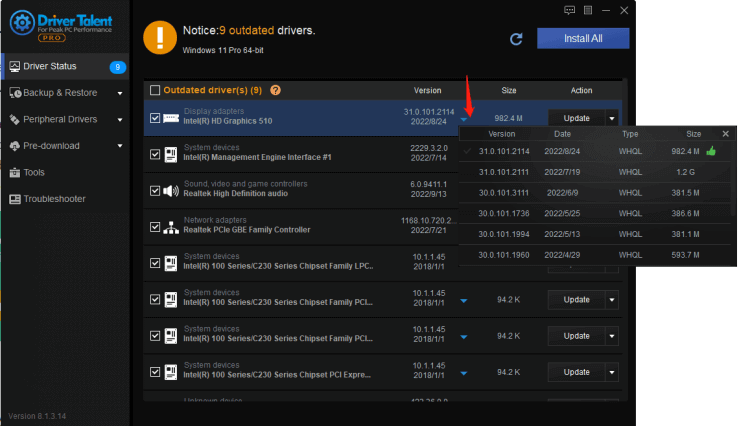 Move3. Reinstall drivers
In the backup & restore option:
Backup: use to backup driver files
Restore: repair the device driver to the original version , in this way, the corrupted part could be fixed.
Uninstall drivers: it can use to uninstall drivers and then use backup feature to install it again
rrr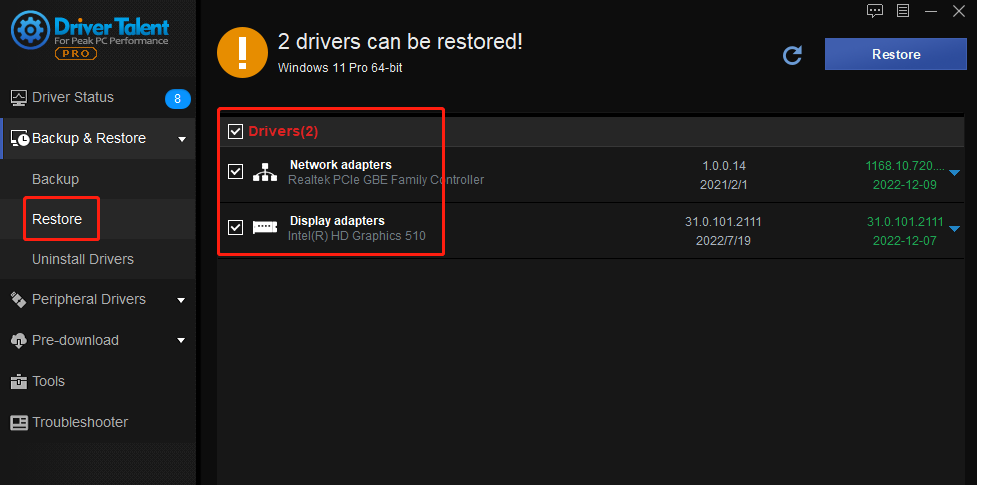 Solution4. Disable smart contrast
Disabling the Smart Contrast in the Monitor Settings has been proved solution for quite a lot of suffered users. Here you can also try the same. For doing so, follow the steps given below:
There are buttons at the bottom or behind the monitor, find the button on the screen menu, select OSD menu and then select Picture tab.
Secondly, navigate to the SmartContrast and toggle off its dedicated switch.
Last, check whether the issue be resolved or not. If it failed, please move to the next solution.
Solution5. Edit graphics settings
Edit the graphics control panel settings and check for its improvements might fix the screen dimming issue. If the graphics control setting set as power saving mode, it would get trigger the screen dimming.
Following the below steps to change graphic control settings:
1. Open the Settings Window and select System
2. Select Graphics Properties from the context menu and get into Intel graphics control panel
3. Click on Power and then select Maximum Performance
4. Open Battery tab and then select Maximum Performance
5. Disable the Extended Battery Life for Gaming and disable the Power Saving Technology.
Solution6. Use Custom Screen Resolution
Improper configuration of screen resolution and refresh rate will cause the screen to become dark. Users can customize the screen resolution to solve this problem.
1. Open Settings window and select Graphics Properties from the Context menu.
2. Navigate to Display and select Custom Resolution. Click YES if received a warning.
3. Customize resolution: for height and width, type values of the default resolution, and for refresh rate; type 59Hz.
4. If the 59Hz failed to fix the screen dimming issue, then type 60Hz for Refresh Rate and check.
Recommended Download