How to Fix Screen Flickering While Playing Games Once and for All
Jul. 27, 2023 / Updated by Eloise to Windows 10
Imagine this: you are playing your favorite game on your Windows PC, enjoying the immersive graphics and sound effects. Suddenly, you notice that the screen starts to flicker, making the images blurry and distorted. You feel frustrated and annoyed, wondering what is wrong with your PC and how to fix it. If this sounds familiar, you are not the only one. Screen flickering in games is a common problem that many gamers face, and it can ruin your gaming experience. But don't worry, there is a solution. In this article, we will explain how to fix it with five easy methods.

See also 6 Ways to Fix Horizontal or Vertical Lines on Computer Screen Display in Windows 10

Why the display flickers when playing some games?
A low refresh rate. A low refresh rate means that the display updates slowly, which can cause screen flickering in games that require fast and dynamic graphics.

A faulty or outdated graphics driver. The graphics driver is responsible for translating the data and instructions from the game software to the graphics card. If the graphics driver is corrupted, missing, or outdated, it may not be able to handle the complex graphics tasks properly, resulting in screen shimmering in games.

A display driver issue. The display driver is another software that controls how the graphics card interacts with the operating system and the display. Sometimes, the display driver may have compatibility issues with Windows 11 or Windows 10, especially after a system update or upgrade. This can cause screen flashing in games due to a lack of coordination between the display driver and the operating system.
To read more on this topic
How to solve the Win10 display driver has stopped responding and has recovered
How to Fix Display Driver Failed to Start on Windows 10

Common Display/Graphics Problems and Solutions for Windows 10
How to Fix the Display Not Compatible with Windows 10 Issue

A hardware problem. Sometimes, texture flickering in games may be caused by a physical defect or damage in the graphics card or the display. For example, if the graphics card is overheating, malfunctioning, or loose, it may not be able to render the game graphics correctly.
5 Easy fixes for screen flickering in games
Now that you know why the screen flickers when playing some games, let's see how to fix it. You don't have to try them all; just work your way down until you find one that works for you.
Fix 1: Update graphics driver
Updating your graphics driver manually can be time-consuming and risky. You have to find out your graphics card model and manufacturer, visit their official website, download the correct driver file for your operating system version and architecture, and install it on your PC without making any mistakes. If you want to save time and avoid any potential problems, you can use Driver Talent a professional and reliable driver updater tool that can help you update your graphics driver easily and safely. It can monitor your graphics driver's status and automatically scan your PC for any outdated, missing, corrupted, or faulty drivers. This tool can easily download and install the best-matched drivers for your hardware devices from its large database of over 500 million drivers.
Step 1: Launch Driver Talent and click on the Scan button to start scanning your PC for any driver problems.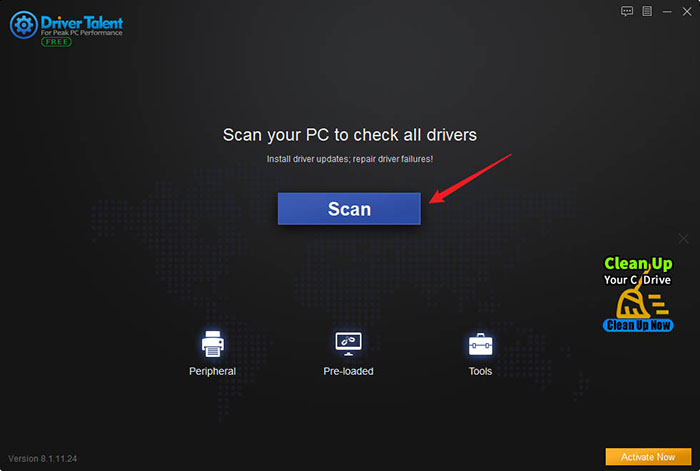 Step 2: After the scan is completed, you will see a list of drivers that need to be updated or fixed. Find your graphics driver and click on the Download button to install the latest version of the driver.
Step 3: Restart your PC to make the changes take effect.
Fix 2: Disable fullscreen optimization in Windows 10 and 11
Sometimes fullscreen optimization feature may cause flickering in games due to a conflict with the game software or the graphics card.
Step 1: Right-click on the game's executable file or shortcut and select Properties.
Step 2: Click on the Compatibility tab and check the box next to Disable fullscreen optimizations.
Step 3: Click Apply and OK to save the changes.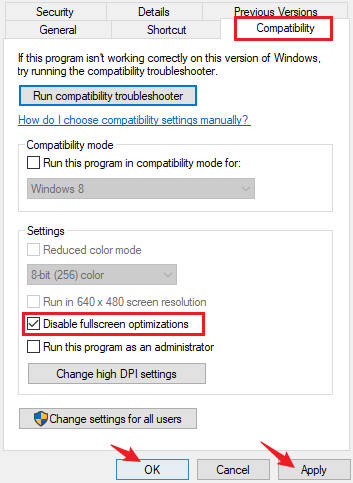 Fix 3: Turn off FreeSync or G-Sync
Step 1: Open the settings menu of your monitor by using the buttons on the monitor itself.
Step 2: Navigate to the option that controls FreeSync or G-Sync and turn it off.
Step 3: Save the changes and exit the settings menu.
Fix 4: Disable antivirus or other background apps
Some antivirus programs may scan the game files or block some game features, affecting the performance of the graphics card and the display. Similarly, some background apps may use too much system resources or conflict with the game software, resulting in monitor flickering in games.
Step 1: Press Ctrl+Shift+Esc to open Task Manager.
Step 2: Click on the Processes tab and find your antivirus program or other background apps that you want to disable.
Step 3: Right-click on them and select End task.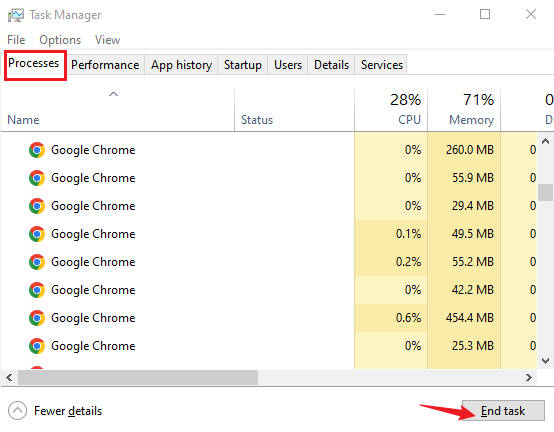 Note: Remember to enable your antivirus program or other background apps after you finish playing games to protect your PC from viruses or malware.
Fix 5: Check your hardware
Step 1: Turn off your PC and unplug it from the power source.
Step 2: Open your PC case and inspect your graphics card for any signs of overheating, malfunctioning, or looseness. If you find any problems, try cleaning your graphics card with compressed air, reseating it in its slot, or replacing it with a new one.
Step 3: Check your monitor for any cracks, breaks, or loose connections. If you find any problems, try reconnecting your monitor to your PC, adjusting its settings, or replacing it with a new one.
Step 4: Check your cable for any cuts, bends, or frays. If you find any problems, try using a different cable or replacing it with a new one.
Step 5: Plug in your PC and turn it on if you are sure that there's nothing wrong with hardware devices.
You may also like
Recommended Download