How to Fix Windows 10 Camera Error 0xa00f4288?
Aug. 02, 2023 / Updated by Cathy to Windows Driver Solutions
Today, we found several online platforms reporting that all cameras are reserved errors accompanied by error code 0xA00f4288. This error is related to your camera app and needs to be fixed as soon as possible. After seeing this error message, you might think that the error is due to another application using the camera on your Windows 10 PC. Although this is the main cause of the problem, there are few other factors that cause error code 0xA00f4288. So, if you are getting the same error message and are facing difficulty in resolving the same issue, we are here to help you out. Here we have put together a list of causes and troubleshooting methods that will help you understand and fix Error Code 0xA00f4288.
Article Contents:
Troubleshooting methods:
Four ways to fix camera error 0xA00f4288:
Way 1: Allow camera to access your computer

Way 3: Update the camera driver

The exact error seems to be like this:
Close other applications. It looks like another app is already using the camera. Here is the error code: 0xA00F4288
Following are some valid reasons that can cause All Cameras are Reserved issue. It is recommended that you drill down to analyze the cause so that you can take appropriate troubleshooting methods to resolve the issue easily.
Missing, outdated, or incompatible camera drivers.

Files and caches in the camera app are corrupted or incompatible with your operating system.

Camera access is not granted in Windows 10.

The antivirus program is restricting access to the camera.

Corrupted camera app.

Some other program is using your camera.

Camera settings are not appropriate.

Windows Defender Firewall is blocking access to the camera.

Antivirus security policy causing error.

A problematic update is installed on your computer.

Outdated applications in Microsoft applications.

Incompatible proxy server interference.

We investigated several technical forums regarding the 0xA00f428 error code and thus analyzed troubleshooting hacks to fix the problem.
Note: Make sure to create a system restore point to restore your computer if something goes wrong.
Before diving into the advanced methods, here are some basic troubleshooting methods you can follow.
1. Restart the computer
To resolve any temporary camera-related problems, try restarting your computer. This will resolve any corrupted caches in your PC and thus resolve the issue in question.
Navigate to the desktop by pressing the Windows + D simultaneously.

Now, press the Alt+F4 simultaneously. You will see a popup as shown below.

Now, click on the drop down box and select the Restart option.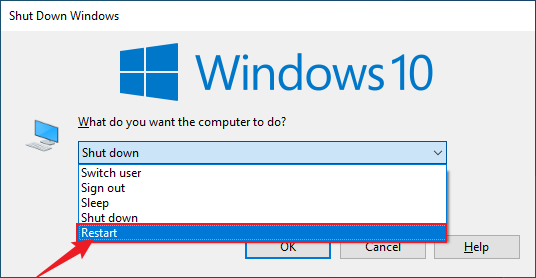 2. Verify the reason
First, let's check if there is an issue with the app or your computer. To do this, open the camera on your Windows 10 PC and start recording.
Case 1: If there is no problem with the built-in camera, you will be doing any kind of recording on the device. In this case, you have to troubleshoot the steps related to the app you are having issues with. In this case, please consider updating/reinstalling the application.
Case 2: If you cannot record any video, the problem is with the built-in camera or webcam. Troubleshooting hardware and device issues to fix all camera issues is reserved.
3. Check the camera hardware
Make sure that the external camera (if any) is properly connected to your computer and that the built-in camera has not received external damage. If the exterior is severely damaged, consider replacing the camera.
You can follow the following ways to fix camera error 0xA00f4288:
Way 1: Allow camera to access your computer
If you're encountering the All Cameras Are Reserved error code on your Windows 10 computer, it's possible that camera access wasn't granted correctly. Also, you can easily fix this issue by allowing access to the camera in Windows settings. Here are few steps to grant camera permission in your computer.
1. Press the Windows + I simultaneously to launch Windows Setup.
2. Then, select the Privacy option.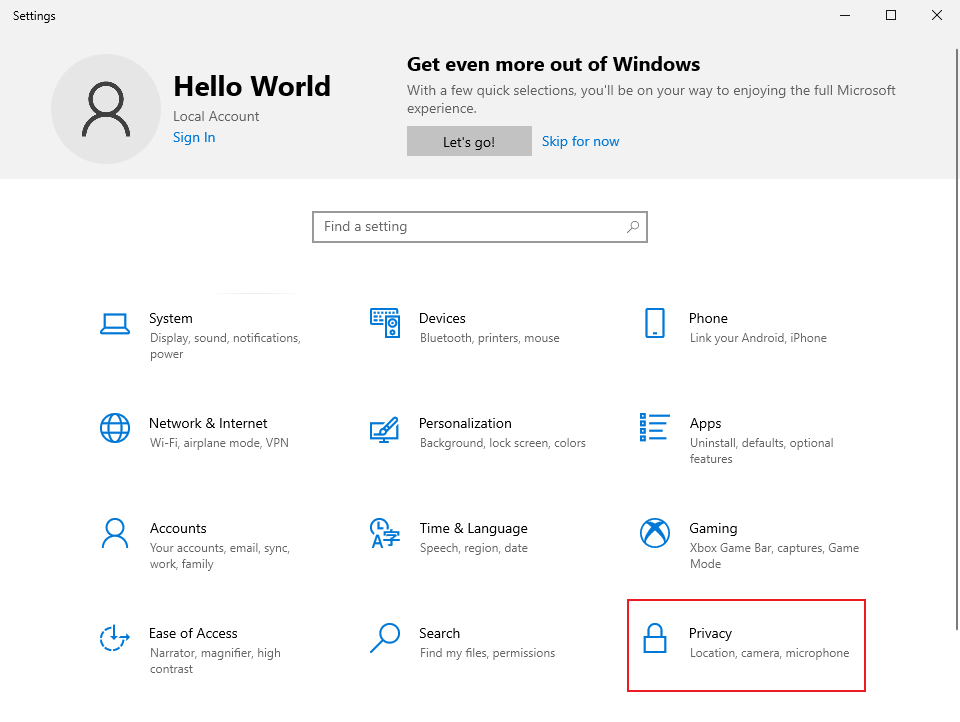 3. Then, in the left pane, search for and select Camera Options.
NOTE: Make sure to enable the Allow apps to access your camera option as shown.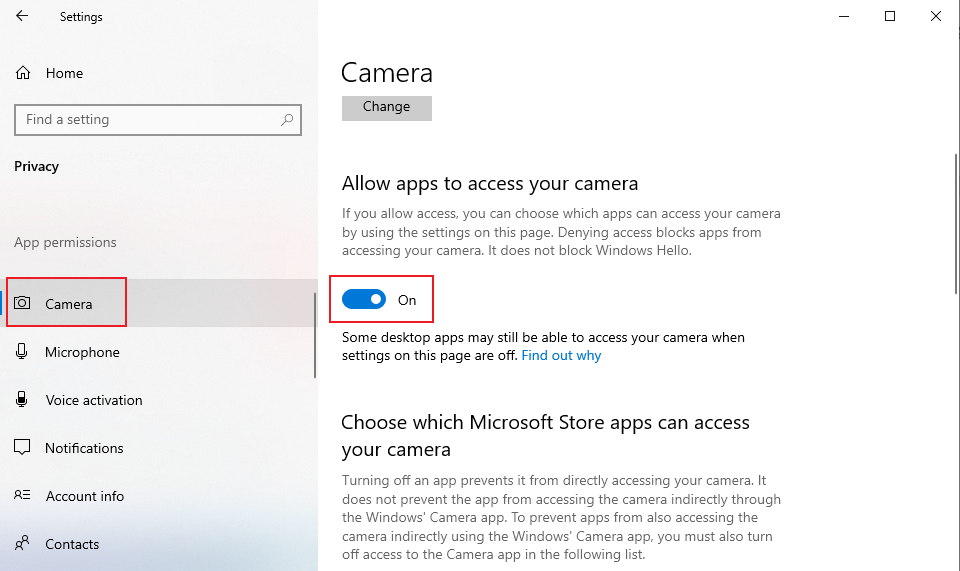 Once you are sure that your camera has access to all your apps and programs, check that you have fixed all cameras are reserved errors.
Way 2: Update Windows
Also, if there is any bug in your PC, it can only be fixed after Windows update. Microsoft releases regular updates to fix all these bugs, keeping the error codes sorted for all cameras. So to make sure if you have updated your Windows OS and if any updates are pending, use our guide on how to download and install the latest Windows 10 updates. You can Check for updates and install the latest version.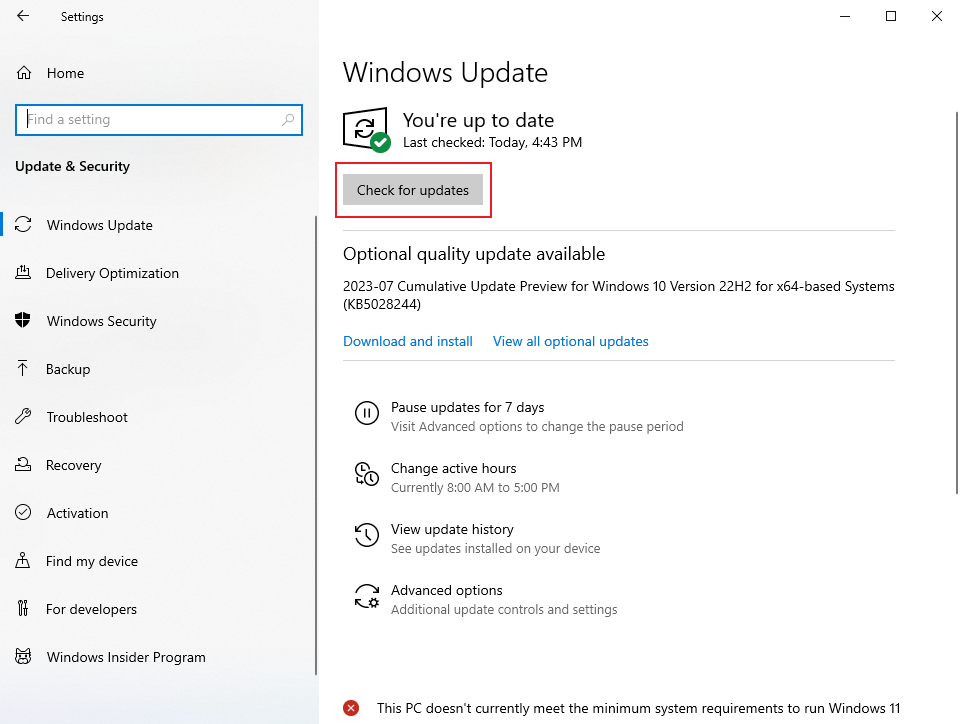 After updating your Windows operating system, check if you can access your camera.
Way 3: Update the camera driver
If you have any incompatible or outdated camera driver in your computer, you will face all cameras keep error code 0xA00f4288. To resolve this issue, update your camera drivers if necessary. You may need easy driver updater Driver Talent.
First, click the button below to download Driver Talent.
Second, scan all the drivers of your computer and select yours.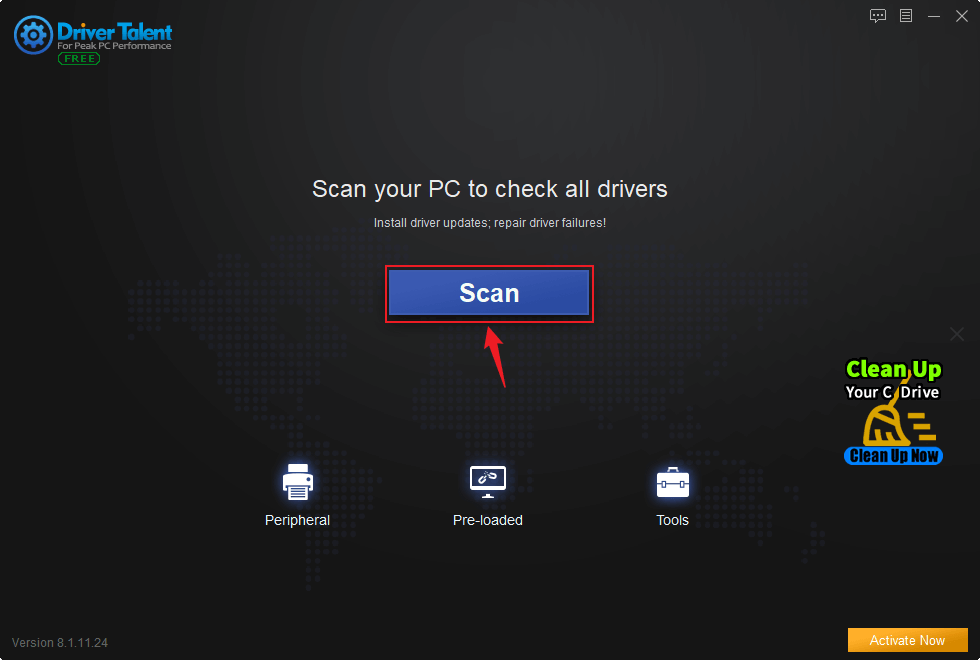 Finally, select the corresponding camera driver and click update. Then you can use your camera as usual.
If you have outdated camera drivers then you may also face the above error. So follow our instructions to update your drivers on Windows 10.
Way 4: Reset the camera app
How to fix Windows 10 camera AllCamerasAreReserved? You can also try resetting your camera app to fix all cameras keep error codes. Follow the instructions below.
1. Tap the Windows key, type camera, and tap App Settings.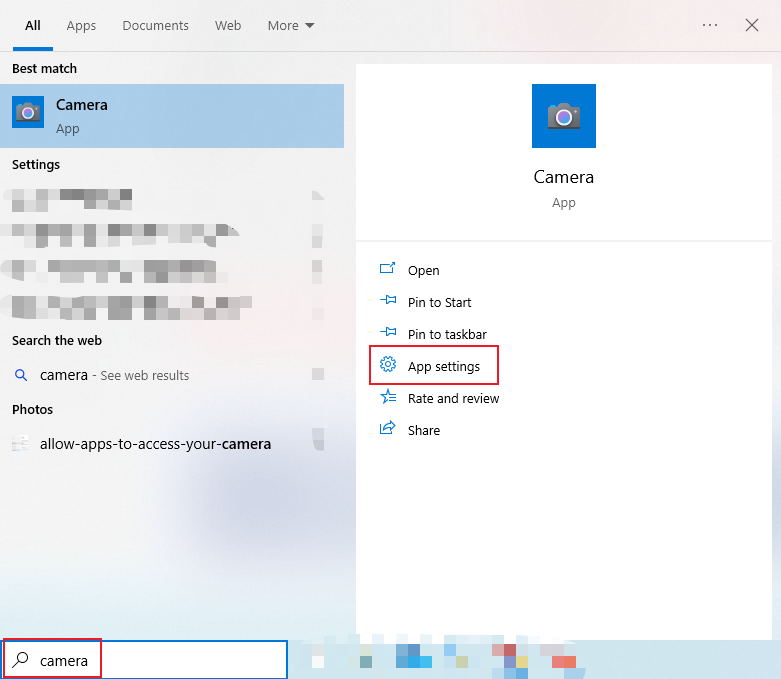 2. Then, click on the highlighted Reset option.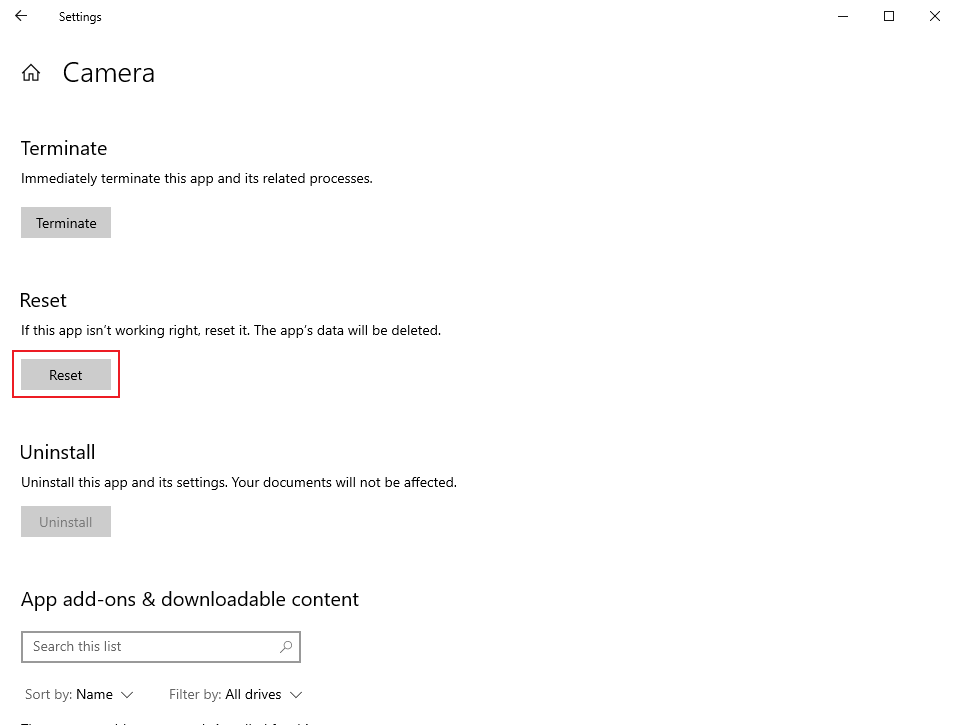 3. Next, confirm any prompts by clicking Reset.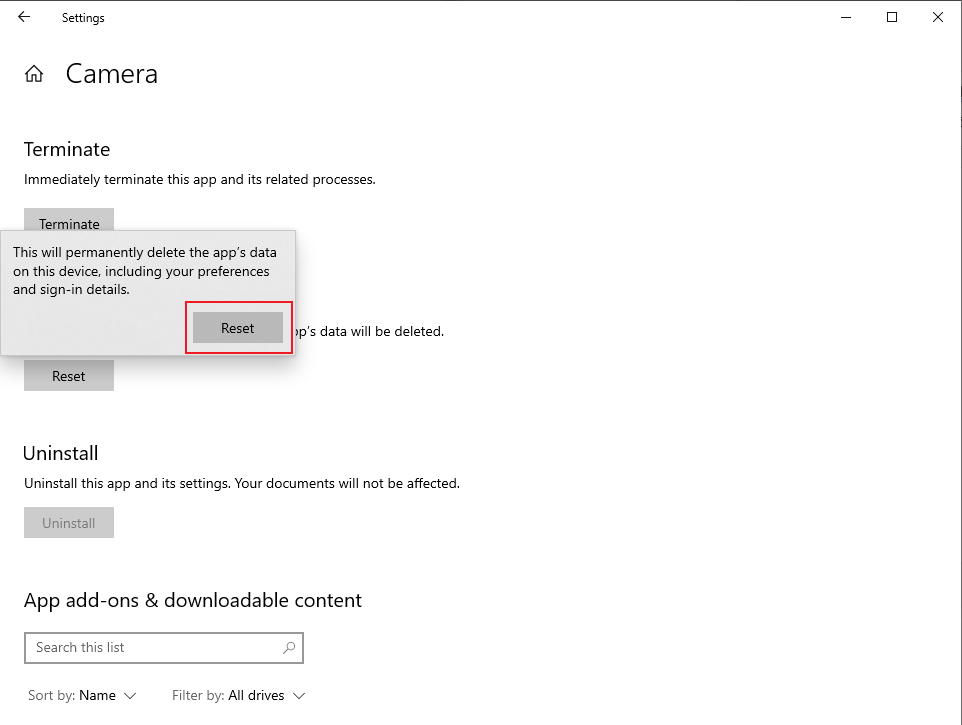 4. Finally, close the window and check that you can now access your camera.
You may face other camera errors when you use Windows camera. Please check the instructions:
Resolved: Windows Camera 0xa00f4292 Error Code 0xa00f4292
Top 5 Ways to Fix Lenovo Camera Not Working in Windows 10
Fix Windows Hello Not Working via Windows 10 Fingerprint or Camera
Recommended Download