How to Free Download Driver for Windows 10, 8.1, 8, 7, XP, Vista
Jun. 24, 2022 / Updated by Bessie Shaw to Windows Driver Solutions
Why You Need to Install Windows Drivers for Your PC
Your 32 bit PC is not connecting to Wi-Fi and network is not working? The Bluetooth and motherboard on Windows 8 64 bit got problems? Update to Windows 10 but your computer works improperly? If you have a PC (either a desktop, a laptop or even a notebook), especially when you reinstall Windows OS, you need to download Windows drivers that are compatible with it. A driver is software that allows your computer to communicate with hardware or devices. Most of the computer problems you come across in daily life are the matter of drivers. When the drivers are outdated, broken, corrupted, or imcompatible with the Windows OS, you will encounter errors and conflicts. If you have the proper drivers, your computer will work perfectly and never gets the issues, like there is no sound, keyboard isn't working, Ethernet connection drops occasionally, or printer isn't printing properly.
Important: Different Windows OS requires the specific drivers to match, like Windows 10 64-bit requires drivers compatible with Windows 10 64-bit, Windows 8 requires Windows 8 drivers, Windows 7 requires Windows 7 drivers, etc. To protect the computer from hardware failures and conflicts, you need to download and install the best-matched drivers.
Where to Get Windows Drivers for Your Laptop, Desktop or Notebook
Windows driver download needs your attention. There are many resources but getting the correct drivers has never been easier. You can go to the manufacturer's website to search for the drivers, but many of them may not be available any more. One workable way is to use professional Windows drivers download utilities, like Driver Talent (formerly called DriveTheLife), a free tool which contains more than 500,000 driver packages and offers the latest official or WHQL drivers for your Windows 10, Windows 8.1, Windows 8, Windows 7, Windows XP, and Windows Vista, 64-bit or 32-bit. What's more, it can intelligently check which drivers you lose, which drivers have problems, and help you download and install the right drivers that match the devices and hardware the best. It supports all hardware and devices (see the table below).
Editor's Note: DriveTheLife has been updated to the new version called Driver Talent with a fresh new look.
How to Free Download and Install Windows 10/8/7/XP/Vista Drivers
With Driver Talent on your computer, you can easily get all driver downloads and installs, including Motherboard drivers, sound card drivers, Bluetooth drivers, BIOS drivers, IBM PC VGA driver, Dell desktop Window 10 driver download, drivers for Windows 10 pro, IBM t42 drivers for Windows 7, drivers video IBM r51 Windows 7, IBM thinkcentre drivers Windows XP free download, IBM thinkcentre Windows 7 driver download torrent, powerful sound drivers for Windows XP, Windows 8 audio drivers for Dell, Windows XP Dell driver, etc.
Step 1. Download and install Driver Talent on your computer.
Step 2. After installed successfully, click "Scan". Driver Talent will check your PC and scan all drivers to find out the drivers that have problems, such as the one you miss, the one that works improperly.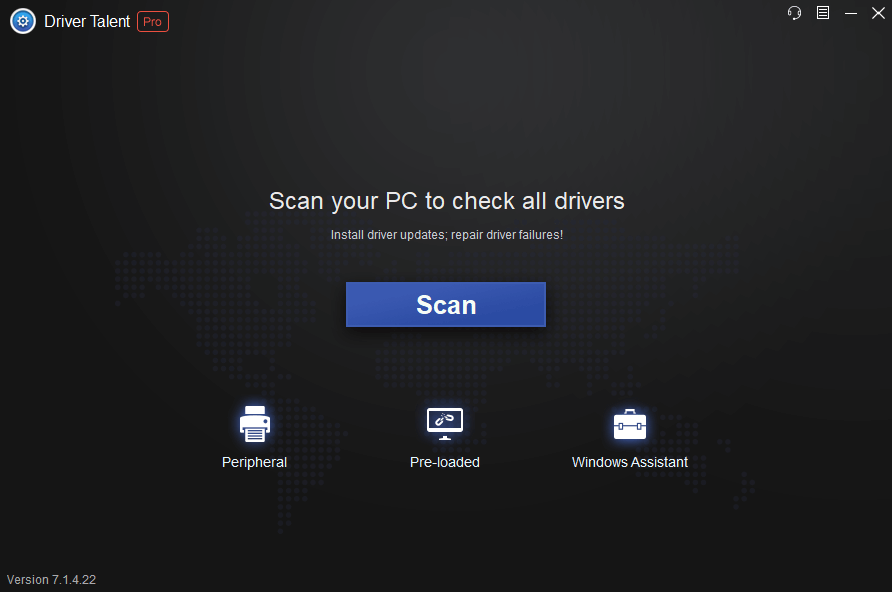 Step 3. You will be offered solutions accordingly. Click on the solutions, such as Repair or Update, and it will begin to download and install the latest drivers automatically on your computer. For the peripheral devices (the USB-connected devices), switch to the "Peripheral Drivers" menu to install the USB drivers.
The final step is to reboot your computer to allow the newly-downloaded drivers to take effect. They will work functionally.
Windows Drivers That Need to Download
It won't bother you since Driver Talent will help to determine which drivers you need to download. It scans your PC (such as Dell, Acer, Asus, HP, ThinkPad, Toshiba, IBM, Sony, Lenovo, etc.) and offers the PC drivers downloads for your Windows OS, such as Windows 10 drivers, Windows 8.1 drivers, Windows 8 drivers, Windows 7 drivers, Windows XP drivers and Windows Vista drivers. You can download drivers for all devices, including:
| | | | |
| --- | --- | --- | --- |
| Motherboard | Sound Card | Bluetooth | Bios |
| DVD/Blu-Ray/Media Players | Firmware | Digital Camera/Webcam/Camcorder | Keyboard and Mouse |
| HDD/SSD/NAS/USB/Flash | Monitor | Network Card | Mobile Phone |
| Card Readers | Graphics Board | Joystick, Gamepad and Wheels | Etc. |
Recommended Download