Free Download and Install Drivers after Windows 10 Update
Apr. 11, 2022 / Updated by Daphne to Windows Driver Solutions
Do You Need to Download New Drivers after Installing Windows 10 on Your Computer?
If you have upgraded your Windows 7 or Windows 8, you may get the errors like "a required CD/DVD driver is missing", "video drivers are outdated", or "wireless network driver is not working". They are common issues when you reinstall the Windows OS or install a new one. You surely need to install drivers after updating to Windows 10 from Windows 8.1, Windows 8, Windows 7, Windows XP or Windows Vista. And below are the main reasons why you need to download Windows 10 drivers:
Reinstalling Windows 10 or updating to Windows 10 will remove all the drivers of the previous system which are located in the C drive (answer to "does upgrading to Windows 10 remove drivers").

To make the hardware devices recognized and work properly on the new Windows 10, you need to download newer drivers that best match the system.

You have to download drivers on your new Windows 10 when a hardware device does not install automatically.

Updating or installing drivers is a great troubleshooting step when the device is having some kinds of problems or is generating an error. It can fix bugs.

Latest drivers download and update will enable new features for your hardware.
In fact, it's a regular and also the necessary step to have a scan of your computer to identity which drivers are missing, incompatible, or corrupted after upgrading to Windows 10, and then automatically download Windows 10 drivers.
Important Note: Different Windows OS requires the specific drivers compatible with it, such as Windows 10 64-bit needs Windows 10 drivers for 64 bit, 32-bit OS needs 32-bit drivers, Windows 10 graphics driver for HP notebook 2000 PC, and other requirements of laptop drivers in Windows 10.
How to Free Download/Install Drivers after Windows 10 Update on Laptop, Desktop or Notebook
You can use professional Windows 10 drivers update tools, lile Driver Talent (formerly called DriveTheLife), to help you quickly scan your computer, check drivers, and then automatically download & install new drivers for Windows 10.
Updated:DriveTheLife has been updated to the new version called Driver Talent with a fresh new look.
Difficulty: Very easy
Time Required: Only several minutes
Applied to: This method works for all driver downloads after you update to Windows 10 from Windows 8.1, Windows 8, Windows 7, Windows XP or Windows Vista.
Driver Talent can download the official or WHQL drivers for wireless network adapter, graphics cards, Bluetooth, USB devices, monitor, motherboard and any other hardware devices. Get Windows 10 drivers for Acer, Asus, Brother, Canon, Dell, Epson, Sony, Toshiba, Fuji, Fujitsu, HP, IBM, Intel, Kingston, Kodak, Lenovo, Lexmark, Logitech, Microsoft, OKI, Packard Bell, Realtek, Samsung, and Sharp. Here is how:
Steps to Free Download and Install Drivers for Windows 10
Take the following easy steps to download and install Windows 10 drivers for your device.

Step 1. Launch Driver Talent after your install it on your computer. Click "Scan" to detect all the driver problems for hardware devices.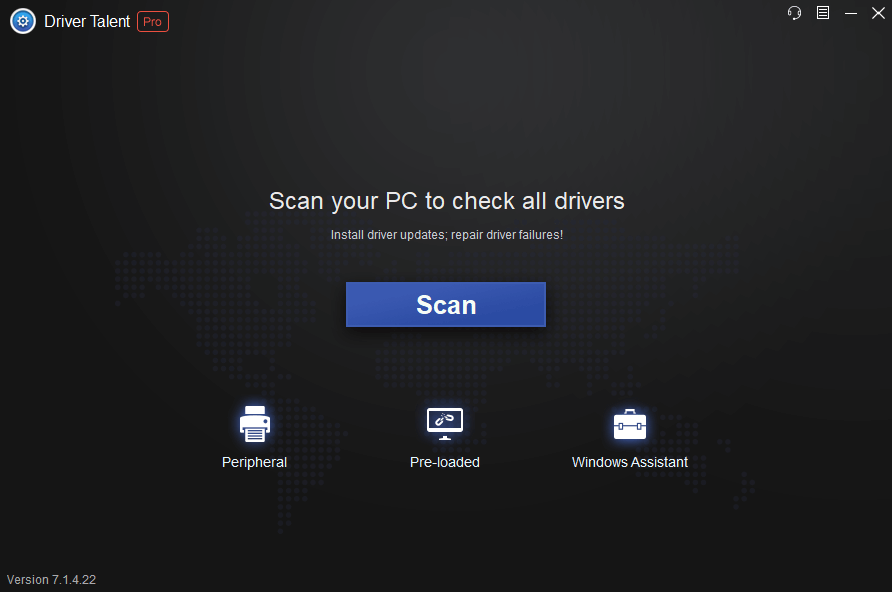 After the scanning, you will be showed all the drivers that have problems and the solutions. Click "Update" to update to the latest drivers, "Repair" to download and installing the missing, or broken drivers, or "Reinstall" to reinstall new drivers.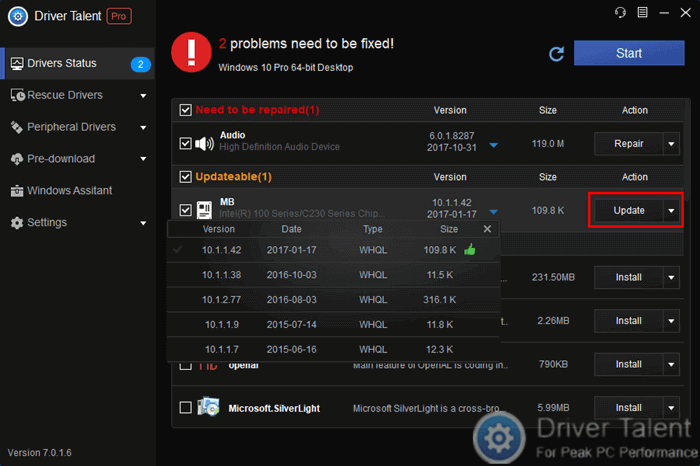 Step 2. To install Windows 10 drivers for computer peripherals, select the "Peripheral Drivers" menu and install all the neccessary USB drivers in your Windows 10 computer.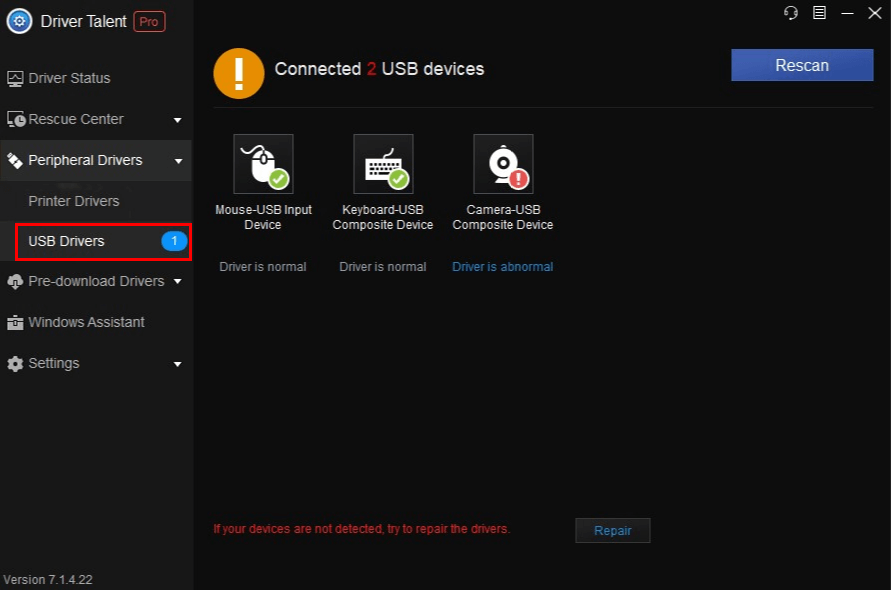 Install Drivers Using Windows Updates
If you have enabled the automatic update in Windows Updates, it will help to automatically install the Windows 10 drivers after you've updated to the new Windows 10 through Internet connection, like Nvidia Windows 10 drivers, AMD Windows 10 drivers, Asus Windows 10 drivers, etc.. If you have no Internet connection or have no Wi-Fi on your computer after Windows 10 installation, try Driver Talent for Network Card to install the network driver without Internet access to fix this Internet issue. Remenber to install Driver Talent for Network Card on your computer before you update to Windows 10.
You can see a more complete solution from:
How to download and install Device Drivers on Windows 10
Recommended Download