Free Download & Update CD/DVD/Blu-Ray/Media Player Driver or Firmware
Jun. 24, 2022 / Updated by Bessie Shaw to Windows Driver Solutions
It's Important to Update Firmware or Drivers for CD/DVD/Blu-Ray/Media Player
Your Blue-ray disc is not playing properly? The CD recorder or DVD player is not working or not reading? Media player is not responding on Windows 7? If you meet player issues, you need to update firmware or drivers for the player, such as you need to download firmware DVD player. The latest firmware or driver update will fix bugs, correct known playback issues, and add new capabilities. However, a firmware or driver is specific to a single player, no matter if it's for CD, DVD, Blu-Ray, or other Windows Media, and a firmware or driver cannot be applied to all.
Luckily, you will quickly get your specific firmware or driver update in this content.

Note: If you've got Windows 10 update on your computer, pay attention to the firmware failure. Installing Windows 10 might cause conflicts on the CD/DVD/Blu-Ray/Media players.
How to Free Download or Update CD/DVD/Blu-Ray/Media Player Driver or Firmware on Windows Computer
To download or update the latest firmware or driver for your CD/DVD/Blu-Ray/Media Player on Windows desktop or laptop (including Windows 10, Windows 8.1, Windows 8, Windows 7, Windows XP, Windows Vista), you should pay attention to one thing - that is, most of the firmware updates you find in the Internet might not be the official firmware or the exact ones. Therefore, you'd better access a reliable resource. Here we recommend Driver Talent (formerly called DriveTheLife) and you can access its official firmware & driver update list.
In the list, you can quickly get the latest player firmware or drivers, which are the official or WHQL ones. And all are for popular brands, including:
| | | | |
| --- | --- | --- | --- |
| AC Ryan | Asus | Sony | Samsung |
| Boxee | Cloud Media | Dream Property | Dune HD |
| E-Boda | Egreat | Eminent | HAMA |
| HiMedia | iconBI | TIomega | LG |
| Mede8er | NETGEAR | OPPO | Panasonic |
| Philips | Pioneer | Plextor | Pulse-Eight |
| Sharp | Western Digital | Others | |
How to Free Download or Update All PC Drivers on Windows 10/8/7/XP/Vista
In fact, not only the CD/DVD/Blu-Ray/Media Player needs latest firmware or drivers to fix bugs, almost all the hardware components in your computer needs drivers to work properly. Driver Talent (formerly called DriveTheLife) not only provides firmware to update, but also helps you quickly download the latest and the best-matched drivers for your Windows hardware on Dell, Acer, Asus, HP, Toshiba, Sony, Lenovo, IBM, LG, Samsung and more other computer brands.
It can help to automatically check your PC to identify the drivers that have problems, and then repair the drivers or download the best ones in a very short time. Driver downloads include BIOS, Bluetooth, Card Readers, Digital Camera/Webcam/Camcorder, CD/DVD/Blu-Ray/Media Players, Firmware, Graphics Board, HDD/SSD/NAS/USB Flash, Joystick, Gamepad & Wheels, Keyboard & Mouse, Mobile Phones, Monitor, Motherboard, Network Card, Sound Card, and more.
Here is a brief guide:
1. Download and install Driver Talent on your Windows computer.
Editor's Note: DriveTheLife has been updated to the new version called Driver Talent with a fresh new look.
2. Run it to scan your PC to find the drivers that are outdated, broken, missing, or corrupted.
3. Update or repair the drivers.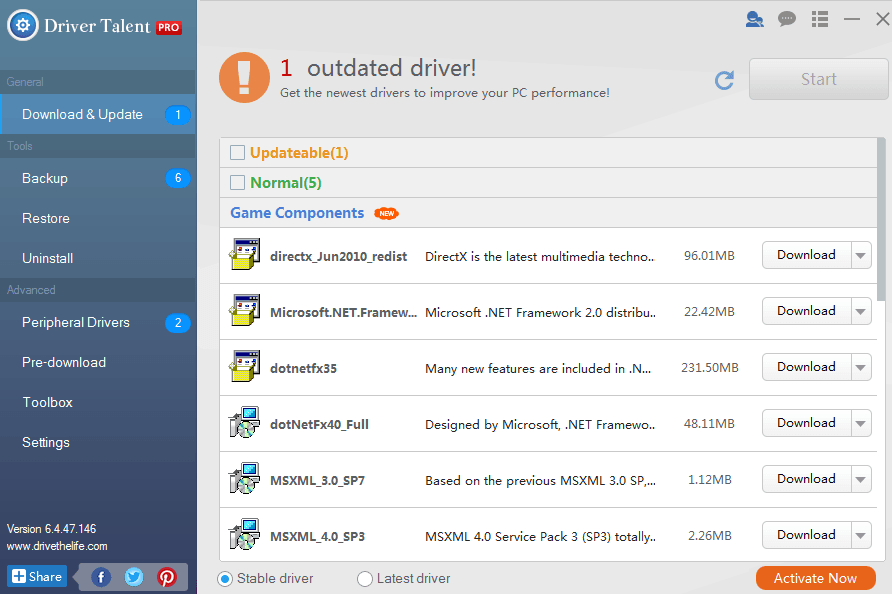 For more firmware updates, refer to Free Update, Download Firmware on Router, Samsung, HP, LG, iOS, Cannon, etc.
Recommended Download