Free Windows Driver Update - Get the Latest PC Drivers
Jun. 24, 2022 / Updated by Bessie Shaw to Windows Driver Solutions
Do I Really Need to Update My Drivers on Windows
It's a question whether to update Windows drivers or not. If you are asking the question "how do you update the BIOS on the Asus p5k motherboard Windows 7 64-bit", "how to update drivers on Windows 10" or the similar ones on how to update a driver, you need to get these answers through:
Answer 1. Yes, you need to update Windows drivers on your computer
For those whose computers or hardware have had problems, you need to update your Windows drivers. Windows drivers are the main issue that ruins your computer performance and causes hardware failures, such as Ethernet connection drops occasionally, printers isn't printing properly, blue screen of death, no sound/voice from computer, DVD drive not found, etc. If you keep your Windows drivers up-to-date (such as drivers for Motherboard, Sound Card, Bluetooth, audio card, etc. updated), everything will be perfectly OK with the PC. In fact, you can easily update all the drivers with Driver Talent (formerly called DriveTheLife), a free tool which checks whether there are problems with hardware devices and offers the latest official or WHQL drivers to update.
Answer 2. It's up to you whether you get drivers update or not
If your computer functions normally and the hardware works as expected, you can update any drivers that have the latest versions, or you can ignore. But from the experience we have got, it's a wise choice to update to the latest drivers, which can get rid of future risk of problems.
Answer 3. No, you don't need to update PC drivers
Well, if you've already got the latest drivers, it's no point to look for the "newest" ones.
How do you upgrade to Windows 10 successfully? Check to see How to Update to Windows 10 for Free.
How to Update Driver on Windows 10, 8.1, 8, 7, XP, Vista for Free
In fact, when your computer has a problem or when the devices are not working, it's hard to exactly tell which driver has the issue, or why there is an issue, especially for green hands. Therefore, the easiest method is to try Driver Talent (formerly called DriveTheLife). It can intelligently scan and detect all the hardware and devices, check out which drivers are the ones that cause the problem, and then free offer you with the latest and safest drivers to update, including the drivers for Motherboard, Sound Card, Bluetooth, BIOS, DVD / Blu-Ray / Media Players, Firmware, Digital Camera / Webcam / Camcorder, Keyboard, Mouse, Monitor, HDD / SSD / NAS / USB Flash, Network Card, Mobile Phone, Card Readers, Graphics Board, Joystick, Gamepad, Wheels, etc.
Driver Talent works perfectly well on all Windows OS (64-bit and 32-bit), including Windows 10, Windows 8.1, Windows 8, Windows 7, Windows XP, and Windows Vista, as well all PC brands, like Dell, Acer, Asus, HP, ThinkPad, Toshiba, IBM, Sony, Lenovo. Free Download it on your computer!
Editor's Note: DriveTheLife has been updated to the new version called Driver Talent with a fresh new look.
Step 1. Scan Hardware and Devices to Check Windows Drivers
After you install and launch Driver Talent, click "Scan" to scan your PC and check which drivers have problems and which need to update.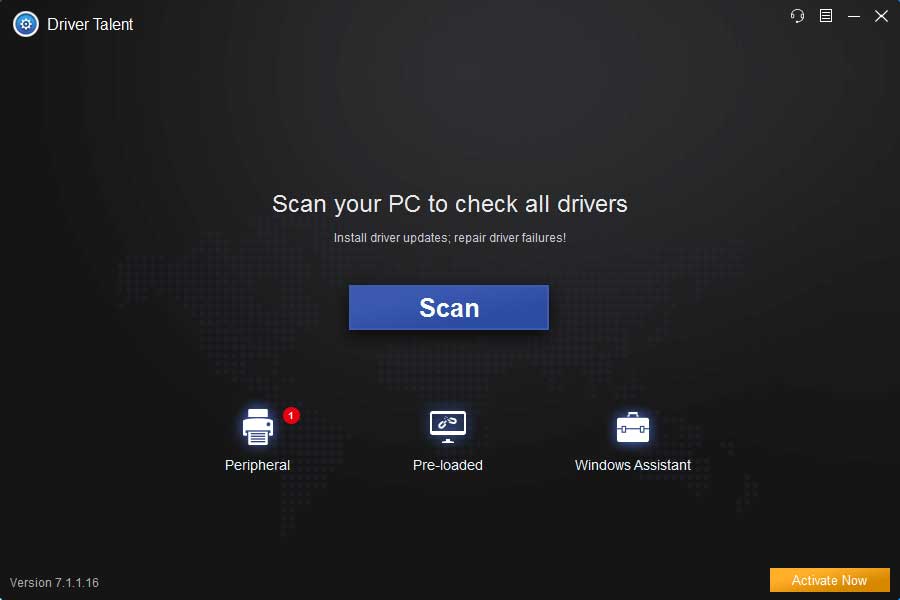 Step 2. Update PC Drivers
In the scanning result, Driver Talent will tell you which drivers need updating. Click on "Update" alongside each item. To get the latest drivers, select the "Latest driver" tab at the bottom of the software. Driver Talent offers several driver version availble to you, including the latest ones. Select the latest driver version from the triangular symbol menu and click "Update". It will start downloading and updating the latest official or WHQL drivers.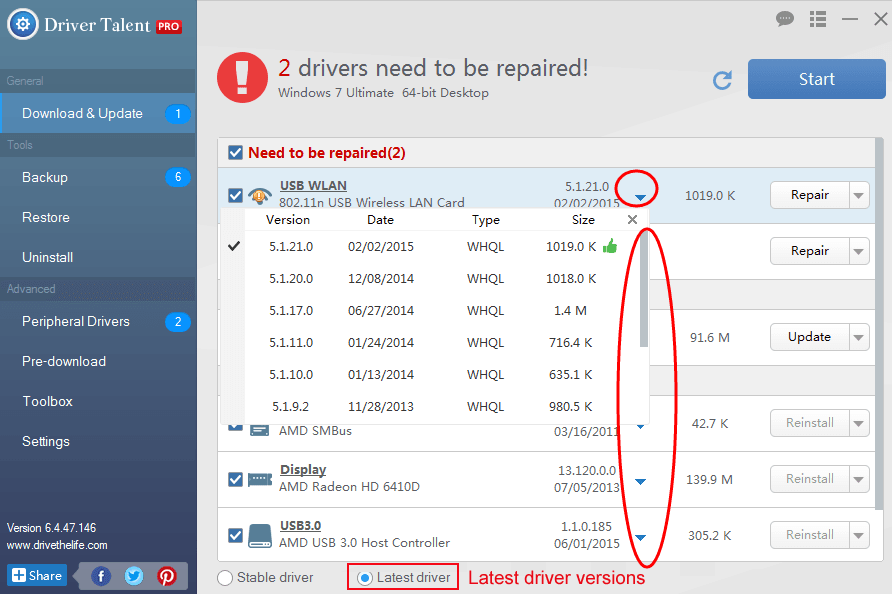 To update the USB drivers (drivers for peripheral devices), switch to the "USB" menu and install the USB drivers for the USB-connected devices, like the keyboard, the mouse, the printer, etc.
That's all is to it! Easy! What you need to do is just to download and install Driver Talent on your computer and you can free get any wanted drivers to update, including Samsung 74ou3e driver for Windows 10.
Recommended Download