How to Increase Laptop Battery Life: Insights and Skills for Longer Performance
Jul. 27, 2023 / Updated by Eloise to Windows 10
Do you often find yourself looking for a power outlet when you are using your laptop? Do you wish your laptop battery could last longer and let you work or play without interruptions? If you answered yes, then you are not alone. Many laptop users struggle with the same problem of short battery life.
Laptop batteries lose their ability to hold a charge over time and eventually need to be replaced. That's why it is important to learn how to extend your laptop battery life and make the most of it.
In this article, we will share with you some practical and effective tips and tricks that can help you improve your laptop battery life and enjoy a longer performance.
Tip 1: Adjust Your Power Settings
Tip 2: Reduce Screen Brightness
Tip 3: Close Unnecessary Apps and Tabs

Tip 4: Update Your battery driver

Tip 1: Adjust Your Power Settings
One of the easiest ways to maintain battery power is to adjust your power settings according to your needs.
Step 1: Click on the battery icon in the taskbar and move the slider to the left or right.
The slider has four options: Best Performance, Better Performance, Better Battery, and Battery Saver.
Step 2: Choose the option that suits your current situation. For example, if you are working on a simple task like browsing the web or checking emails, you can choose Better Battery or Battery Saver mode to reduce the power consumption of your laptop.
Step 3: Click on Battery Settings to access more advanced options. You can change the screen timeout, sleep settings, and low battery level actions for your laptop.
Step 4: You can also create a custom power plan by clicking on Additional Power Settings and then clicking on Create a Power Plan. You can name your power plan and choose the settings that you want for your laptop.
See also Fix: Power Options Missing after Windows 10 Creators Update

Tip 2: Reduce Screen Brightness
Another simple way to conserve battery power is to reduce your screen brightness. The screen is one of the most power-hungry components of your laptop, so lowering its brightness can make a significant difference in your battery life.
Step 1: Press Windows+I to open Settings and select System>Display.
Step 2: You will see a slider that says "Change brightness" at the top of the display settings. Drag it to the left to lower the screen brightness.
Step 3: You can also check the box that says "Change brightness automatically when lighting changes" if you want Windows to adjust the brightness based on the ambient light.
Tip 3: Close Unnecessary Apps and Tabs
Having too many apps and tabs open at the same time can drain your battery faster than you think. Each app and tab consumes some amount of CPU, memory, and disk resources, which in turn use more energy. Therefore, you should close any apps and tabs that you are not using or need at the moment.
Use the keyboard shortcut Ctrl + Shift + Esc to open Task Manager to see which apps and processes are using the most resources and end them if necessary.
Tip 4: Update Your battery driver
Updating battery drivers can extend battery life by ensuring that your laptop's batteries and power management system are working properly and efficiently. It can also optimize your system performance and stability by preventing battery-related problems. However, many laptop users neglect to update their battery drivers or even don't know how to do it. This can lead to various problems for your laptop, such as:
Battery not charging properly or at all

Battery draining so fast that you can't finish your work or play

Battery percentage showing inaccurate or wrong information

Battery overheating or swelling
But updating battery drivers can be a hassle and a headache for many laptop users.Thus we recommend using a driver updater tool like Driver Talent. Driver Talent is a professional and easy-to-use application that scans your laptop for all drivers and finds out which ones are outdated, malfunctioning, problematic, or missing. It then downloads and installs the best-matched drivers for your system with one click. Try it today and see how it can improve your laptop experience.
Step 1: Launch the application and click on Scan to start scanning your laptop for all drivers.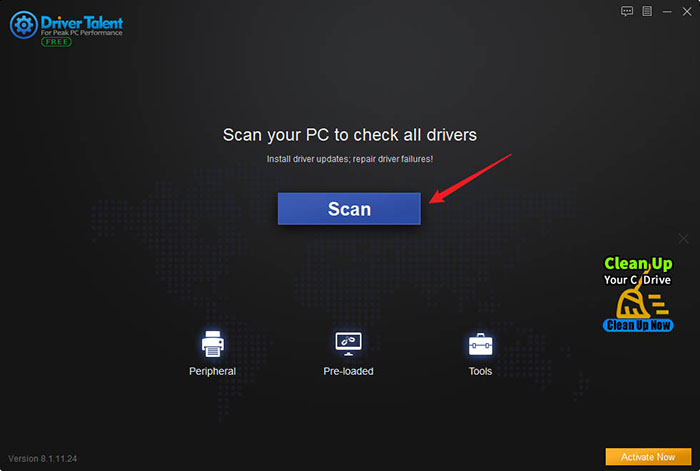 Step 2: After the scan is completed, locate your AC Adapter driver and ACPI-Compliant Control Method Battery driver and click Download button next to it.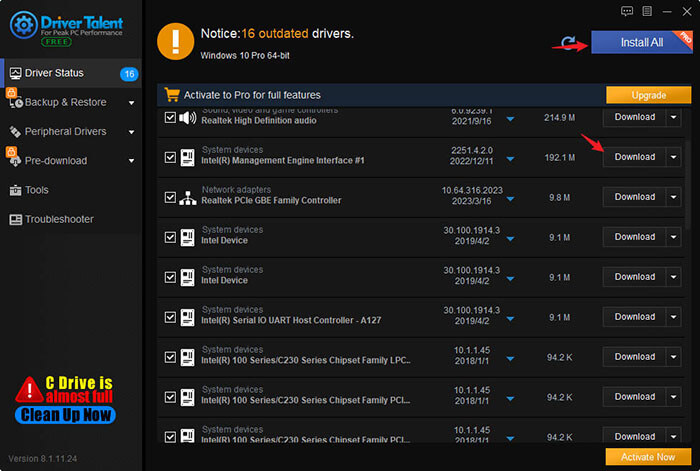 Step 3: Wait for Driver Talent to download and install the latest drivers for you and restart your system after done.
You may also like
Recommended Download