How to Prepare for a Coronavirus Pandemic at Home
Jun. 24, 2022 / Updated by Bessie Shaw to News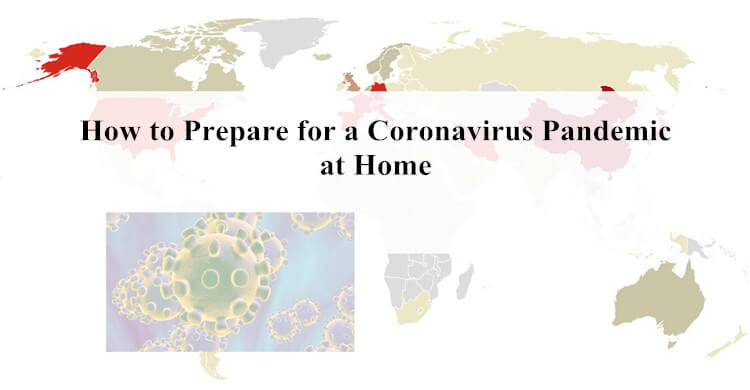 Los Angeles, Calif. - March 5, 2020 - The novel coronavirus COVID-19, first detected in China, now has spread rapidly in South Korea, Italy, Iran, Japan and many other countries. The World Health Organization (WHO) recommended the world to make more preparations for a possible coronavirus pandemic. Though it was too early to call the outbreak a pandemic, countries should be in a phase of preparedness, it said. Many experts are worried about how much further the coronavirus could spread and how many people will be infected. According to Dr. Peter Rabinowitz, a professor of environmental and occupational health sciences at University of Washington, the situation could definitely get worse and that needs to be understood. It's sufficiently concerning now that preparations should be underway to be ready for a worsening situation.
If the situation worsens, some community-based interventions such as school dismissals, event cancellations, social distancing, and creating employee plans to work remotely will be recommended to reduce the spread of the novel coronavirus COVID-19. Everyone in society has a role to play in getting ready and staying healthy.
To protect yourself and your family from getting the disease, you need to make some preparations in advance. Here are some tips for you to prepare at home for a coronavirus pandemic. Although most of them are common sense, you should take them seriously.
Tips to Prepare at Home for a Potential Coronavirus Outbreak
These tips would be helpful to protect your health and the health of those you care about. Take action to get your household ready for a potential coronavirus outbreak right now.

1. Get your food and supplies ready for two weeks
According to the United States Department of Homeland Security, you'd better stock up on enough food and water for two weeks in case of the potential outbreak of COVID-19. Of course, some other supplies are also indispensable. You can consider to store:
Water

Nonperishable food items - such as rice, pasta, nuts, coffee, canned food and frozen food

Fresh food - like vegetable, fruit, bread, milk, meat and eggs

Cleaning products - including antibacterial soap, alcohol-based hand sanitizer and disinfecting wipes, laundry detergent, and so on

Toilet paper, tissues and feminine care products

Face masks - you'll need them when you're sick

Pet supplies - such as pet food and toys (if you have a pet)

Baby supplies - including baby formula, diapers, etc. (if you have a baby)

Any other things you need to use everyday
Note: Don't hoard and don't buy things you won't use temporarily. Just ensure a two-week supply of food and daily necessities.
2. Stock up on some medications ahead of time
Besides food and supplies, a continuous supply of medications is also vital for people who need to take medications regularly. So check your regular prescription drugs to make sure you have enough stock at home to last for a month or more.
3. Have a working computer and smooth network
If unfortunately, the outbreak of COVID-19 does occur and your community is affected, you would be kept in quarantine for a couple of weeks. How important it is to have a working computer and smooth network when you are restricted from going out. With them, you are able to take classes online when your school is closed or work remotely when you're asked to work from home. You can even play video games to pass the time.
Bonus Tip: Don't worry if you encounter a computer problem that you can't solve by yourself. Here are solutions to some common computer problems for your reference:
To get more solutions to other computer issues, please click here.
If you want to quickly resolve some driver related issues, a powerful and professional driver download utility named Driver Talent could do you a big favor. Not only can it help you download and install drivers, but also helps you resolve common issues with its useful tools - Audio Repair and Game Repair.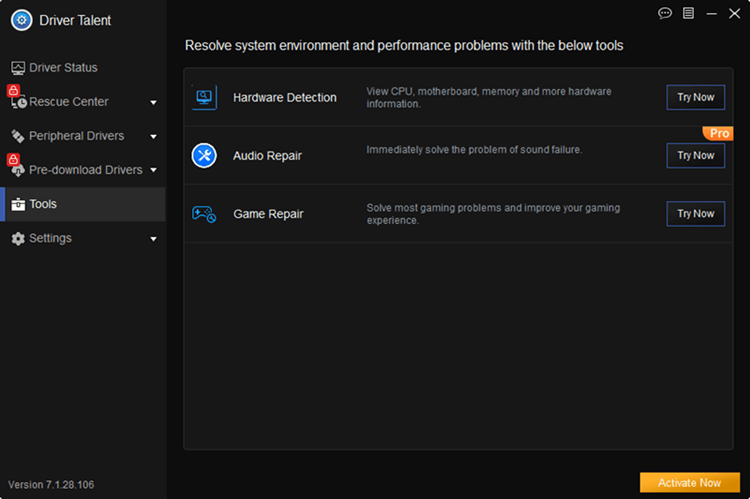 4. Prepare copies and electronic versions of your health records
You'd better have copies and electronic versions of your health records handy in case of emergencies. Then if you need to see a doctor during this time, the doctor could be fully cognizant of your condition and act swiftly to relieve it.
5. Create an emergency contact list
Please make sure that you have an emergency contact list for family, friends, neighbors, carpool drivers, health care providers, teachers, employers, the local public health department, and other community resources on hand.
6. Take daily prevention measures
To protect yourself and your family from picking up the coronavirus disease, you should take some prevention measures to help reduce the risk and prevent the spread of virus. These measures include:
Wash hands well and often with soap and water for at least 20 seconds.

Avoid touching your eyes, nose, and mouth with unwashed hands.

Avoid close contact with people who are sick.

Stay home when you are sick, except to get medical care.

Cover your coughs and sneezes with a tissue.

Clean frequently touched surfaces and objects daily.

Exercise regularly and keep a good rest to strengthen your immune system.

Drink plenty of water and take vitamin supplements.
7. Get a flu shot if you haven't already
The novel coronavirus COVID-19 was first discovered, so there is no specific vaccine. Though a flu shot won't protect you from a coronavirus pandemic, it could reduce your risk of getting influenza, thereby reducing your chances of going to the hospital where infected patients are treated.
No one knows when disaster will strike. But be prepared. That's it.
Recommended Download