Free Download & Install HP Driver on Your Windows 10/8/7/XP/Vista
Jun. 24, 2022 / Updated by Daphne to Windows Driver Solutions
Millions of you use HP laptops or desktop PCs and almost all of you have encountered problems about hardware devices. Examples are that there is no sound from your HP computer, printer not recognized, keyboard or mouse not recognized by computer, no wireless connections (no Wi-Fi), etc. If you can't access your HP computer or your HP device is not working, the drivers of your HP computer or HP devices may be broken, outdated, missing or corrupted. Downloading HP drivers should be your first consideration. Get new driver updates 2016 for HP laptops, desktops, and notebooks.
Reasons Why You Need to Download & Update HP Drivers
If the HP drivers of the hardware and device have errors, they won't work properly. The causes of this problem are:
You've got new HP devices or upgraded the devices but have not yet installed the latest drivers.

You've reinstalled Windows OS, or updated to new Windows OS (like upgrade to Windows 10 from Windows 8.1, Windows 8, Windows 7, Windows XP) but the old HP drivers are not compatible with your newly-installed OS.

The HP drivers files are removed by accident.

There are conflicts within the drivers or the HP devices.
Downloading the latest HP drivers compatible with your Windows OS can help fix all driver-related issues.
Note: A Windows OS requires specific drivers to match it. For example, Windows 10 requires exact Windows 10 HP drivers, and the drivers of lower Windows OS (like Windows 8.1, Windows 8, Windows 7, Windows XP or Windows Vista) will not be compatible with the new Windows 10.
Free Download and Update HP Drivers on Your Laptop, Desktop PC or Notebook
A). Download the HP driver from the HP website
If you have the model and serial number of the printer (or the HP device that is experiencing problems), you can download the HP printer driver directly from its website.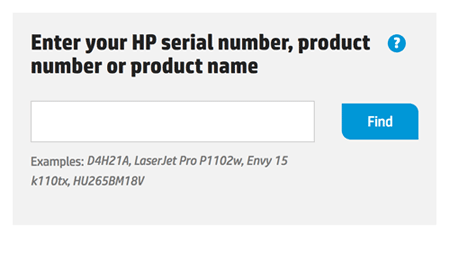 1. Browse to HP website.
2. Enter serial number or product details.
3. Click "Find" to search for updated HP printer drivers.
4. Download related driver files from the search results.
5. Double-click the downloaded file to install the printer driver.
B). Download the HP driver from Driver Talent
We recommend you to try professional HP driver update utility for help. These tools save you a lot of time and they are also much more effective. You can try Driver Talent (formerly called DriveTheLife), which is designed to help you check drivers for problems and then automatically download & update the latest HP drivers for your devices and computer on Windows 10, Windows 8.1, Windows 8, Windows 7, Windows XP, and Windows Vista, either 64-bit or 32-bit.
Quickly download and install Driver Talent on your desktop or laptop.
Editor's Note: DriveTheLife has been updated to the new version called Driver Talent with a fresh new look.
Step 1. Launch Driver Talent on your computer. Click "Scan". It will scan your computer to identify if the drivers are outdated, missing, corrupted, broken or incompatible.
Step 2. After scanning, you will see the problems in details. Repair the drivers. Driver Talent will start to download and install the best-mached drivers.
Step 3. Alternatively, select the "Latest Driver" tab and you can download the latest drivers by clicking on "Update".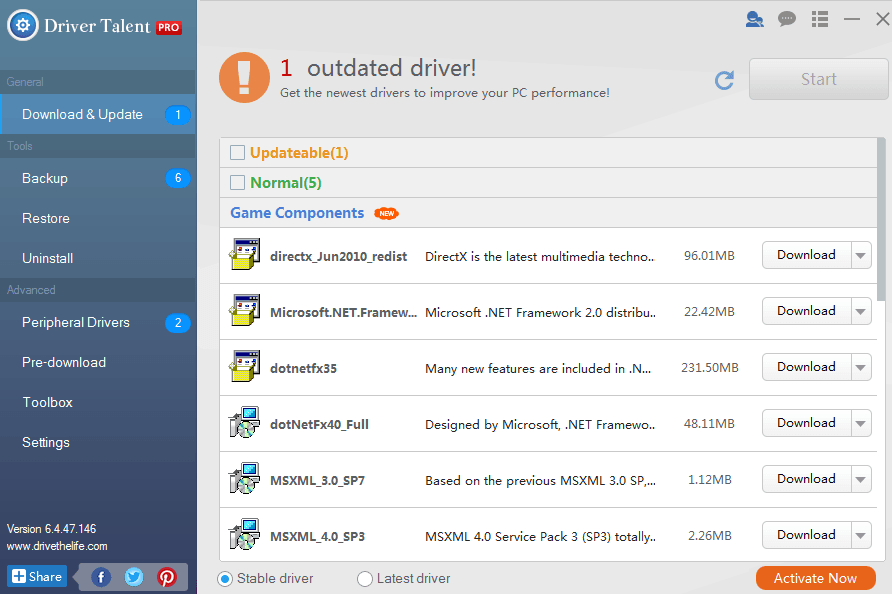 Step 4. For HP USB drivers (drivers for peripheral devices), select the "Peripheral Drivers" menu to install all the drivers.
Restart your computer after all drivers are done. This will make all the drivers into work.
If you want to download all HP drivers by yourself,please visit https://support.hp.com/us-en/drivers
All HP Driver Downloads for Windows 10/8.1/8/7/XP/Vista
Driver Talent is the all-in-one driver download and update utility. It can download and install all HP drivers for your computers and devices. Below are parts of the HP drivers that are mostly used, inlcuding Windows 10 HP drivers, Windows 8.1 HP drivers, Windows 8 HP drivers, Windows 7 HP drivers, Windows XP HP drivers, and Windows Vista HP drivers.
HP Drivers for Desktop PCs
| | | |
| --- | --- | --- |
| HP Compaq 100B Base Model Small Form Factor PC | HP Compaq 100B Small Form Factor PC | HP Compaq 100B Small Form Factor PC (ENERGY STAR) |
| HP Compaq D315 Desktop PC | HP Compaq dx1000 Base Model Microtower PC | HP Compaq dx1000 Microtower PC |
| HP Compaq CQ2000 Desktop PC series | HP Compaq CQ2100 Desktop PC series | HP Compaq CQ2200 Desktop PC series |
| HP Compaq CQ2300 Desktop PC series | HP Compaq CQ2400 Desktop PC series | HP Compaq CQ2500 Desktop PC series |
| HP Compaq Deskpro /E Desktop PC series | HP Compaq Deskpro /I Desktop PC series | HP Compaq Deskpro /L Desktop PC series |
| HP Compaq Deskpro /M Desktop PC series | HP Compaq Deskpro /N Desktop PC series | HP Compaq Deskpro /S Desktop PC series |
| HP Compaq Desktop Gaming PCs | HP Compaq Desktop PCs | HP Compaq Evo Desktop PCs |
| HP Compaq iPAQ PCs | HP Compaq Presario Desktop PCs | HP Compaq ProLinea PCs |
| HP Compaq ProSignia PCs | HP Elite Desktop PCs | HP All-in-One Desktop PCs |
| HP Blade PCs | HP Brio PCs | HP Business Desktop PCs |
| HP Chromebox Home | HP Compaq Business Desktop PCs | HP Desktop PCs |
| HP e-PCs | HP ENVY Desktop PCs | HP HDX Desktop PCs |
| HP Media Center Desktop PCs | HP Pavilion Desktop PCs | HP Spectre Desktop PCs |
| HP Stream Home Desktop PC | HP TouchSmart Desktop PCs | HP Vectra 500 PCs |
| HP Vectra PCs (QS/386/486) | HP Vectra PCs | And ohters |
HP Drivers for Laptops
| | | |
| --- | --- | --- |
| HP 500 Notebook PCs | HP Chromebook | HP Compaq Notebook PCs |
| HP EliteBook Notebook PCs | HP ENVY Notebook PCs | HP ENVY x360 Home Notebook PCs |
| HP G Notebook PCs | HP HDX Notebook PCs | HP Home Notebook PCs |
| HP Compaq Armada Notebook PCs | HP Compaq Concerto PCs | HP Compaq Contura PCs |
| HP Compaq Evo Notebook PCs | Compaq LTE PCs | HP Compaq Mini PCs |
| HP Compaq Notebook PCs | HP Compaq Portable PCs | HP Compaq Presario Notebook PCs |
| HP Compaq ProSignia Notebook PCs | HP Compaq SLT PCs | HP Mini PCs |
| HP Notebook PCs | HP OMEN Home Notebook | HP OmniBook Notebook PCs |
| HP Pavilion Notebook PCs | HP Pavilion x360 Home Notebook PCs | HP ProBook Notebook PCs |
| HP SlateBook Home Notebook PCs | HP Special Edition Notebook PCs | HP Spectre Notebook PCs |
| HP Stream Home | HP Stream Pro Notebook PCs | HP Stream x360 Home |
| HP TouchSmart Notebook PCs | HP x2 PCs | Rugged Notebook PCs |
| Ultrabook and Sleekbook | Ultrabooks | Voodoo Notebook PCs |
| Drivers for HP notebooks. | And ohters | |
Recommended Download