Lenovo Driver Update Utility Download for Windows 10, 8.1, 8, 7, XP, Vista
Jun. 24, 2022 / Updated by Bessie Shaw to Windows Driver Solutions
If you have a Lenovo laptop, notebook, desktop PC or a Lenovo device, you'd better have a Lenovo driver update utility on your computer. A Lenovo driver update tool helps you to identify driver issues and one-click download & update Lenovo drivers immediately. You don't need to waste time to manually find the drivers -- search around the device information and Google the driver only to find it doesn't work on your computer.
If you're looking for a Lenovo driver update utility for Windows 10, Windows 8.1, Windows 8, or Windows 7, you will see thousands of results. Some of the Lenovo driver download utilities work while some don't. To get one that works on your Windows computer, you can try Driver Talent. It's a professional driver update and download utility for Lenovo. You can use it on your computer to detect all driver issues, such as the outdated, corrupted, damaged, broken, missing or incompatible drivers, and then one-click get all the best-matched drivers for your Lenovo hardware and devices.
This utility works for all 64 bit and 32 bit Windows OS, including Windows 10/8.1/8/7/XP/Vista, and Windows Server. You now can get a free license key (the activation code) to activate it to the Pro version by Jan 1st, 2016. And then you will enjoy a lifetime license to all features and the Pro versions. There is no need to search the Lenovo driver update utility license key, serial key, serial number, or Lenovo driver update utility with crack.
Free scan. Download and install this Lenovo driver update utility, OSToto Driver Talent, on your computer.
How to Use Lenovo Driver Update Utility to Download and Update Lenovo Drivers on Windows OS
Try Driver Talent to download or update Lenovo drivers, including Lenovo Windows 10 drivers, Lenovo t61 drivers, Lenovo t410 drivers, Lenovo g550 drivers, Lenovo t60 drivers, Lenovo g560 drivers, Lenovo t400 drivers, Lenovo t500 drivers, Lenovo Thinkcentre drivers, Lenovo r61 drivers, Lenovo t410 driver, Lenovo sl500 drivers, Lenovo Ideapad 320 drivers, and more.
Here are the steps to use this Lenovo driver download and update software to get drivers for Lenovo.
Step 1. Check Driver Issues, including Lenovo Driver Issues
Run Driver Talent to scan your computer. It will have a safe scan to check if there are driver issues. You will see clearly which drivers are outdated, and which ones need to be repaired because they are corrupted, damaged, broken, missing or incompatible.
Step 2. Get Driver Downloads and Updates
Click "Repair" and Driver Talent will start to download and install the best-matched drivers for the computer hardware and devices. You can also choose to update the outdated drivers (if the drivers are working properly, OSToto Driver Talent doesn't recommend you to update the drivers, and it just offers the options for you to choose what to do).
To install Lenovo USB drivers, go to the "Peripheral Drivers" menu.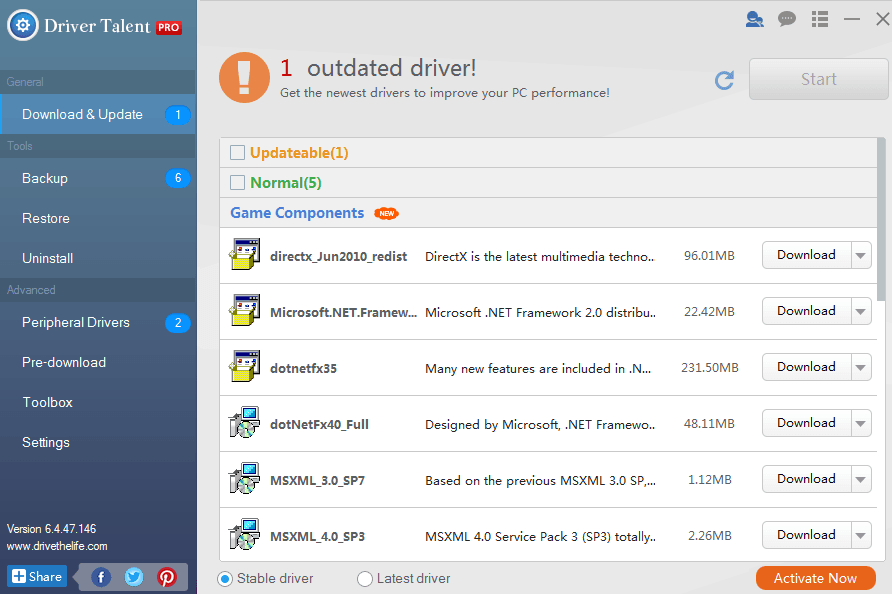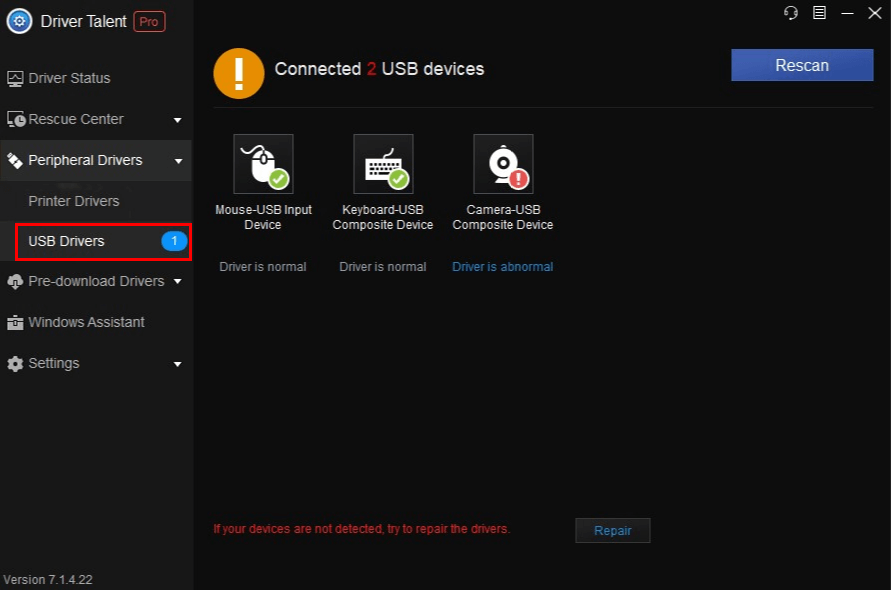 Step 3. Reboot the Computer
Reboot your computer after all is done. This will help to make all changes to take effect.
You can also try Driver Talent to install Asus drivers, Acer drivers, Dell drivers, HP drivers, Sony drivers, Samsung drivers, Toshiba drivers, IBM drivers, Alienware drivers, Compaq drivers, Gateway drivers, LG drivers, Microsoft drivers, MSI drivers, etc. For more details, go to the Driver Talent user guide.
If you come across any problems in downloading Lenovo drivers, you can leave a comment below or click the LEFT MENU on this page for more technical support. If you have any other Windows driver-related issues, see Windows Driver Solutions section on this site.
Recommended Download