Fixed: Lenovo Ideapad Black Screen/Freezing Issue
Apr. 10, 2023 / Updated by Renata to Windows 10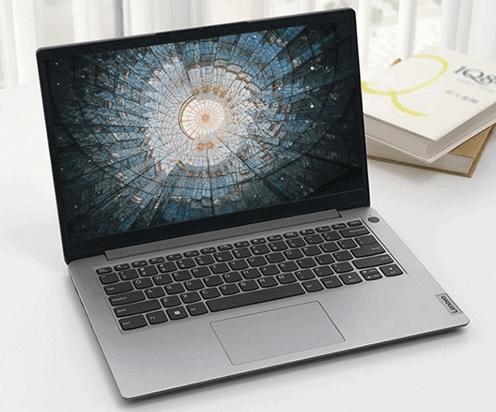 Lenovo IdeaPad is a series of affordable and stylish laptops designed for daily use. It comes in various sizes and configurations to suit different needs and budgets. The IdeaPad laptops have a sleek design and powerful hardware to deliver smooth performance for everyday tasks such as browsing the web, editing documents, watching movies, playing games, and more.
One of the notable features of Lenovo IdeaPad is its durability. The laptops are built with quality materials that can withstand wear and tear. They also have reliable battery life, which makes them ideal for use on-the-go. The IdeaPad series also features premium audio technology, such as Dolby Audio, to enhance the audio experience of its users.
Overall, Lenovo IdeaPad laptops provide an excellent combination of design, performance, and affordability, making them a popular choice for a wide range of users. However, like any other laptop, the Lenovo Ideapad series is prone to certain issues, and one of the most common issues is the black screen/freezing issue. Many Lenovo Ideapad users have reported facing this issue, which can be frustrating, especially if you are in the middle of an important task or project. If you are facing a black screen or freezing issue on your Lenovo Ideapad laptop, here are a few things you can do to fix it:
Solution3. Check Hardware Components
Solution5. Disconnect External Devices
Solution1. Update The Drivers
Outdated graphics driver can cause various issues on your laptop, including black screen and freezing issues. Therefore, it is essential to ensure that all your drivers are up to date. To update your drivers, it is highly recommended to download a third-party driver software, Driver Talent, so as not to make your computer worse.
Driver Talent is a free software for those who affected by driving issues. Thousands of drivers are configured in the software, suitable for Windows 11, Windows 10, Windows 8, is also suitable for desktop and laptop. Check which drivers need to be updated and which drivers can be backed up and reinstalled for free.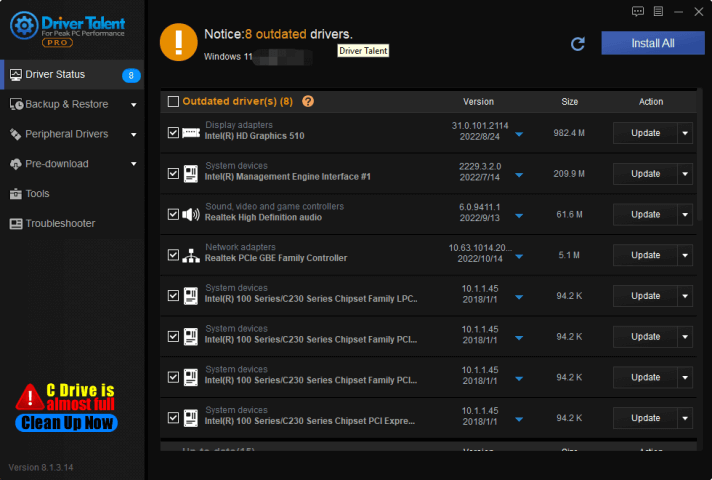 Solution2. Update The BIOS
Outdated operating systems is one of the reasons causing your computer black screen.
It is important to follow the manufacturer's instructions when updating the BIOS on your computer. However, there are some general steps you can take to update the BIOS on Windows 10 and Windows 11:
1. Identify your motherboard and BIOS version: Go to the manufacturer's website and search for your motherboard model. Look for the latest BIOS version available and check your current BIOS version.
2. Download the BIOS update: Download the BIOS update file from the manufacturer's website and save it to a USB flash drive.
3. Prepare your computer: Connect the USB flash drive to your computer and make sure it has enough battery or is plugged in if using a laptop. Close all running applications and disable any antivirus software.
4. Enter BIOS mode: Restart your computer and press the key to enter BIOS mode. The key may differ depending on your motherboard and computer manufacturer.
5. Update the BIOS: Go to the BIOS update section and select the file saved on the USB flash drive. Follow the instructions to update the BIOS.
6. Restart your computer: Once the BIOS update is complete, restart your computer to allow the changes to take effect.
It is essential to follow the instructions carefully while updating the BIOS. Any mistake can result in severe damage to your computer.
Solution3. Check hardware components
Faulty hardware components can also cause black screen and freezing issues on your Lenovo Ideapad laptop. Therefore, it is essential to check your hardware components, including RAM, hard drive, and battery. If any of these components are damaged or faulty, it can cause various issues, including black screen and freezing issue.
You can use the Lenovo Solution Center or any other diagnostic tool to check the hardware components. If you find any faulty components, you can replace them and see if the issue resolves.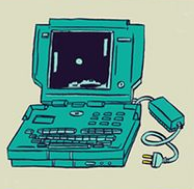 Solution4. Check for malware
Malware can also cause various issues on your laptop, including black screen and freezing issue. Therefore, it is essential to ensure that your laptop is free from malware. You can use any reliable anti-virus software to scan your laptop and remove any malware or viruses. Make sure to keep your anti-virus software updated and run regular scans on your laptop.
Solution5. Disconnect external devices
Sometimes, external devices such as USB drives, printers, or cameras can cause compatibility issues with your laptop and cause black screen and freezing issue. Therefore, it is essential to disconnect all external devices and see if the issue resolves. If the issue resolves after disconnecting the external devices, try connecting them one by one and see which device is causing the issue.
Solution6. Use safe mode
If your Lenovo Ideapad laptop is stuck on a black screen or frozen, you can try booting it in safe mode. Safe mode is a diagnostic mode that allows you to boot your laptop with minimal drivers and services. To boot in safe mode, press F8 or F12 key while your laptop is starting and select the Safe Mode option. Once you are in safe mode, try finding the issue and fixing it.
Solution7. Clean your laptop
Dust and debris can accumulate on your laptop's fan, causing it to overheat and cause various issues, including black screen and freezing issue. Therefore, it is essential to clean your laptop's fan regularly. You can use a can of compressed air or a soft brush to remove the dust and debris from the fan. Make sure to turn off your laptop and remove the battery before cleaning.
In conclusion, black screen and freezing issue can be frustrating, but there are various ways to fix it on your Lenovo Ideapad laptop. Make sure to follow the above steps carefully and check if the issue resolves after each step. If the issue persists, you can contact Lenovo customer support for further assistance.
Recommended Download