Solutions to common login failures in Red Dead Redemption 2
Jun. 24, 2022 / Updated by Daphne to Gaming Solutions
What should you do if you can't get in Red Dead Redemption 2? Red Dead Redemption 2 has been officially launched, but many players will encounter all kinds of problems. This time the editor brings a solution to the crash problem of Red Dead Redemption 2. If it helps you please share it with your friends, thank you!
Solution from official instructions
First, there are some known solutions to problems. Although these solutions cannot guarantee 100% success, I suggest you try them.
Virtual memory problem
The official instructions of Rockstar Games, do not set a fixed size of virtual memory, use system calls.
Link: https://https://support.rockstargames.com/articles/360038178954/Red-Dead-Redemption-2-on-PC-crashing-under-custom-virtual-memory-settings
Rockstar Games' solution to exit unexpectedly after starting the game
Rockstar Games' principle of solving the problem is correct, but it may not be successful in operation. This is a probabilistic question, and the key to success depends on the initial settings of the player's computer.
Link: https://support.rockstargames.com/articles/360037892194/Red-Dead-Redemption-2-on-PC-exited-unexpectedly
Solution for no games in Rockstar Games launcher
If you are unsuccessful in launching the game multiple times and you cannot see Red Dead Redemption 2 on the Rockstar Games platform. For example, after many players have started the game multiple times, once they exit the RDR2 process, the Red Dead Redemption 2 game in the Rockstar Games launcher disappears. This is mainly a problem with your Social Club software.The solution is as follows:
1. Delete account file in settings.
2. Uninstall Rockstar Games Launcher and Rockstar Games Social Club.
3. Download Rockstar Games Launcher from the official website of Rockstar Games and install it with a global proxy. During the process, the software will automatically install and download the Social Club.
4. Keep on the global proxy, or accelerate the launch of a game on Rockstar Games Launcher and Rockstar Games Social Club.
So far, it can only solve the problem that there is no game in your Rockstar Games platform library.
Solution for game crash caused by graphics issues
Nvidia graphics driver problem
The old version of the driver is not guaranteed to solve the problem, so please be sure to download the latest Nvidia graphics driver
Note: The driver version I installed is the latest 441.41, which should generally be no lower than 441.12.
There are two way to update Nvidia graphics driver:
Way 1. Manually install Nvidia or AMD graphics driver
Nvidia is ready to launch a driver with new game preparations. The new version 460.79 adds support for the latest titles of CD Projekt Red.
If you want to play Cyberpunk 2077 on GeForce hardware, make sure to download this driver as it will make the necessary optimizations to help the game run smoothly. The new driver also adds DLSS support for six new titles. You can download the driver from GeForce Experience or GeForce.com.
Way 2. One-click installation through driver talent
If you find it time-consuming to search proper driver downloads, or if you prefer a one-click solution, you can use Driver Talent. It is a reliable and professional Windows drivers download and update utility.
You can get and install the best-matched and safe driver updates you need in seconds. Also, you can use the software to quickly uninstall device drivers. Click the button above to save your time.
Here are 3 easy steps to update drivers on your Windows laptop or desktop:
1. Click the Scan button after you launch Driver Talent. It will automatically detect those missing, outdated or broken drivers.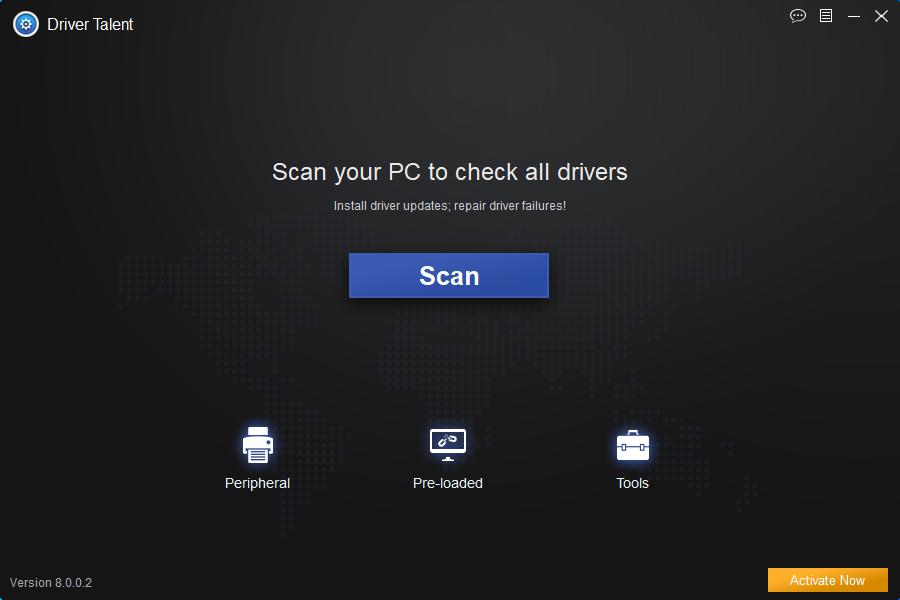 2. If you are going to update drivers, click the Update button directly after the scanning. The utility will download the compatible driver version for your machine.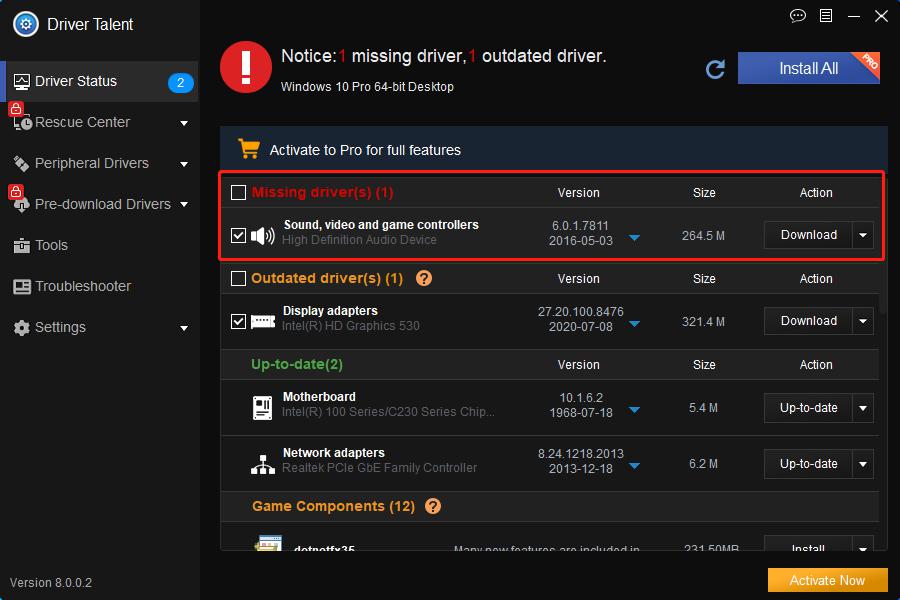 3. Reboot to make the newly driver download or the driver change take effect.
Note: You'd better back up your drivers before any driver changes in case other system problems occur suddenly.
The core solution to the game crash
1. First, the Nvidia card needs to be set.The focus is on vertical synchronization, which is set using 3D applications.
2. For computer,if there is a power management mode, change to the highest performance priority.
If you haven't entered the game for the first time, follow the Rockstar Games instructions to run as an administrator and disable full-screen optimization.
The method is as follows:
1. Right click Steam to browse local files.
2. Right-click RDR2.exe, go to properties->compatibility->disable full-screen optimization.
When you enter the game for the first time, setting up the graphics options can basically ensure that you enter the game smoothly. If you can't enter normally because of setting graphics options, you can delete the Settings folder in the Rockstar Games\Red Dead Redemption 2 directory.
Solution for Conflict with third-party audio software
If you still haven't solved the problem so far, you can be sure that your USB external sound card device or audio control software conflicts with the game.Some laptops with advanced sound cards, or desktop computers with independent sound cards, will have a sound card control software. These software can generally control the audio output settings outside of the system options. The problem is that there is a set of audio controls built into the PC's Red Dead Redemption 2 program. In general games, hardware and api calls cannot be set in the game process. But Rockstar Games' games can choose graphics API in the game, and can also switch the screen, video output device (graphics card), and audio output device in the game. So when you already have third-party software on your computer that has obtained the permission, you start Red Dead Redemption 2 at this time, it cannot get the audio interface permission, and it "exit unexpectedly". This reason is difficult to find, because when most people see this error, they will still find the reason on the display.
Solution Here
Turn off other software or external devices that control audio output. It may also include some Bluetooth audio equipment and headphones with its own sound card.
solution for some small problems
Some small problems of Rockstar Games may be solved and you can enter the game directly.
Do not plug in the controller or Bluetooth connection controller when entering the game, any controller will not work with xbox, ps, nspro.

Notebooks with light effect control software, turn off, especially Aliens and Razer.

Do not use shift+tab to start the game with steam.

For other problems such as account registration, email verification, unsuccessful activation, etc., you can search for solutions by yourself. In addition, if the B450 motherboard needs to update the bios and other individual problems, please pay attention to yourself.
At all, the above content can guarantee to solve 99.99% of the problems that cannot start the game.
Recommended Download