No sound when playing video on Laptop
Mar. 15, 2023 / Updated by Renata to Windows 11
What should I do if there is sound when I turn on the laptop but no sound when I watch a movie?What happen to the computer?

Every time there are something wrong with a computer, it is recommended to check if its hardware damaged.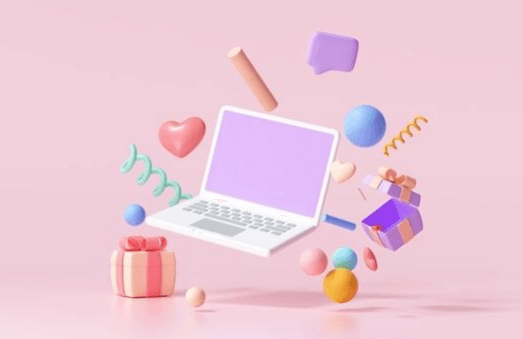 Here several solutions for fixing there is sound when the laptop is turned on, but there is no sound when watching a video:
Solution1. Check Audio Connection
Solution4. Restart Video Player
Solution5. Open Registry Edition
Solution6. Change Speaker Configuration
Solution1. Check Audio Connection
Before check the audio connection, you should make sure the the sound device is not muted. Turn the sound source device to the maximum volume, if there is still no sound, check the audio connection.
Clean up the audio output slot. Then re-plug your stereo or earphones, turn the earphone cable, if the sound becomes very small or inaudible, try another earphone. If the sound returns after replacing the earphones, then the sound card is not broken. If the sound still doesn't come back, there may be a problem with the sound card, driver, or video player.
Solution2. Reinstall Driver
What is the driver, what the driver does can be simply said to be:
Initialize and configure hardware
Realize the reception and transmission of hardware data
There is a problem with the sound card, there may be a problem with the sound card driver. Try uninstalling and downloading the driver again.
Move1. Download Driver Talent
Driver Talent can update outdated devices and back-up as well, as restore the drivers as you need. In order to avoid driver problems in the future, you can also reinstall the problematic driver immediately, So that you do not need to check what is going on with computer drivers and update them manually.
It is also available for Windows 11, Windows 10, Windows 8, and is also suitable for desktop as well as laptop computers.
How to use Driver Talent to Reinstall Driver?
Driver Talent provides several driver version for download, which means you can reinstall the driver by download the same driver version instead of download the latest version. In this way, you can reinstall the driver.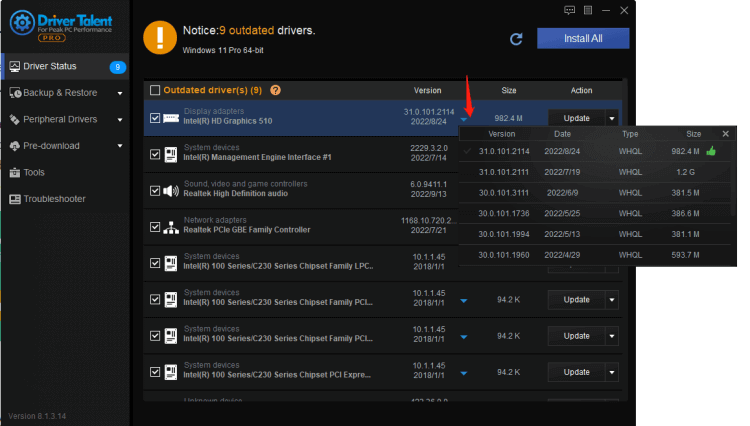 Move2. Reinstall on Device Manager
If your drivers are latest version, you can reinstall them:
Under the Device Manager, uninstall the graphics card device
Click the Action tab - scan for hardware changes
Then restart then computer, and the problem would properly be solved.
But this method is not recommended, for the driver program may be uninstalled uncleanly before download. If the driver file is not uninstalled cleanly, it will also affect the normal operation of the driver.
Solution3. Update Driver
If reinstall driver fail to fix the no sound issue, you can update the sound card driver. If you are not familiar with computer application settings or modifications. It is recommended that you download a third-party driver software, Driver Talent, so as not to make your computer worse.
Driver Talent is a free software for those who affected by driving issues. Thousands of drivers are configured in the software, suitable for Windows 11, Windows 10, Windows 8, is also suitable for desktop and laptop.
Sometimes the driver automatically downloaded by the computer does not solve the problem. For this stubborn driver problem, Driver Talent contains back-up and restore function, assisting users to quickly retrieve the driver for reinstalling or uninstalling.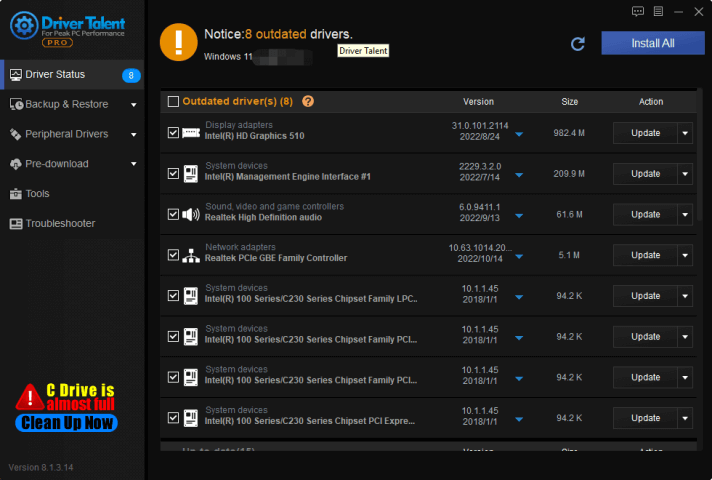 On other way to update driver:
1. Press WIN+X at the same time
2. Enter into Device Manager
3. Choose the audio input and output device
4. Select drivers which need to be updated
5. Select Search automatically for drivers
6. Choose Sound, Video and game controller
7. Update audio device
Solution4. Restart Video Player
It may be that the player file is damaged and there is no sound. Uninstall and reinstall the original video player to see if the sound problem can be fixed.
If there is no sound on the Webpage, check to see if the sound on the webpage is turned off.
If the video you downloaded has no sound during playback, you can play another video or music. If other audio has sound, the video should be downloaded again.
Solution5. Open Registry Edition
1. Press WIN+R and enter regedit
2. Open the registry edition to
3. Create a new string value "wavemapper" on the right, the value data is "mascm32.drv" and then press OK to restart the computer.
Solution6. Change Speaker Configuration
The video may be encoded to play on a different channel than your device supports. For example, it's not uncommon movies to have 5.1 surround sound, which is designed to play different parts of the audio from different speakers.
If you don't have a surround sound setup, you may end up hearing only one of the tracks, like, you can hear background sound with no characters speaking at all.
Therefore, the device's speaker configuration should be adjusted to stereo. This will play all audio tracks through the same channel.
Exactly how to change this setting depends on your device and playback program. You may need to do this for devices and programs:
1. Press Windows key + R to open Run.
2. Enter mmsys.cpl and click OK.
3. On the Playback tab, find your speakers, click them, and then click Configure. Select Stereo and click Next until the wizard completes.
Solution7. Use Sound Repair
Download Driver Talent, and select Tool. You can use Driver Talent's additional function to repair your compuer sound issue.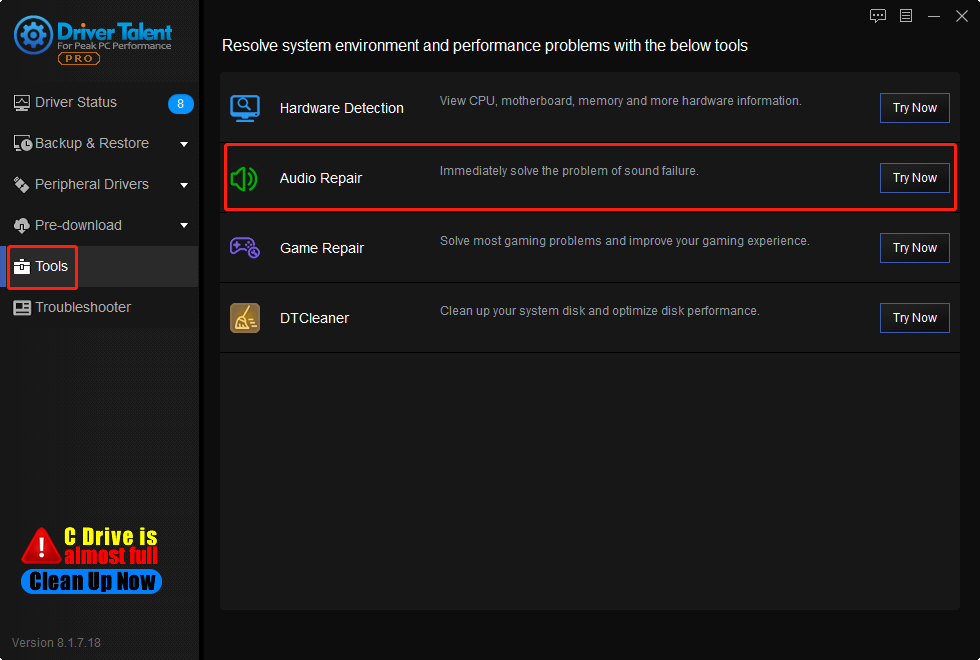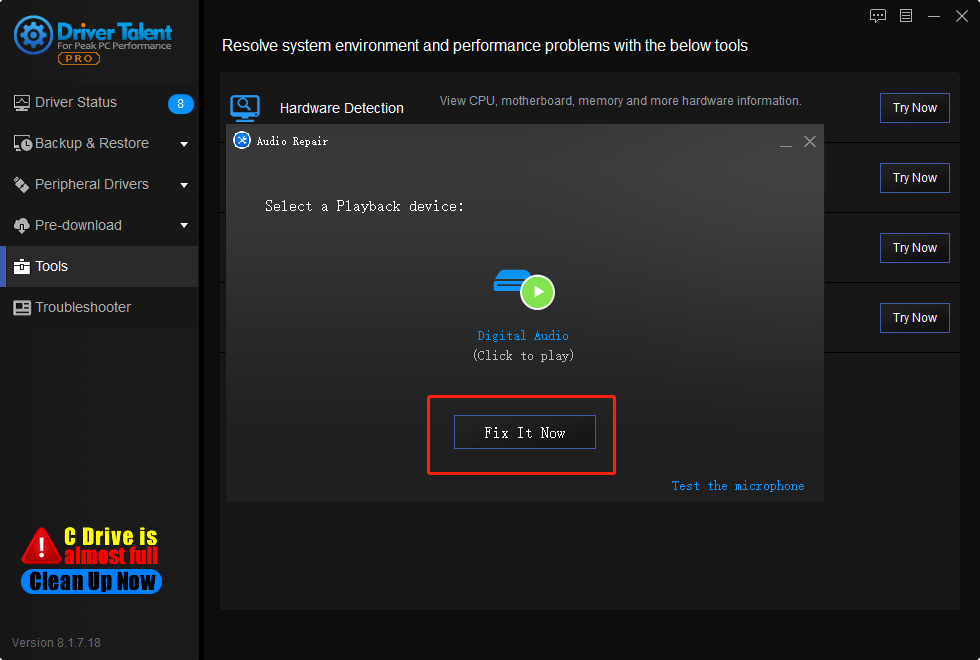 Recommended Download