Fixed: Printer not working issue after updating to Windows 11?
Mar. 20, 2023 / Updated by Renata to Windows 11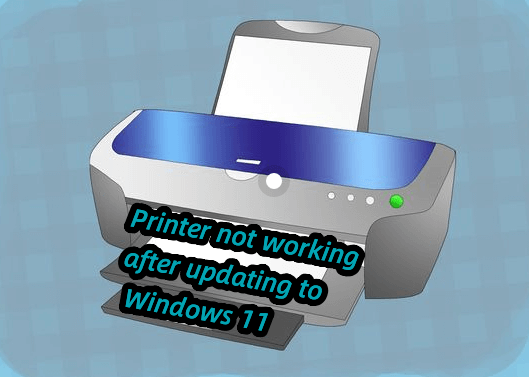 Compared to the older system versions, Windows 11 allows users to optimize the use of hardware devices, like printers and scanners. However, many users claimed that they can not use the printer after updating to Windows 11 system.
There are many reasons can cause Windows 11 printer not working. For these possible causes of problems, make corresponding solutions one by one:
Solution4. Run the Printer Troubleshooter
Solution5. Disable the firewall
Depending on computer settings and versions, the same problem may require different solutions. This requires you to try the following solutions one by one until you solve your own problem.
Solution1. Updates Windows
Update is a way of self-maintenance of Windows system. Windows system is a huge code project, and there may be various loopholes. After some loopholes are discovered, Microsoft will provide corresponding update patches for users to download and install to block loopholes. .
If the printer not working after you have updated to Windows 11, it is necessary to apply a patch to update it. Vulnerability (BUG) is a code defect or error that occurs when writing system software or application software, and it is generally inevitable for programs to have loopholes.
To install the Windows updates, you can follow the below steps:
1.Press WIN+I together and open Settings
2.Choose Windows Updates
3.On the right-panel, select Check for updates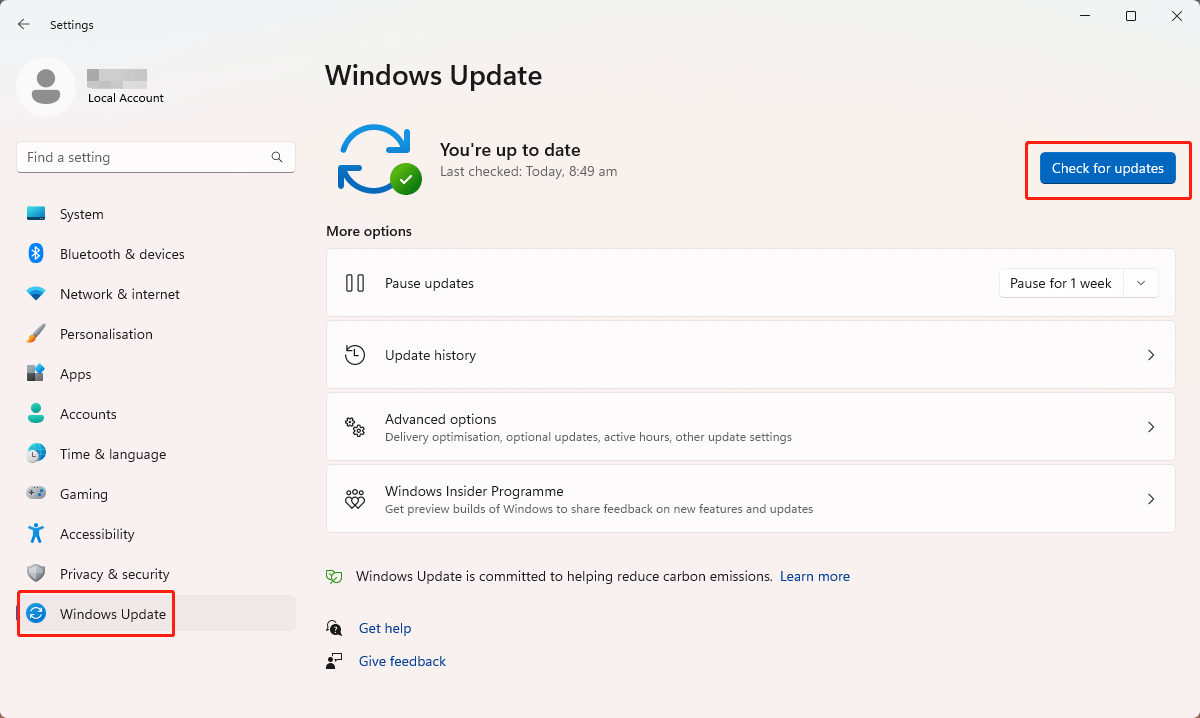 Solution2. Update the Drivers
Due to the newly installed Windows 11 is not compatible with the original printer driver, the printer not working after you have updated to Windows 11. In this case, you can update printer driver to fix this issue. What's more, you'd better update all drivers in case that other device problems occurs.
It is highly recommended to download a driver updater----Driver Talent which is free for scanning computers and providing updated driver.
For only one click, Driver Talent can scan your computer within seconds and show you all drivers statue in one list. You can not only to update network driver, but can also update all drivers together.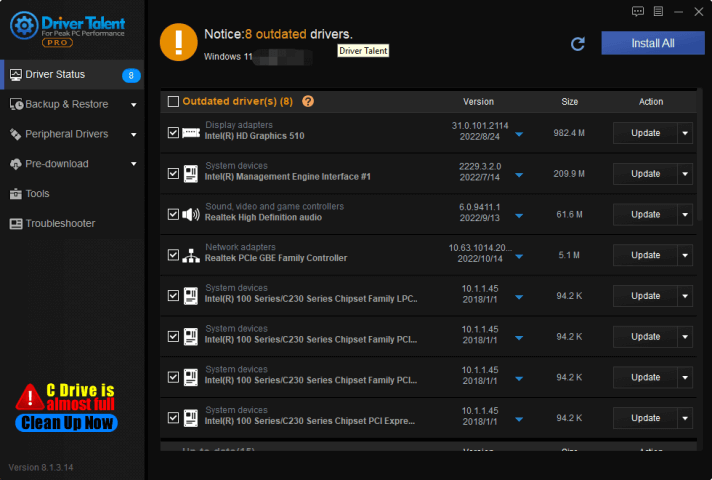 Solution3. Reinstall Drivers
If updating the drivers failed to fix the printer not working after updating to Windows 11 issue, you can try to uninstall driver or reinstall drivers through Driver Talent.
Launch Driver Talent and choose the printer driver to uninstall, and then, download the same version on the main page.
In addition, you can restore and backup drivers in which you can resolve drivers issue easily.
What's more, you can click the peripheral drivers and choose the printer to fix the printer not working issue.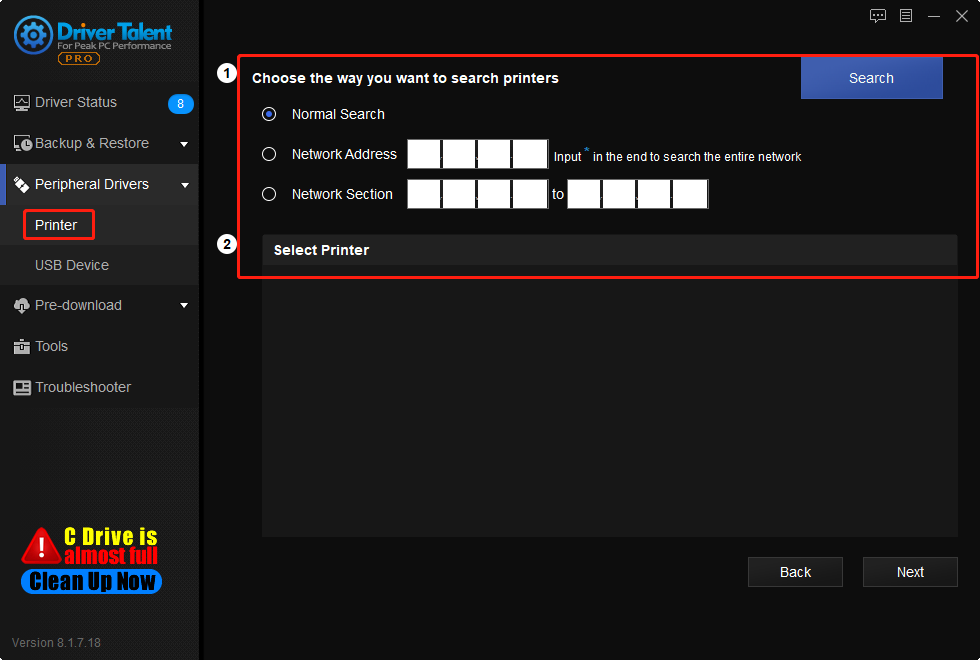 Tips:
Driver Talent is a free software for those who affected by driving issues. Thousands of drivers are configured in the software, suitable for Windows 11, Windows 10, Windows 8, is also suitable for desktop and laptop. Check which drivers need to be updated and which drivers can be backed up and reinstalled for free.
Sometimes the driver automatically downloaded by the computer does not solve the problem. For this stubborn driver problem, Driver Talent provides various driver versions for download, unlike other driver updater providing the latest version for choose.
Solution4. Run the Printer Troubleshooter
The newest Microsoft Operating System comes with a built-in troubleshooting utility that helps to resolve basic errors and glitches. Here while your printer is not working after an update, run the Printer troubleshooter and check whether it helps or not. You can run the printer troubleshooter as the below steps:
1. Press WIN+I and open Settings
2. Select System, click Troubleshoot > Other troubleshooters
3. Find the Printer troubleshooter among the list of Windows troubleshooters
4. Click on the Run button next to it to activate it.
If there are any problems impeding your printing process, the troubleshooter will show you how to fix it.
Solution5. Disable the firewall
If the four solutions above failed to fix the Windows 11 printer not working issue, you can try to disable the firewall. It may happen that your firewall is set too secure to prevent the printer from communicating smoothly. To disable the firewall, you can follow the below steps:
1. Click on the Windows logo and enter "Control Panel" in the search field.
2. Click Control Panel from the search results.
3. Select System and Security.
4. Click Windows Defender Firewall.
5. Click the Turn Windows Defender Firewall on or off option.
6. Click the Turn off Windows Defender Firewall (not recommended) radio buttons under the Private network settings and Public network settings.
7. Click OK.
Your Windows 11 operating system's built-in firewall should now be disabled.
Recommended Download