How to Fix GPU Keep Crashing Computer Windows 10/11
Mar. 09, 2023 / Updated by Renata to Windows 11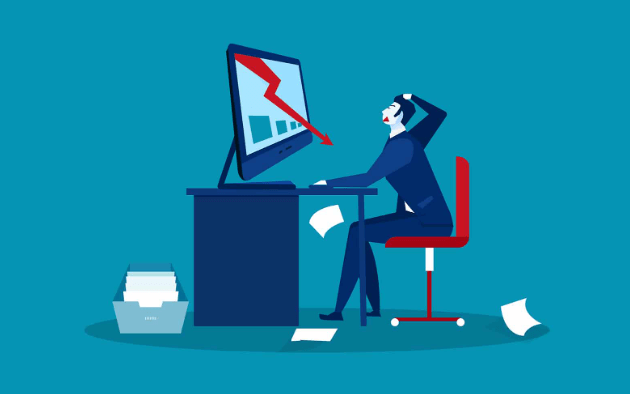 Modern GPUs are efficient at manipulating computer graphics and image processing. Their parallel structure makes them more efficient than general-purpose central processing units (CPUs) for algorithms that process large blocks of data in parallel. In a personal computer, a GPU can be present on a video card or embedded on the motherboard. Some CPUs, are embedded in the CPU die(Wikipedia). In a word, A chip on a graphics card that processes graphics.
What can a GPU crash cause?
Firstly, the most likely cause is either too generous overclocking or a GPU nearing the end of its life span. Outdated drivers can also cause artifacts.
Secondly, if a GPU is suddenly crashed, there might be caused by overheating or corrupt system files.
Thirdly, for faulty game files or overclocking, a GPU crash will cause missing /flickering textures.
What is worse, GPU crashing will lead to screen power off. If your GPU is under heavy load, your computer may suddenly blue screen.
For it is important, once there is a problem with the GPU, it will cause many computer problems. To solve the problems caused by the GPU, this article summarizes several solutions:
Solution2. Remove Entire Driver
Solution3. Dust Off the Computer
Solution1. Update Driver
A driver is software that allows your computer to communicate with hardware devices. Without drivers, the devices you connect to your computer—for example, a mouse or external hard drive—won't work properly. Windows can automatically check if there are drivers available for new devices that you connect to your computer. Outdated GPU drivers may harmful to the computer's performance stability and they can cause GPU crashing.
With this software, you can update outdated devices and back up as well, as restore the drivers as you need. To avoid driver problems in the future, you can also reinstall the problematic driver immediately, So that you do not need to check what is going on with computer drivers and update them manually.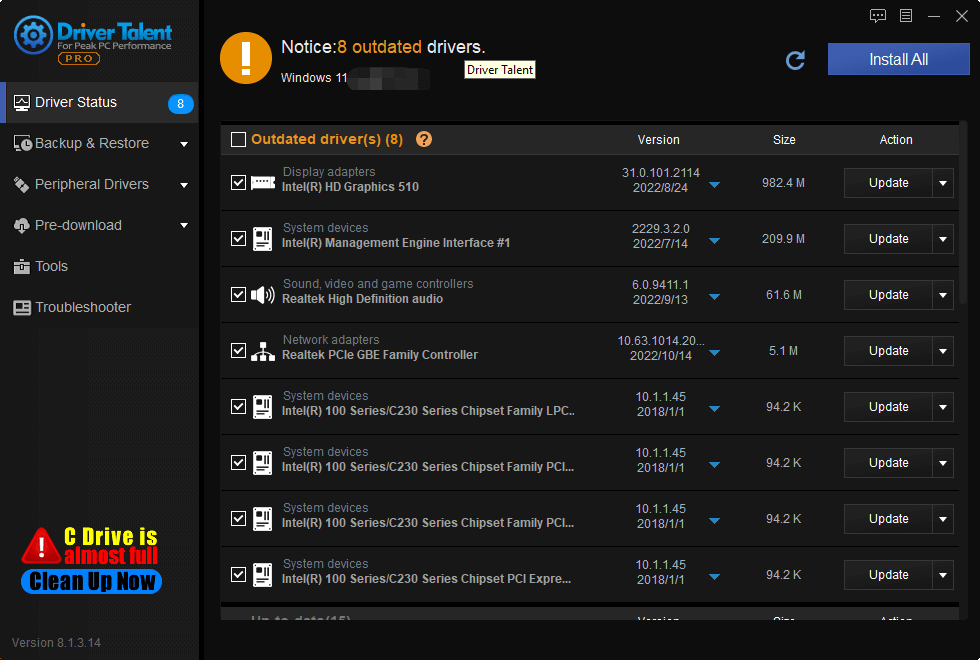 In other more complex way, you can update driver by yourself:
1. Press WIN+X at the same time
2. Enter into Device Manager
3. Choose your purpose device
4. Select drivers which need to be updated
5. Select Search automatically for drivers
Solution2. Remove Entire Driver
If you have installed a GPU on your computer, it might not work a match with the original graphics card driver and also trigger GPU crashing, leading to computer problems.
For this reason, if you have a new GPU and it does not match the graphics card driver, you should remove the entire driver and restart the computer.
If you are worried that your operation will affect the security of your computer, then use Driver Talent to help you uninstall the driver.
After uninstalling the driver, you can download a more matching driver.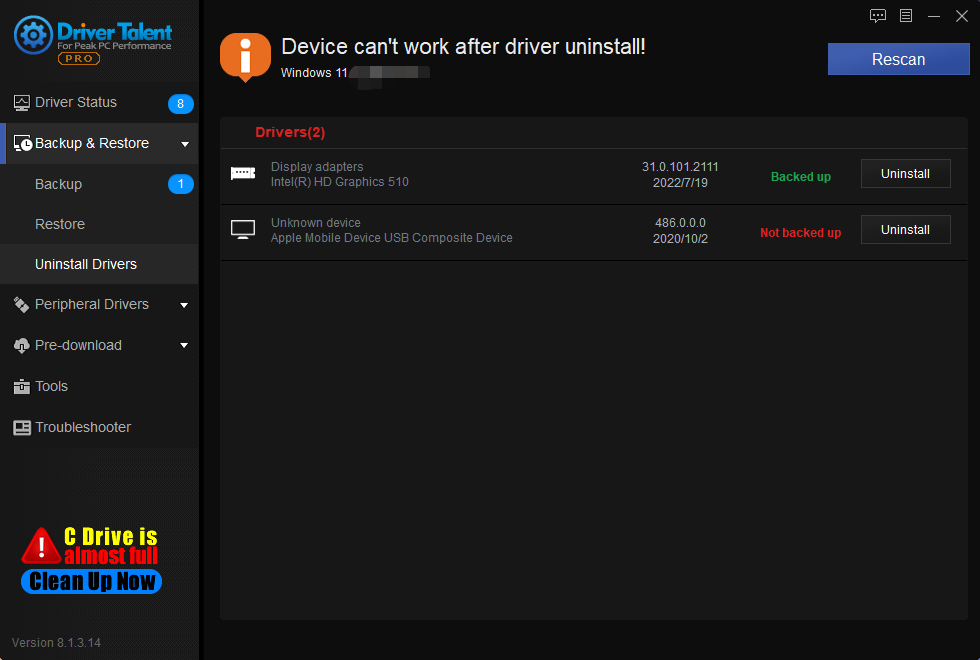 In other way, you can go to Device Manager and uninstall driver:
1. Press WIN+X at the same time
2. Enter into Device Manager
3. Choose your purpose device
4. Select drivers which need to be uninstalled
5. Restart the computer
Solution3. Dust Off the Computer
If the mainframe has not been cleaned for a long time and is covered with dust. It will cause the mainframe to make too much noise when the computer is running. The computer's heat dissipation is not good, and the graphics card will overheat, which will seriously cause the computer to crash and affect the normal operation of the computer.
You can do a dust removal for your computer, or get a new cooling device and replace the fans with water cooling.
Solution4. Update DirectX
Microsoft DirectX is a collection of application programming interfaces (APIs) for handling tasks related to multimedia, especially game programming and video, on Microsoft platforms(Wikipedia).
If you are running the outdated version of DirectX, you can try to update it.
The first update method:
1. Check Your DirectX Version
2. Type dxdiag in the search box and Enter to open DirectX Diagnostic Tool.
3. In the System tab, if the DirectX version is outdated, you can continue the following steps.
The other way to update DirectX:
1. Press Win + I to open Windows Settings.
2. Go to Update & Security > Windows Update > Check for updates.
3. Follow the on-screen instructions and Windows Update will download & install the latest DirectX for you.
Solution5. Stop Overclocking
Overclocking is the action of increasing a component's clock rate, running it at a higher speed than it was designed to run. This usually applies to the CPU or GPU, but other components can also be overclocked. Overclocking can gain an FPS increase while it can also cause a GPU crash.
If your computer has a direct option that you can use to turn the overclocking feature on and off, follow the below steps to stop overclocking:
1. In the BIOS (or UEFI) menu, go to the "Advanced" tab.
2. Click Performance
3. Look for an option that specifies overclocking or something similar.
If it is enabled, which should be the case if your CPU is overclocking, then disable it.
4. Save the settings and press "YES" to any confirmation dialogue box.
5. Restart the computer.
Recommended Download