Solutions to Windows 10 May 2021 Update Installation Problems
Jun. 24, 2022 / Updated by Vivi to Windows 10
Microsoft has released the Windows 10 May 2021 Update (version 21H1). It does not come with big changes in features, but it does have some enhancements in performance and security, bringing users a better remote work experience.
During the process of updating Windows 10, it is not uncommon to encounter some problems to stop the updating and installation. Usually, the issues caused by the new system changes, but sometimes outdated device drivers, the incompatibility of hardware and software, or custom configurations can also have great effects on the updating process.

To help you solve the Windows 10 May 2021 Update installation problems, this guide will present three solutions. You can try from one to one.

Solution 1. Fix your driver issues automatically with Driver Talent

Driver Talent is a professional one-stop driver manage utility that can help you find out all the corrupt, outdated and missing drivers and then repair, update or download them based on the particular circumstances of your computer. It can fix all driver issues automatically when you are drinking your coffee.
Step 1. Click Scan to check all drivers.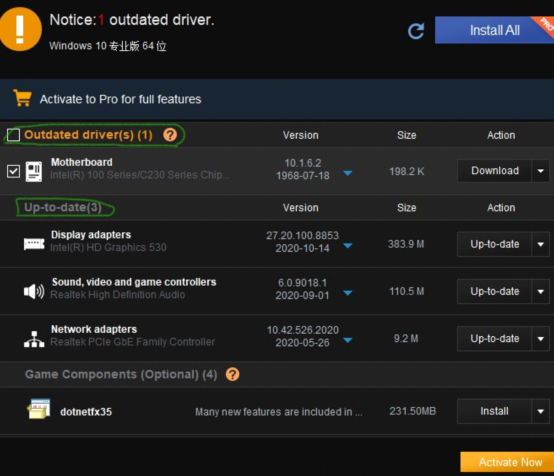 Step2. Click Install All to repair and update drivers.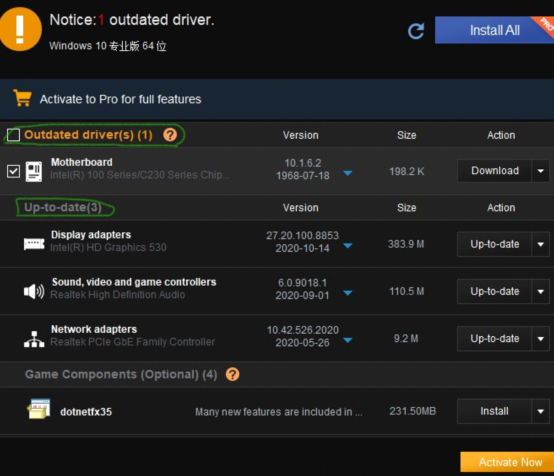 Step 3. Restart the computer to make it take effect.
Driver Talent (for full features, please activate to Pro version) can help you find out and solve all driver problems, and update drivers to the latest and well-matched ones for your computer during your coffee time. It's especially helpful for those who want to save their time and know little about computer hardware and software.

However, if you have professional knowledge about computer, have enough time and patience, you can try the following two solutions to Windows 10 21H1 installation problems. But, you need to be very careful and patient when you are manually trying the following methods since a wrong step can bring very serious consequences for your computer.

Solution 2. Fix problems with Windows Update troubleshooter

Be careful, you have to follow the steps one by one.
1. Open Settings.
2. Click on Update & Security.
3. Click on Troubleshoot.
4. Click the Advanced troubleshooters option.
5. Under the Get up and running section, select the Windows Update option

6. Click the Run the troubleshooter button
7. Click the Apply this fix option.
8. Continue with the on-screen directions.
9. Click the Close button.
10. Restart the computer.
This solution should be able to help you solve the installation problems you encounter, but you have to carefully complete all the steps one by one, although this process is very time-consuming.
Solution 3. Reset Windows update components

Again, you need to take it step by step carefully and patiently.
1 . Open Command prompt as administrator and perform the following commands which can stop Windows update and its related services.
1) net stop wuauserv
2) net stop cryptSvc
3) net stop bits
4) net stop msiserver
2 . Perform the commands to rename the SoftwareDistribution folder.
1) Ren C:\Windows\SoftwareDistribution SoftwareDistribution.old
2) Ren C:\Windows\System32\catroot2 Catroot2.old
3 . Perform commands to restart the services.
1) net start wuauserv
2) net start cryptSvc
3) net start bits
4) net start msiserver
4 . Close Command Prompt and Restart the computer.
5 . Check for updates from settings → Update & Security → Windows Update.
You can try the above solutions to fix the problems you encounter when you upgrade and install the Windows 10 21H1. Driver Talent is a good choice for the problems caused by drivers and this is very user-friendly for computer newbie. The other two solutions are rather time-consuming, and you have to complete all the steps one by one.

Company
Driver Talent is a professional Windows driver download and update utility from drivethelife.com, a professional team of OSToto Co., Ltd. Since its establishment in 2009, the team has been working hard to develop computer and Internet software so as to improve the work and lives of people. Our products are well received by people from all over the word.
Our Spirit
"User-centric Design, Technology Fundamental, Principles Open"
Our Products
Driver Talent, Driver Talent for Network Card, ExplorerMax
Recommended Download