Solved Desktop Window Manager Take Up Too Much Memory
Mar. 08, 2023 / Updated by Renata to Windows Driver Solutions
The Desktop Window Manager is a compositing window manager, meaning that each program has a buffer that it writes data to; DWM then composites each program's buffer into a final image. By comparison, the stacking window manager in Windows XP and earlier (and also Windows Vista and Windows 7 with Windows Aero disabled) comprises a single display buffer to which all programs write(Wikipedia).
If you are suffering from the issue of desktop window manager consuming too much memory, you can check out this article. This article, explain some quick fixes that will eventually help users to resolve the issue of excessive memory consumption by Desktop Window Manager.
For more information, please read below:
Solution1. Restart Task Manager
Solution2. Rollback Graphic Driver
Solution3. Update Graphic Driver
Solution6. Adjust Windows Performance
Solution1. Restart Task Manager
Before you begin with the other fixes, we recommend you try this workaround. Here all you need to do is, restart the File Explorer from Task Manager. For doing so, follow the steps given below:
Firstly, right-click on the Windows icon of your Taskbar and select Task Manager from the context menu.
Now inside the Task Manager window, locate Windows Explorer from the list of options and then click on the Restart tab given at the bottom right corner of the window.
Solution2. Rollback Graphic Driver
You can rollback the driver to a former version, following these steps and try to rollback the driver:
1.Press WIN+X at the same time, and Enter into Device Manager
2.Choose the Display Adaptor
3.Right click the graphics card device
4.Choose properties
5.On the Driver Tab, select Rollback Driver, and press OK
6.Follow the pop-up instructions
There is another way to roll back drivers to a former version: download Driver Talent. Driver Talent provides a variety of different versions of drivers for users to download. Unlike another driver updater, once the scan is completed, they can only be forced to update to the latest version.
Not the latest version of the driver is the best. For the hardware is old, updating to the latest version of the driver will cause incompatibility between the device and the computer and cause computer errors. Therefore, it is also necessary to download an earlier version of the driver.
Launch Driver Talent and Scan the computer, users would see a list of drivers which can be updated. Click the inverted triangle, and users can download different versions: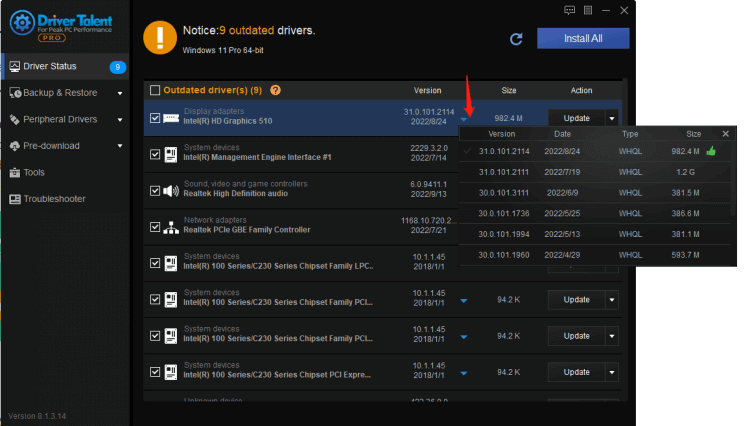 Solution3. Update Graphic Driver
It is highly recommended to download Driver Talent, which is a free driver updater for all countries of the world. With just one click, it scans the computer and displays all drivers that can be updated in a list.
Driver Talent can solve 98% of driver problems, including but not limited to updating, backup, restoring, pre-download, etc.
With this software, users can update outdated devices and back up as well, as restore the drivers as their need. In order to avoid driver problems in the future, users can also reinstall the problematic driver immediately, So that users do not need to check what is going on with computer drivers and update them manually.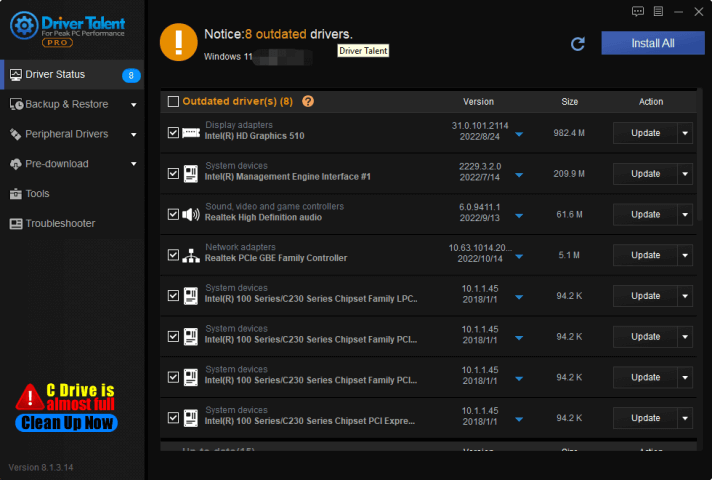 It is also available for Windows 11, Windows 10, and Windows 8, and is also suitable for desktop as well as laptop computers.
On Windows 10, Windows 11 system, you can update graphics card driver as the following steps manually:
1. Press WIN+X at the same time
2. Enter into Device Manager
3. Choose your purpose device
4. Select drivers which need to be updated
5. Select Search automatically for drivers
Solution4. Run System Scan
How to use Defender Antivirus Offline scan on Windows 10:
1. Open Windows Security
2. Click on Virus & threat protection
3. Under the Current Threats section, click the Scan Options
4. Select the Microsoft Defender Offline Scan Option
5. Click the Scan now button
6. Click the Scan button
After the user completes these steps, the Windows system will reboot into the Windows Recovery Environment, where the command-line version of Microsoft Defender Antivirus will automatically run without loading the system. The scan will detect and remove any hard-to-remove viruses it may find without user interaction. The offline scan takes about 10 minutes, then the computer will automatically restart.
Note: Make sure to close all windows and save any important work before run the system scan.
Solution5. Run Troubleshooter
Troubleshooter is a computer function that fix computer errors with system performance, following the given below steps to run Troubleshooter:
1. Press WIN+S to open Settings window
2. Select Update & Security
3. Choose Troubleshoot, or select the Find troubleshooters shortcut at the end of this topic
4. Select the type of troubleshooting you want to do, then select Run the troubleshooter
5. Let the program run, then answer the on-screen questions as you actually see them. If you see a message that no changes or updates are required, you can try recovery options, or learn more about Outlook error codes and upgrade and installation error codes.
Solution6. Adjust Windows Performance
1. press WIN+I together and select system
2. At the right pane, scroll down and open the Advanced system settings
3. Open the Performance Settings
4. Choose Adjust for best performance
5. Click OK
Recommended Download