Computer page crashes and prompts DRIVER PAGE FAULT error?
Mar. 08, 2023 / Updated by Renata to Windows 10
Blue screen of death errors, including DRIVER PAGE FAULT IN FREED SPECIAL POOL, are all termination errors. This means the machine has been taken out of service to avoid damage. Although many blue screens can be recovered immediately after a restart, continuous termination errors may indicate software or hardware problems, or even deliberate software infections. Therefore, there may be many things caused this problem, but all reason are actually related with the system configuration. Different system configurations and settings will lead to different solutions to the same problem.
As for DRIVER PAGE FAULT error, there are several solutions to deal with:
Solution1. Update Windows
What is system patch:
When the system is released, it is found that there are loopholes in some programs that can be exploited by hackers to attack, so corresponding measures are released to deal with these hackers, and some applications are used to fix these loopholes, called patches. After update Windows and install new patches, hackers are unable to use these vulnerabilities to attack users. And hackers will find ways to attack the system from other positions, so some patches are often released to deal with hackers.
Following the below steps to update the Windows:
Press WIN+I together and open Settings
Choose Windows Update(the last option)
On the right panel click Check for Updates
The computer will restart automatically but the drivers will not update as the updating of Windows so users should update device drivers by themselves.
Solution2. Update All Drivers
It is extremely useful to launch Driver Talent for updating device drivers. This software can scan the computer automatically and show users all driver on list. User have no more need to update driver one by one on device manager which might not download the most suitable drivers for the computer. Device Manager just download the latest average driver for all Windows.
Using Driver Talent can choose the most suitable version for the computer device.
Using Driver Talent to scan computers and download drivers, users could no more update and check the drivers situation one by one as the second method shows.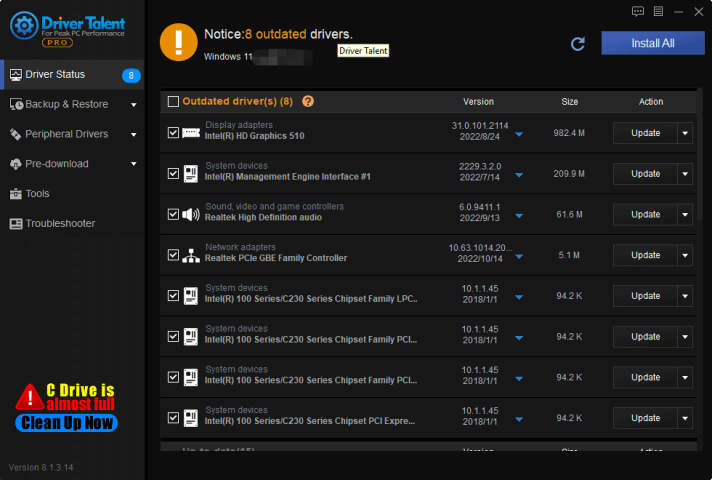 In another way to update drivers(take graphics card driver's updating as an example)users can follow the below steps to update drivers by themselves:
1.Press WIN+X at the same time
2.Enter into Device Manager
3.Choose your purpose device
4.Select drivers which need to be updated
5.Select Search automatically for drivers
Solution3. Reset Windows
Resetting the system just increases the reading and writing of the hard disk once, and has little effect on the computer. And it only affects the files in the C drive, other drives will not be affected. Users only need to not put the data on the c drive and desktop.
1. The hard disk itself has a certain service life, and redoing the system will not have a great impact on the service life of the hard disk.
2. To reset the computer system, there is a professional term called Restore (system restore), which is a process of reading and writing backup files from the backup partition to the C drive when restoring.
3. The system needs to read the backup partition, clear the data on the C drive, and then write the read data into the C drive. This is the normal reading and writing work of the computer, and there is no harm to the computer.
4. It should be noted that the computer disk has a life span, and it will wear out as much as it is used. This is a large-capacity read and write work.
5. Most users will not use the hard disk to the end of its life before replacing the hard disk. As long as the system is not reset frequently, it does not matter.
Take Windows 11 as an example, reset the Windows can follow the below steps:
1. Press WIN+I together and open Settings window
2. Choose Windows Update
3. On the right panel, select Advanced Options
4. Scroll down to the additional option
5. Choose recovery
6. Choose Reset this PC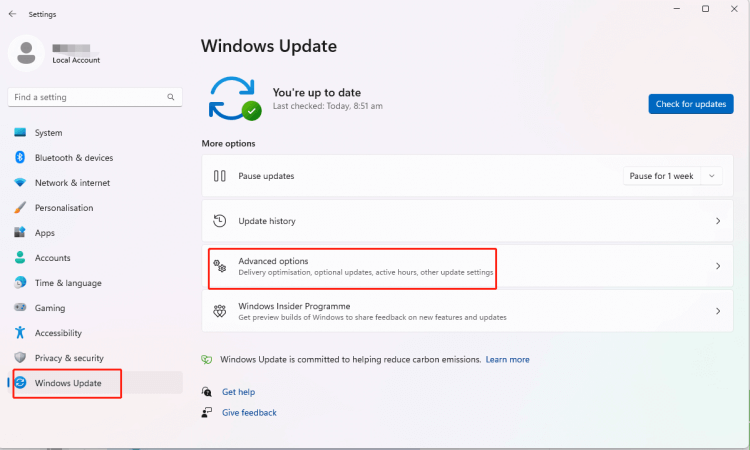 Solution4. Remove Software
There are various applications and software that can cause the page crashes and prompts DRIVER PAGE FAULT N FREED SPECIAL POOL error due to various conflicts. In some cases, firewalls or third-party antivirus software are responsible for triggering errors. Hence, if the DRIVER PAGE FAULT ERROR happened after installing new software or launching third-party antivirus software, users need to uninstall the problematic software or uninstall all third-party software at once.
Following the below steps to uninstall applications:
1. Type WIN+S together and input Control to search for the control panel
2. On the control panel, search for Programs and Features
3. Choose to uninstall a Program
4. In the Progress and Features window, right-click on any third-party antivirus program that the computer has installed. And then select uninstall.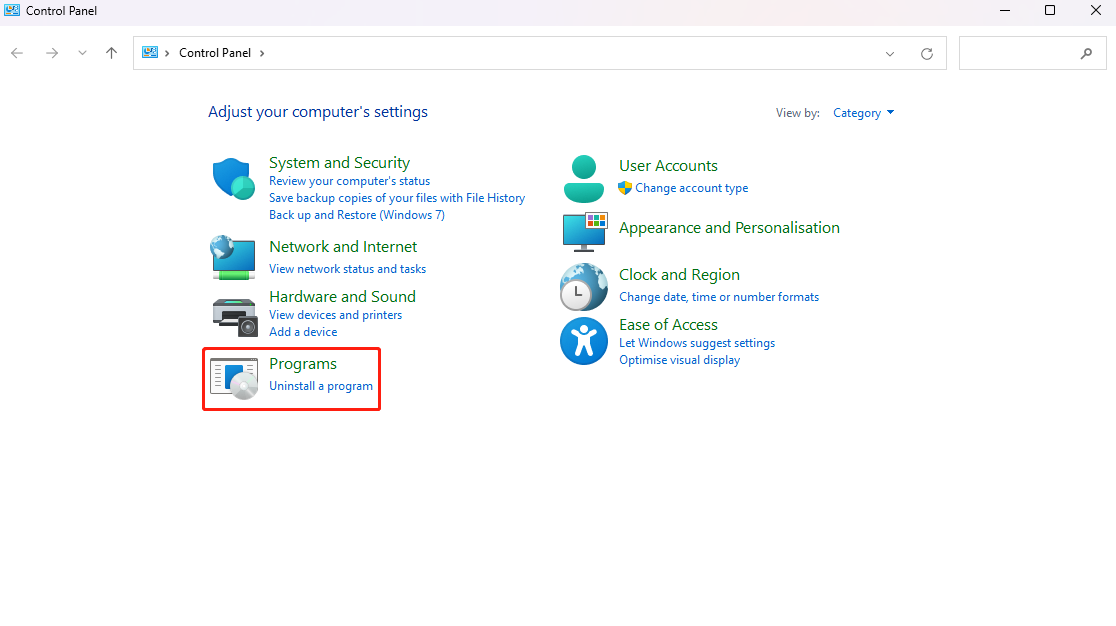 Recommended Download