Top 6 ways to fix Photoshop Keeps Crashing/Freezing on Windows 11
Mar. 08, 2023 / Updated by Renata to Windows 11
To 2023, Adobe Photoshop has launched for 33 years. As a veteran software of the computer system, the comprehensive and professional functions of Photoshop have been affirmed by users all over the world. As long as it involves image editing, basically PS will be used. Before fix the crashing problems of PS, users should make sure that whether the computer configuration meets the minimum requirements of PS
Minimum Photoshop system requirements on Windows
CPU: Intel or AMD processor with 64-bit support, 2 GHz or faster processor
RAM: 8 GB
HDD: 4 GB of storage space
GPU: DirectX 12 support and 2 GB of memory
Operating System: Windows 10 (64-bit) version 1809 or later
Screen Resolution: 1280 x 800
Internet connection is needed to activate the software
There are some solutions for fixing PS crashing issue
Solution1. End Background Task
Solution2. Update Graphics Driver
Solution4. Reset Preference Settings
Solution1. End Background Task
When PS is running, it will take up a lot of system memory. If there are a lot of programs running in the background, users need to close some programs to clear space for PS to run. Users should end some extraneous background programs by the below steps:
1. Right-click the task bar and choose Task Manager
2. On Task Manager window, select those unnecessary process, and click End Task
3. Launch Premiere Pro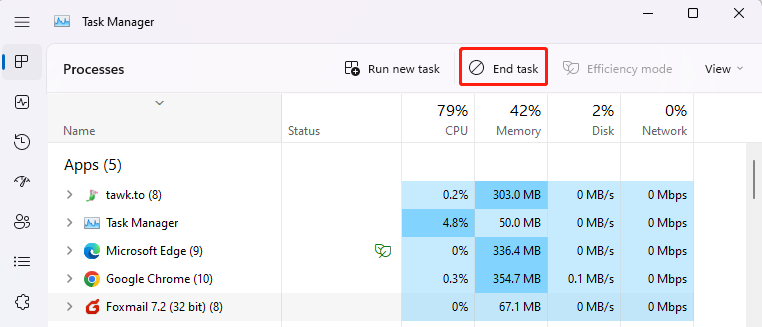 Solution2. Update Graphics Driver
Adobe Photo Shop crashing might caused by outdated graphics driver, which means the computer is missing some critical drivers. When users are encountering the PS crashing issue, they should checking and updating the computer device drivers so that to save them lots of time.
Method1. Download Driver Talent
It is highly recommended to download a free driver updater, Driver Talent. It will scan the computer by only one click that display all the drivers that can be updated on the list. In addition to updating to the latest version, users can also choose other versions to download.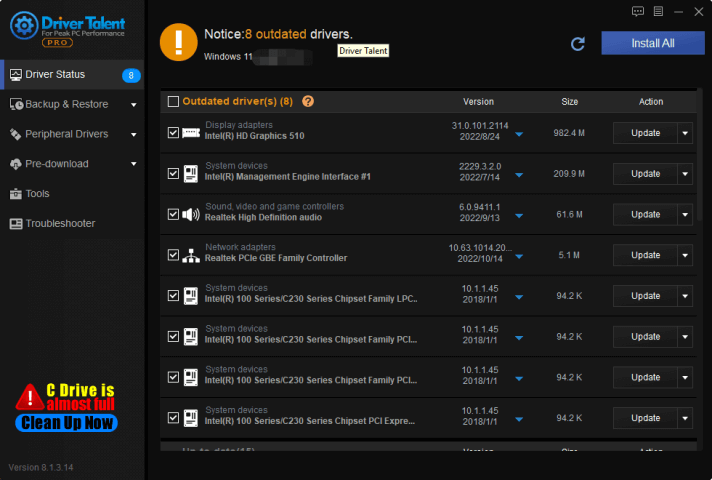 Click the inverted triangle, you can choose different version to download: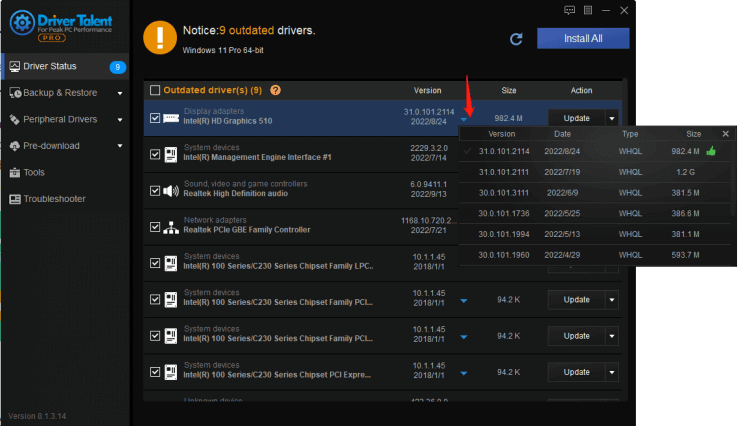 Note:Drive Talent supports motherboards, graphics cards, sound cards of all brands: Network card, modem, camera, wireless, printer, scanner, card reader, array card, Bluetooth, tablet, reader, USB interface, 1394. Identify and drive devices such as Bluetooth, Display, Image, MEDIA, Modem, Net, PCMCIA, SCSIAdapter, SmartCardReader, System, MODEM, serial ports, and parallel ports.
Method2. Update Driver Manually
On Windows 10, Windows 11 system, you can update graphics card driver as the following steps manually:
1.Press WIN+X at the same time
2.Enter into Device Manager
3.Choose your purpose device
4.Select drivers which need to be updated
5.Select Search automatically for drivers
Solution3. Clear Font Cache
Bad performance of Photoshop may caused by corrupted font cache. Users can delete the font cache and create a new one:
1. Close Photoshop
2. Press Ctrl and E to open the file explorer, and navigate to C:\Users\[Your Username]\AppData\Roaming\Adobe\Adobe Photoshop
3. Delete the CT Font Cache folder.
4. Make sure you empty the Recycle Bin as well
5. Restart the Photoshop
Solution4. Reset Preference Settings
Random crashes may also indicate the preference settings are corrupted. You can reset the Photoshop preferences to see if it helps. Before you delete the files, you need to back up the settings so that you can restore it later if necessary. Here's how:
If the PS keep crashing time to time, it also indicated that its preference setting are corrupted.
Backup the Photoshop preference settings as the below steps:
1. Launch PS
2. Press Ctrl+E, open the file explorer.
3. Navigate to C:\Users\[Username]\AppData\Roaming\Adobe\Adobe Photoshop
4. Copy the Adobe PhotoshopSettings folder
After saving the original preference settings, users can reset Photoshop preferences:
1. Launch Photoshop
2. Click Edit and choose Preferences
3. Choose General
4. Click Reset Preferences On Quit
5. Click OK.
Solution5. Run SFC Scan
SFC /SCANNOW is a command that immediately scans all protected system files.
It is a tool for Microsoft Windows that allows users to scan all protected system files and check the integrity of system files before recovering corrupted Windows system files. SFC command helps to maintain the whole system files.
Following the below steps to run SFC Scan:
1. Press the WIN+S button to open the Start menu.
2. In the search bar, type command, and click Run as administrator on the right panel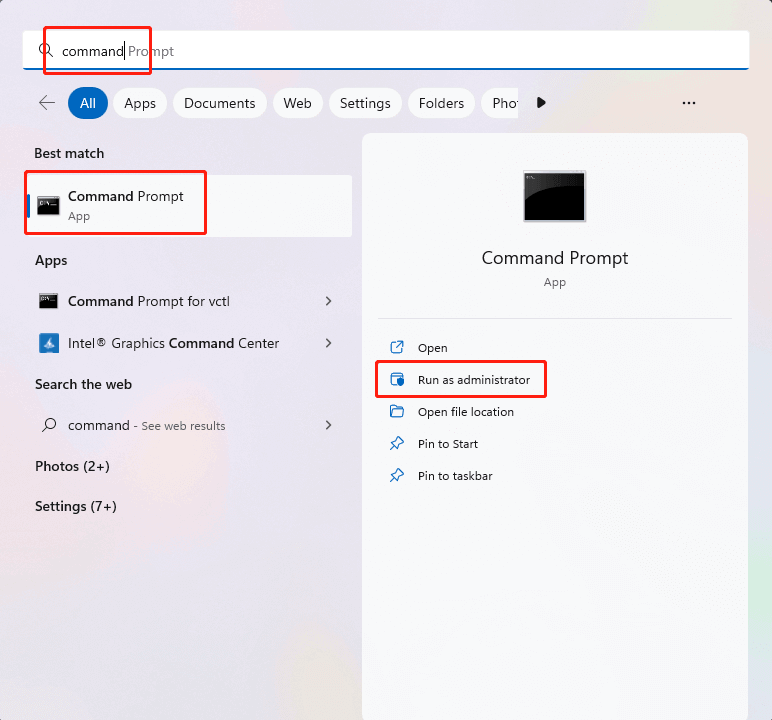 3. The command prompt window will pop up.
4. Type the below-mentioned code in the space provided and press enter:
sfc /scannow
Wait for a few seconds, if the document is damaged, the crash can be automatically repaired after the program is executed.
Solution6. Update System
One of the PS crashing reasons is that the system version is outdated. Users should keep the operating system up to date.
Following the steps to update the computer OS:
1. Press WIN+I together and open the Settings Window
2. Click the last option Windows Update
3. On the right panel, choose Check for Update
4. Restart your PC to let it take effect
Recommended Download