Top Free PC Games in 2023---Get the Optimized Game Experience Right Now
Aug. 07, 2023 / Updated by Eloise to Gaming Solutions
Whether you're a new gamer or a veteran gamer, you'll be amazed by the huge number of games available on the market. But how to find the most interesting and coolest free PC games? We have summarized the top 10 most popular computer games of 2023, which may give you some reference. In addition, if you want to get the best gaming experience, besides the fun of the game itself, the hardware and software equipment is also very important. We will show you a wonderful way to improve your gaming experience!
Part 1: 10 top rated free PC games in 2023

Part 2: How to enhance game experience
1. 10 top rated free PC games in 2023
Here are some of the most popular free PC games in 2023. Among them you'll find a lot of familiar games that have been highly scrutinized over the years:

1. Valorant: A tactical shooter game where you play as one of the agents with unique abilities and compete with other players in various modes. This game combines the tactical and competitive elements of games like Counter-Strike and Overwatch, with a diverse cast of characters owning unique abilities and personalities. It also has a high-quality graphics and sound design, and a supportive developer that constantly updates the game with new content and features.
2. Call of Duty: Warzone: A battle royale game where you parachute into a massive map with up to 150 players and fight for survival. You can also team up with your friends and use vehicles, weapons, and perks. This game has been a popular game over the years. It offers a thrilling and immersive battle royale experience, with a huge map, realistic weapons, and various modes and events. It also has a cross-play feature that allows players to play with their friends on different platforms, and a free-to-play model that attracts millions of players.
See also
Call of Duty: Black Ops 4 System Requirements
How Do I Fix Warzone Black Screen on Windows 11

7 Quick Ways to Fix the Dev Error 6661 in Call of Duty

Fix Warzone 2 Lagging, Freezing, Stuttering Issues on PC
3. Apex Legends: A sci-fi battle royale game where you play as one of the legends, each with their own personality, skills, and playstyle. You can also use advanced movement, loot, and ping systems to communicate and cooperate with your squad. It features a fresh twist to the battle royale genre, with a sci-fi setting, advanced movement mechanics, and a ping system that facilitates communication. It also has a strong focus on teamwork and strategy, with different legends that have their own roles and abilities, and a respawn feature that keeps the game exciting.
See also How to fix crashing or freezing in Apex Legends

4. Counter-Strike: Global Offensive: A multiplayer first-person shooter where you join either the terrorists or the counter-terrorists team and compete in various modes and maps. You can also customize your weapons, skins, and stickers. It is one of the most iconic and influential first-person shooters of all time, with a simple yet addictive gameplay, a balanced and skill-based combat system, and a variety of modes and maps. It also has a loyal and passionate community that creates and shares custom content, such as skins, stickers, and maps.
5. Fortnite: A popular game that combines building, shooting, and survival elements. You can play solo or with your friends in various modes, such as Battle Royale, Creative, or Save the World. You can also collect resources, craft items, and unlock cosmetics. It is more than just a game, it is a cultural phenomenon that appeals to players of all ages and backgrounds. It has a colorful and cartoony style, a creative and dynamic building system, and a constantly evolving world with new events and collaborations. It also has a social aspect that allows players to interact with their friends and celebrities in the game.
See also Top 6 ways of troubleshooting the Fortnite Launcher


6. Planetside 2: A massive online shooter where you join one of the three factions and fight for control of the planet Auraxis. You can use a variety of vehicles, weapons, and classes to suit your playstyle. You can also participate in large-scale battles with thousands of players. It offers an unparalleled scale and scope of warfare, with thousands of players fighting for control of a massive planet. It has a stunning and diverse landscape, a variety of vehicles, weapons, and classes, and a persistent world that changes based on the actions of the players. It also has a faction system that fosters camaraderie and rivalry among the players.
7. Dota 2: A multiplayer online battle arena game where you control one of the hundreds of heroes and work with your team to destroy the enemy's ancient. You can also upgrade your skills, items, and strategies as you progress through the game.
8. League of Legends: Another multiplayer online battle arena game where you choose one of the many champions and team up with your allies to destroy the enemy's nexus. You can also customize your runes, masteries, and skins to fit your preferences. It is one of the most complex and rewarding multiplayer online battle arena games ever made, with hundreds of heroes to choose from, each with their own skills, items, and strategies. It also has a competitive scene that attracts millions of viewers and players, with tournaments that offer huge prizes and prestige.
See also League of Legends System Requirements

9. Shadowrun: Hong Kong: A tactical RPG set in a dystopian future where magic and technology collide. You can create your own character, recruit allies, and engage in strategic combat. The game also features a deep and branching story with multiple endings. It is an excellent example of an indie game that delivers a rich and immersive story-driven experience. It has an intriguing cyberpunk-fantasy setting, an engaging turn-based combat system, and an interactive dialogue system that allows for multiple choices and outcomes. It also has a high replay value due to its branching paths and multiple endings.

10. Microsoft Flight Simulator: A flight simulator that lets you fly anywhere on the planet using real-time Bing data. You can choose from a variety of aircrafts, weather conditions, and challenges. The game also supports VR and multiplayer modes.
2. Enhance game experience by updating graphics card driver

One of the most important factors that affect your gaming experience is your graphics card driver. If your graphics card driver is outdated, corrupted, or incompatible, you may encounter problems such as low FPS, stuttering, crashing, or graphical glitches.
To avoid these issues and enjoy the best performance and quality of your games, you need to update your graphics card driver regularly. However, updating your graphics card driver manually can be time-consuming and risky. You need to find the right driver for your specific graphics card model and operating system, download it from a reliable source, and install it correctly. If you make a mistake, you may cause more problems or even damage your system.
That's why we recommend using Driver Talent, a professional and easy-to-use driver updater tool that can help you update your graphics card driver automatically and safely. Driver Talent can scan your computer and detect all the outdated, missing, or faulty drivers in seconds. It can then download and install the latest and compatible drivers for your graphics card and other devices with one click. You don't need to worry about compatibility issues or errors.
With Driver Talent, you can update your graphics card driver and improve your gaming experience in a few simple steps:
Step 1: Download and install Driver Talent.
Step 2: Launch Driver Talent and click on Scan to detect all the driver issues on your computer.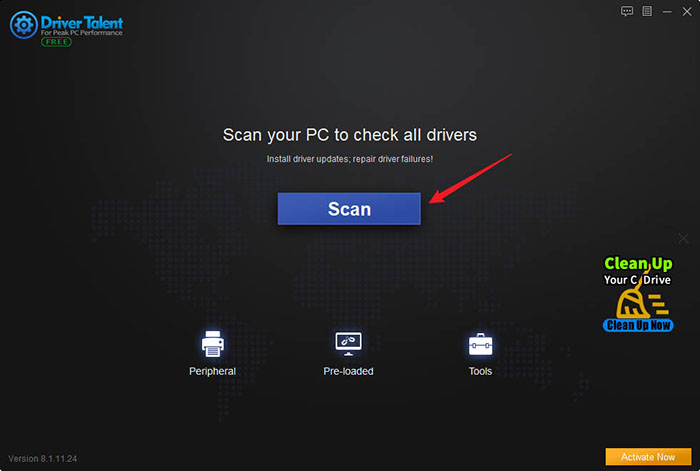 Step 3: Click on Up to date or Install All to download and install the best-matched drivers for your graphics card and other devices.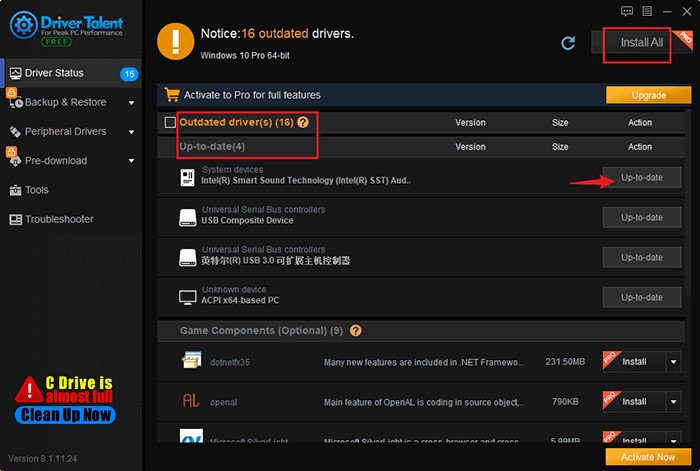 Step 4: Restart your computer to make the changes take effect.
You may also like
Recommended Download