Windows 10 Toshiba Drivers Free Download and Update to Fix Driver Issues
Jun. 24, 2022 / Updated by Bessie Shaw to Windows Driver Solutions
Update to Windows 10 But Computer Doesn't Work Properly
It's not exceptional that Windows 10 causes issues on your computer. When you update to the new Windows 10, the compatibility checker may say the Toshiba video card would have issues, you have no Internet connection (no Wi-Fi) or no sound from your Toshiba computer, you can't play games on Windows 10 (especially the 3D gaming), or you may encounter other intractable Toshiba driver related errors (like the Toshiba Satellite drivers not working, Bluetooth drivers not detected, printer drivers not found). This will definitely ruin your computer performance for the Toshiba devices, or even lead your computer out of work.
There are important cautions you should note to avoid these Windows 10 issues (you can check to see Why or Why Not Update to Windows 10). Luckily, you can reinstall the Toshiba drivers or update to the latest Toshiba drivers for Windows 10 to fix all these errors.
Fix Toshiba Driver Issues on Windows 10: Download, Reinstall, or Update Toshiba Drivers
Do not manually repair the driver problems if you are not experienced with computer hardware. Use professional driver fix tools instead. You can try Driver Talent (formerly called DriveTheLife), which is a free Windows driver fix tool and the driver updater utility. It can check all driver issues of your Toshiba devices and hardware, repair the corrupted or missing Toshiba drivers, reinstall the unnormal Toshiba drivers, download the best-matched drivers, and update the outdated Toshiba drivers. Lots users have tried it with favorable results.
If you have upgraded to Windows 10 (64-bit or 32-bit) from Windows 8.1, Windows 8, Windows 7, Windows XP or Windows Vista, but the Toshiba devices are not working properly, download and install Driver Talent on your laptop, desktop PC or notebook computer to fix the device driver issues.
Updated: DriveTheLife has been updated to the new version called Driver Talent with a fresh new look.
Note: Do not pay for any tools to download Toshiba drivers. All the official Toshiba drivers are free to download and update either from the manufacturers or from Driver Talent.
Here are the steps to fix Windows 10 Toshiba drivers.
Step 1. Scan to Find Toshiba Driver Problems
Launch Driver Talent after you installed it on your computer, and click on "Scan". It will have a safe scan on your computer to find all driver issues.
Step 2. Update, Repair, Reboot or Reinstall Toshiba hardware Drivers for Windows 10
In the scan result, Driver Talent tells you which drivers need repairing, updating, rebooting, reinstalling and which drivers are normal for your Windows 10. Select the drivers and click on "Start".It will help download and install Windows 10 Toshiba drivers, including download Bluetooth driver for Windows 10 for Toshiba satellite laptops.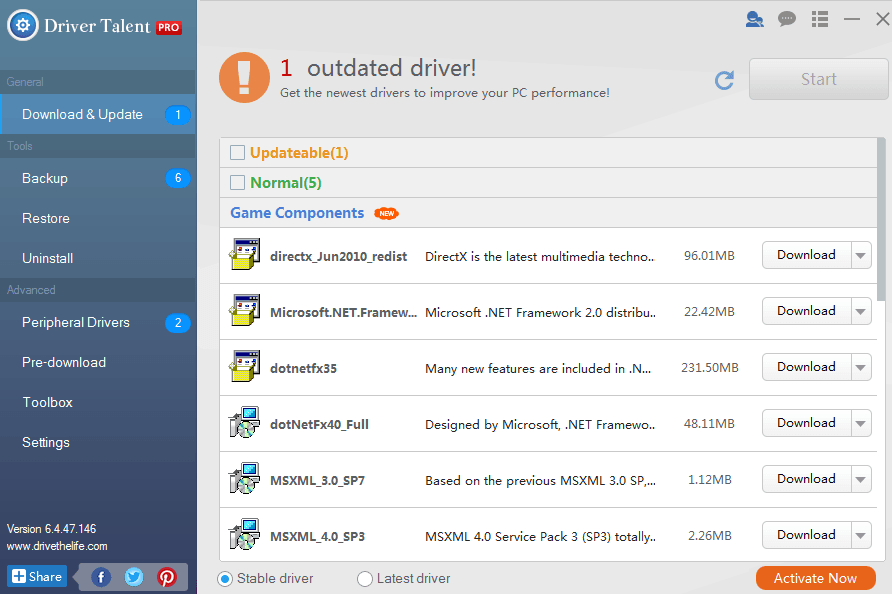 Step 3. Install Toshiba USB Drivers for Windows 10
Click on the "Peripheral Drivers" menu. You'll see all USB-connected devices and the drivers, such as the Toshiba keyboard and mouse. Plus, Driver Talent can identify the unknown devices in the Device Manager and install drivers for the unknown devices. Normally red symbols marked in the drivers mean the drivers haven't been installed or not install properly. Click on "Install" to install the Toshiba drivers. To install a network Toshiba printer, click on the "Network printer".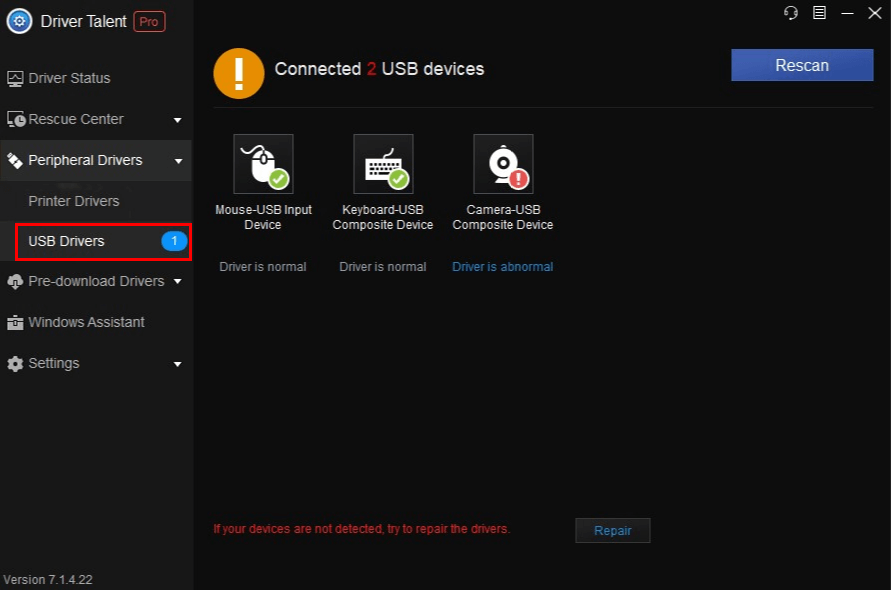 After all drivers are fixed, restart the computer. This is necessary because it can make all drivers take effect and work properly. Share Driver Talent with your friends if you find it useful.
The Most Common Toshiba Windows 10 Driver Downloads
Windows 10 either 64 bit or 32 bit requires the specific drivers compatible with it. The drivers of lower Windows OS, like Win 8, Win 7, Win XP or Vista will not match up with the new Win 10. Here are the most common Windows 10 Toshiba drivers. For more Windows 10 drivers, refer to Windows 10 Drivers Free download and Update.
| | | |
| --- | --- | --- |
| Toshiba c660 drivers Windows 10 | Toshiba printer drivers Windows 10 | Toshiba laptop drivers Windows 10 |
| Toshiba Satellite drivers Windows 10 | Toshiba sound drivers Windows 10 | Toshiba audio drivers Windows 10 |
| Toshiba support drivers Windows 10 | Toshiba nb305-106 drivers Windows 10 | Toshiba DVD drivers Windows 10 |
| Toshiba webcam driver Windows 10 | Toshiba wireless drivers Windows 10 | Toshiba USB drivers Windows 10 |
| Toshiba touchpad driver Windows 10 | Toshiba video drivers Windows 10 | Toshiba network drivers Windows 10 |
| Toshiba copier drivers Windows 10 | Toshiba Tecra drivers Windows 10 | Toshiba Bluetooth driver Windows 10 |
| Toshiba Portege drivers Windows 10 | Toshiba qosmio drivers Windows 10 | Toshiba keyboard driver Windows 10 |
| Toshiba I655 drivers Windows 10 | Toshiba Wi-Fi drivers Windows 10 | Toshiba graphics driver Windows 10 |
| Toshiba monitor driver Windows 10 | Toshiba mouse driver Windows 10 | Toshiba nb100 drivers Windows 10 |
| Toshiba Satellite I650-10m drivers Windows 10 | Toshiba Satellite a50-109 drivers Windows 10 | Toshiba Satellite I300d-10b drivers Windows 10 |
| Toshiba Satellite u500-10I drivers Windows 10 | Toshiba Satellite I30-105 drivers Windows 10 | Toshiba equium I40 10u drivers Windows 10 |
| Toshiba Satellite c850 Lan drivers Windows 10 | Toshiba drivers for external hard drive Windows 10 | And more |
Recommended Download