What About Intel's Latest 31.0.101.4575 Beta Game Driver?
Jul. 20, 2023 / Updated by Cathy to Gaming Solutions
In the previous graphics card market, most of the market was occupied by AMD and NVIDIA, which is not surprising given their excellent product performance. Although Intel officially joined the game card market in 2022, since the very beginning of the Intel Arc brand, the graphics card market has become a battle for hegemony among the three brands, and gamers have one more choice.
Intel is testing the game driver market, and the update speed is very fast.
Intel Arc series according to the records of players on the Reddit forum, in the "Cyberpunk 2077" version 1.62 update, the game also added Intel's XeSS technology support, and this game has also become one of the benchmarks that support AMD FSR, NVIDIA DLSS, and Intel XeSS technology at the same time.
According to player feedback, XeSS technology has lower power consumption and higher performance. Although the gap between the two sides is not very large, it must be considered that XeSS is a new technology and has not been on the market for a long time, while the FSR and DLSS technologies of competitors have accumulated for several years.
Although there are inevitable shortcomings in driver issues, they have very strong momentum in this regard. Driver updates and optimization performance are more diligent than AMD's, basically 3–4 versions a month. Drivers are very important for gamers. Intel's Arc graphics card technology and architecture are very advanced, and the hardware level is very confident. To say that there are a few shortcomings in the early stages of release is to say that the driver optimization Intel entered the game driver market late, and it will take time for game manufacturers to optimize for them.
Since February of this year, Intel has released several drivers optimized for games. For example:
4125 Beta: Added support for Company of Heroes 3, Yakuza Restoration! Pole, The Settlers: Atomic Hearts, Emerging Alliances, and Wild Hearts have new game support.
4146 WHQL: Added support for new games Wo Long: Fallen Dynasty and Destiny 2: Fall of Light.
4255 WHQL: Added support for Resident Evil 4 Remake, a new game.
4311 BETA: Provides optimizations for games such as Boundary and Minecraft: Legends. In addition, Intel also stated that the driver has improved the light-tracing performance of the graphics card, and many games such as "Dirt 5" have improved frame rates.
4514 Beta: Brings a huge performance boost to Assassin's Creed: Unity. According to Intel data, in "Assassin's Creed: Unity", the performance of 1080p resolution is improved by 271%, and the performance of 1440p resolution is improved by 313% under the advanced setting.
What are the advantages of the latest version 4575?
According to the latest news, Intel recently released the 31.0.101.4575 Beta graphics card driver, which has many highlights.
The 31.0.101.4575 Beta version driver is still for game optimization. First, it brings optimization support for two new games for Arc A series graphics cards, namely Capcom's mecha gunfight game "EXOPRIMAL" and THQ Nordic's strategy game "Jagged Alliance 3".
At the same time, the new driver is also continuing to improve game performance, mainly in "League of Legends" in DX11 mode. Compared with the 4514 version, the highest quality of 1080p has increased by 6%, and the highest quality of 1440p has increased by 10%.
Specifically, the 4575 version driver bug fix list:
1. In the DX12 mode of "Halo Infinite", after loading the game menu, the program will freeze or crash.
2. The program will report an error when using XSplit Broadcaster to broadcast "Dota 2".
The above problems will not appear again in version 4575; players, please rest assured to use.
How do you know what graphics card drivers you have and update them?
Gamers have very high dependence and requirements on computers and graphics cards, so it is very necessary to choose suitable driver monitoring and updating software. If you want to know what graphics card driver your computer has and perform follow-up maintenance, you can choose Driver Talent, a driver management software, to serve your computer.
The specific operation process is as follows: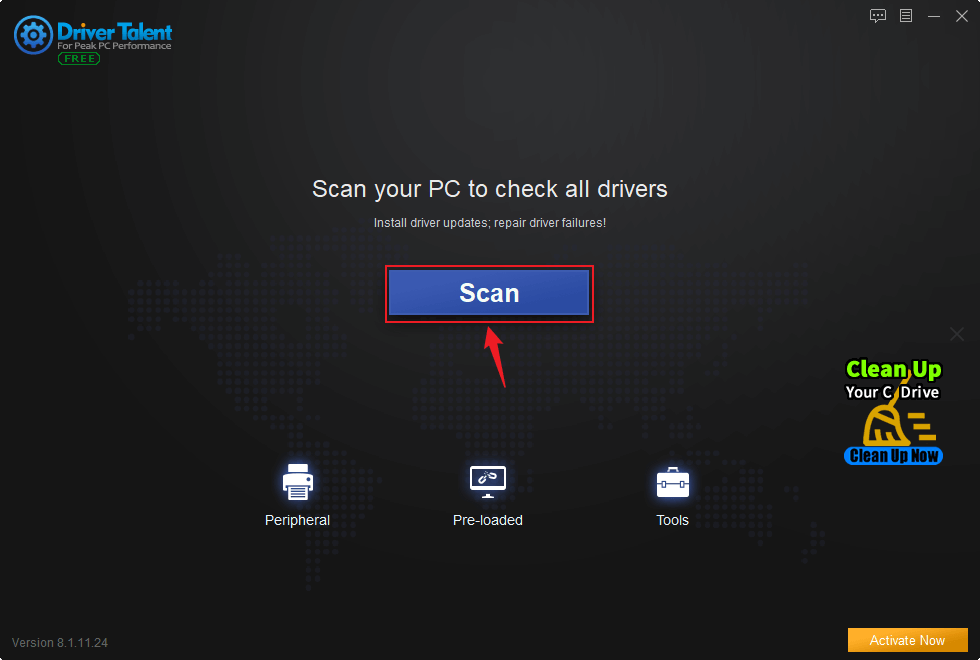 The whole operation is very simple and convenient. If you have any questions about the use of our software, you can contact our technical staff or check our blog page for solutions.
Recommended Download