What to do when Windows 11 Stuck on Blue Screen Looping
Jul. 26, 2022 / Updated by Hope Law to Windows 11
When updating your PC, did you get stopped on a blue screen? The little circle keeps spinning and said Preparing. Here's how you can fix it.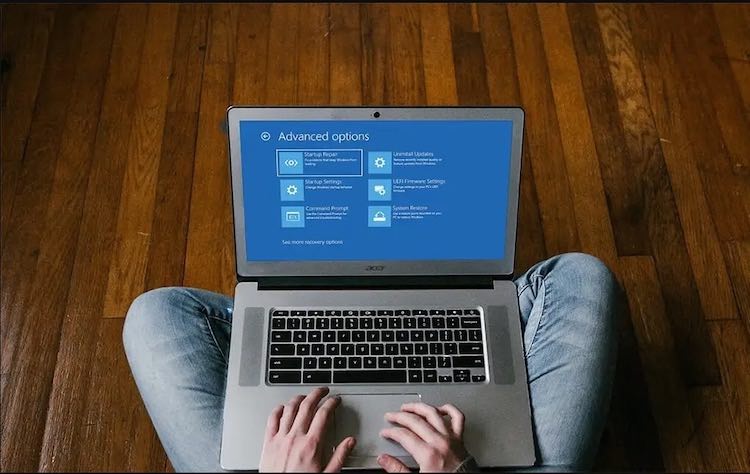 Windows occasionally becomes stuck while carrying out important tasks like installing security updates. Recently, users have reported that after updating their operating system, their Windows 11 PCs get stuck in the Preparing Windows loop.
This issue frequently happens when either important system files are missing or an update is too large. If you find yourself in a situation similar to the one described below, you can try some of the potential troubleshooting techniques suggested below.
01 Restart the computer
We advise that you try restarting your computer (if you can access the basic Windows features) and see if that makes a difference before we move on to more difficult troubleshooting techniques. Due to a momentary corruption fault in the system, Windows frequently becomes stuck during a specific operation.
Restarting your computer should solve the issue for you if the error is not serious.
To continue, please follow these steps:
1. Click on the Power icon on the Windows menu.
2. Choose Restart from the context menu.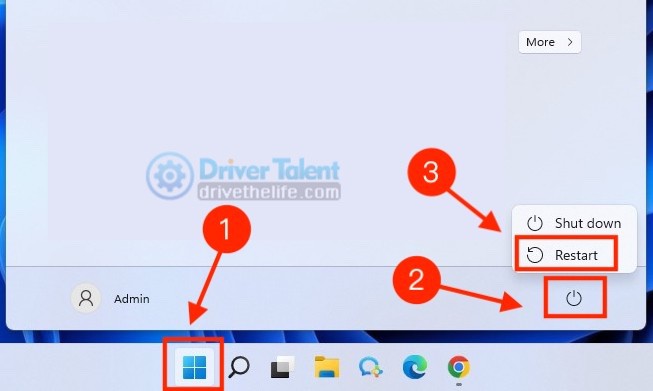 You can try performing a hard reboot if the basic restart option did not work for you. This appears to be effective when attempting to shut down the system causes the system to get stuck in the "Preparing to setup Windows" loop.
However, as this method requires turning off the device's power, we advise that you use it only if you have prior experience doing so.
How to execute a hard restart is as follows:
1. Press and hold the power button and wait for the computer to turn off.
2. Disconnect any peripherals from your computer and unplug it from your power source. Remove the battery if it has one.
3. Let the computer cool down for a few minutes.
4. Plug the power to your PC. Replace the battery if you removed it, then turn the device back on.
5. After reboot, install all the pending updates, and restart your computer again.
See if your PC can get out of the blue screen looping.
02 Use Troubleshooter
If using any of the two methods to restart Windows did not work for you, it is now time to move on to somewhat more difficult techniques to find the root of the problem and resolve it.
In order to get Windows out of the preparation loop, we will first boot into Repair Mode and then try a few other troubleshooting techniques.
We advise you to take your time and try each approach one at a time after entering Repair Mode until you find one that works for you.
1. Enter into Repair Mode
Using a keyboard shortcut is the simplest way to enter Repair Mode. While your PC is opening up, press the F11 key on your keyboard several times until Windows displays the Advanced Startup screen in the configuration screen.
If this doesn't work for you, use the power button to turn off your computer while it's on the configuration screen. When Windows restarts three times after you've done this twice, it will automatically enter Repair Mode and display the Advanced Startup menu.
The only method to enter Repair Mode if this also fails is by making installation discs on a different PC. Just be sure to install it directly on a USB or a CD. The processes to do so on Windows 10 and Windows 11 are nearly identical.
Insert the installation media into your computer after it has been made, then turn it on while hitting the appropriate BIOS boot menu key.
2. Run System Scans
You can start using troubleshooting techniques after successfully entering the Repair Mode. Firstly, run the SFC, DISM, and CHKDSK utility through Command Prompt.
These tools will check the protected system files and drives for discrepancies that are causing the current problems. If your system has any of these issues, the tools will fix the issue by changing the problematic system files.
Follow these steps to keep going:
1. When you enter the Repair Mode, head over to Troubleshoot > Advanced options.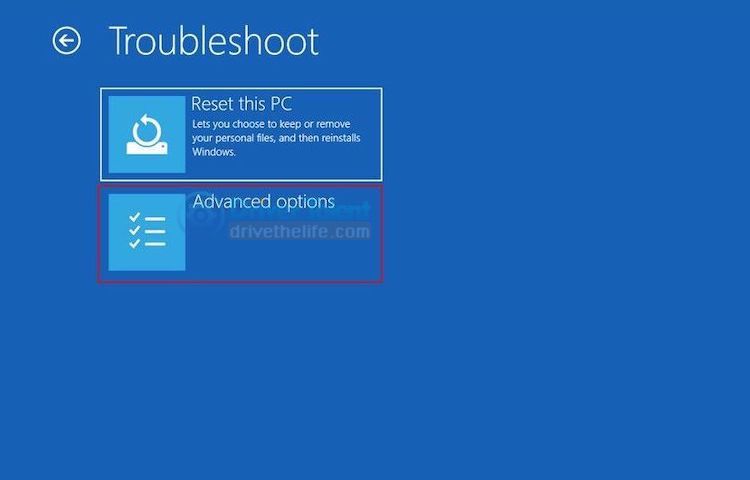 2. Click on Command Prompt.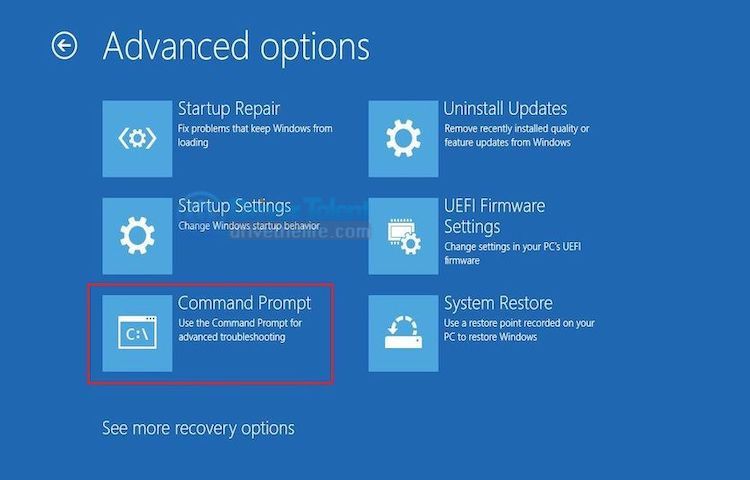 3. After this window popped out, type BCDEDIT and click Enter.

4. Search for the drive that has Windows installed on it. Although Drive C is usually the case, it might not be for everyone.
5. Then carry out the next order. Replace thewith the letter of the drive containing Windows.
sfc /scannow /offbootdir=:\ /offwindir=:\windows

6. After the command has been run, carry out the following commands:
DISM /Online /Cleanup-Image /StartComponentCleanup

DISM /Online /Cleanup-Image /AnalyzeComponentStore

7. Then, execute this command:
DISM /Online /Cleanup-Image /RestoreHealth /source:F:\Sources\Install.wim:1 /LimitAccess

8. Finally, use the following command to launch the Check Disk utility. Make sure to replace [driveletter] with the appropriate drive letter:
chkdsk [driveletter] /f /r /x

You can now restart your computer to determine if using the aforementioned command has any effect.
03 Launch Safe Mode
Your computer starts up in Safe Mode with networking boots, using only the drivers and software it needs to function. In essence, it serves as a diagnostic mode that enables you to locate the root of a fault and then resolve it.
To boot into Safe Mode, follow these steps:
1. Launch the Repair Mode and navigate to Troubleshoot > Advanced options > Startup settings.
2. In the next window, click on the Restart button.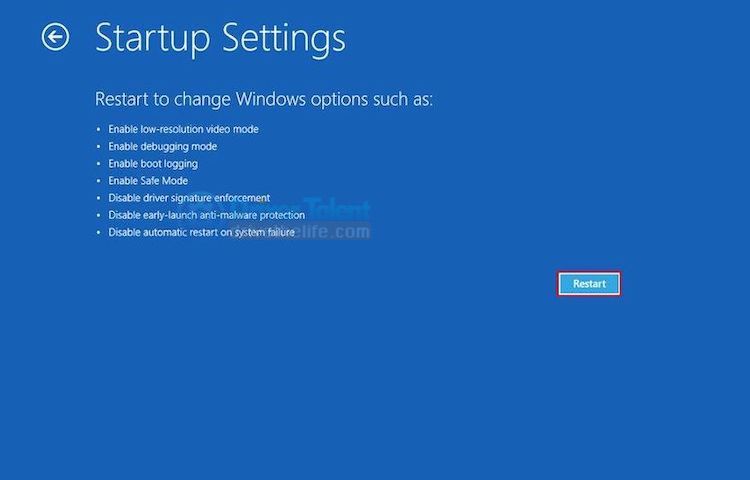 3. And then, press F5 on your keyboard to enter into Safe Mode.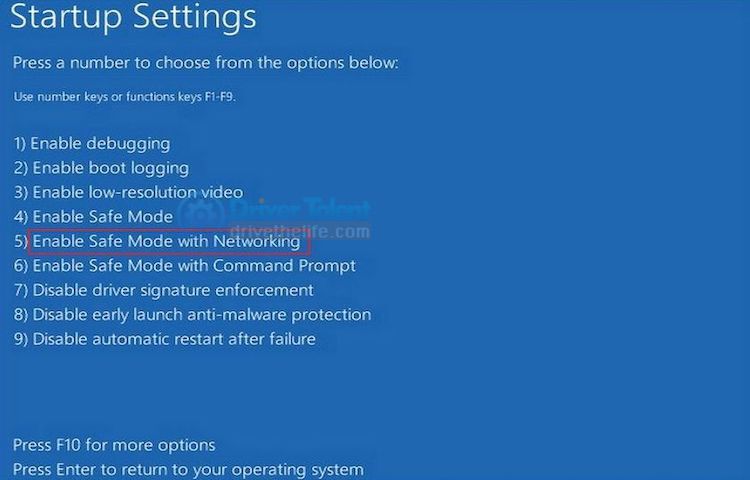 4. After entering the Safe Mode, head to the Start menu.
5. Click Shut down or Sign out > Restart.
Check to see if your machine boots up smoothly after a reboot. If something similar occurs again in the future, you can also speed up the activation of Safe Mode by adding a shortcut to the boot menu in Windows 11.
04 Uninstall Updates
The current problem could also be caused by outdated or corrupt software. You could delete the updates if the problem appeared after you updated your system.
Here is how:
1. In Repair Mode, navigate to Troubleshoot > Advanced options > Uninstall Updates.
2. In the following window, click on Uninstall latest quality update.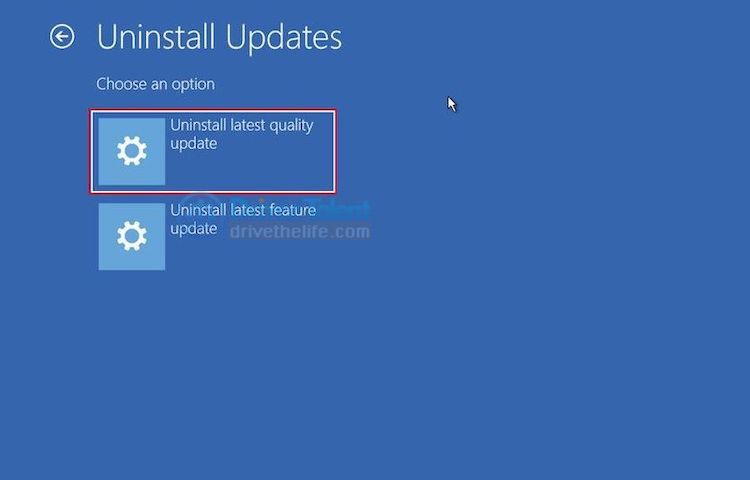 3. And then click on the Uninstall quality update button.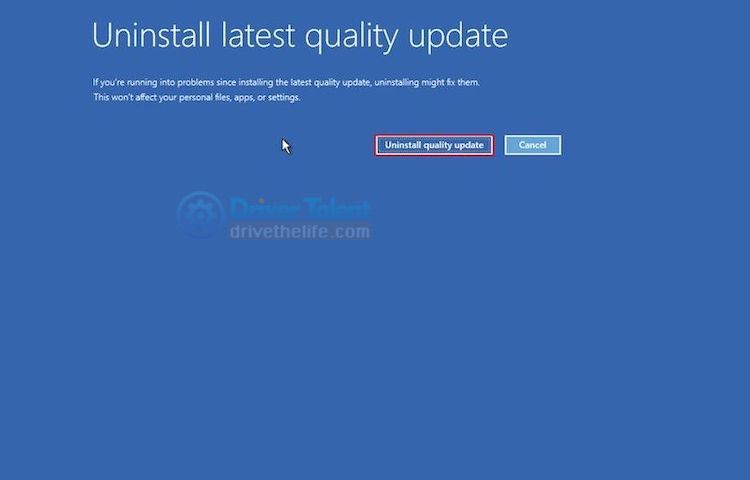 4. Once the uninstall process is done, click on the Done button.
5. Finally, hit Continue to start your Windows 11.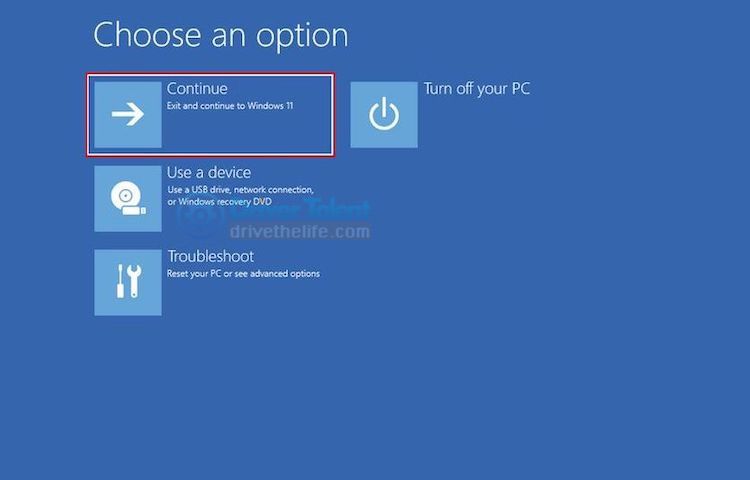 05 Reset PC
The only last option, if none of the aforementioned techniques have worked, is to reset the computer.
1. In Repair Mode, head over to Troubleshoot > Reset this PC.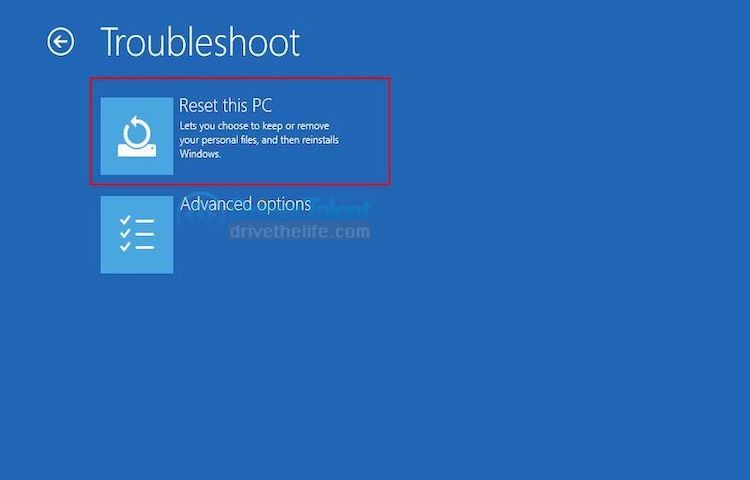 2. To continue, adhere to the on-screen directions.
06 Problem still exist...
If you find the above steps are very cumbersome, there is a software that may be suitable for you.
Introducing DriverTalent, the most reliable solution that provides one-click updates, backups, cleaning and monitoring of Windows drivers and devices.
Many common errors in computers are usually caused by driver mismatches. Therefore, if you don't have enough time to handle all that problems, you can trust DriverTalent with these tasks. With its help, you can easily scan out outdated or missing drivers in your PC.
To know more about, please continue to read:
1. Download and install DriverTalent.

2. Run DriverTalent and click Scan button, Driver Talent will then scan your PC to find any problematic drivers.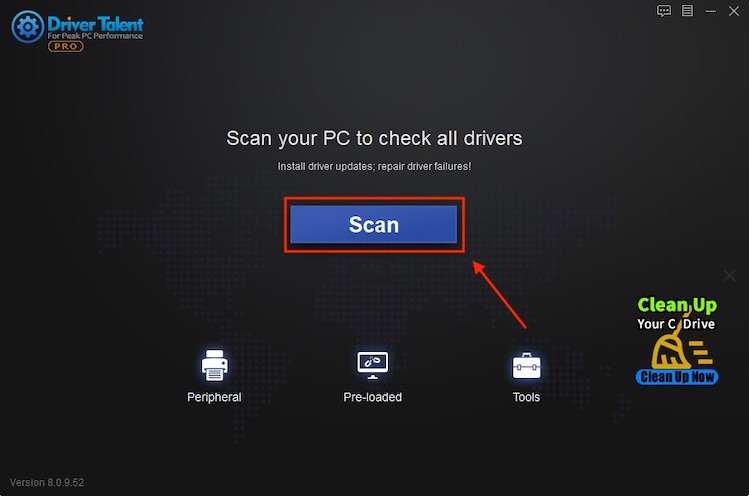 3. Click Install All to automatically download and install the most recent versions of all the drivers that are missing or out of date from your system. (This step requires the Pro version. When you click Install All, you'll be asked if you want to upgrade).
Alternately, you can click Update button on the right side of each drivers, to automatically download the right version of that driver, then you can manually install it (you can do this with the FREE version).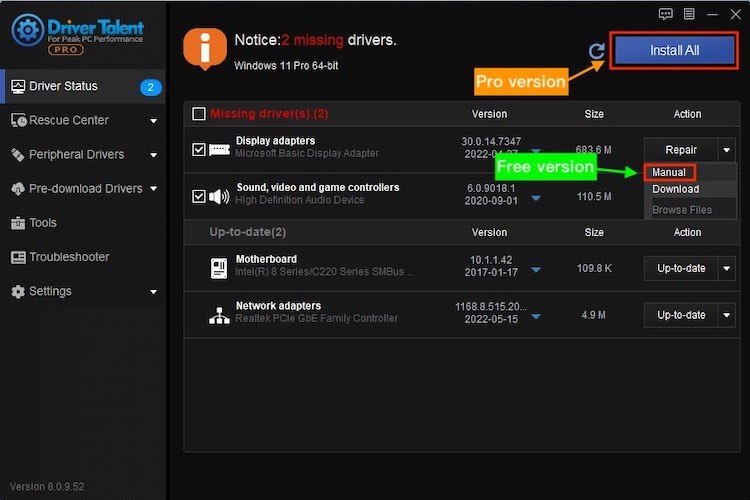 DriverTalent have a 30-day Money Back Guarantee. If you find the application marked your hardware as available but was unable to provide an available device driver when scanning it for you, we guarantee that all your money will be refunded immediately.

---
Blue Screen Looping Fixed for Good
You should be able to successfully boot into Windows if you've used the troubleshooting techniques listed above. We suggest you to install the pending driver and system updates immediately after launching. This will assist you in avoiding such problems in the future.
Recommended Download