Win 11 Common Driver Problems and Solutions of All
Jul. 27, 2022 / Updated by Hope Law to Windows Driver Solutions
You must be aware of the function that drivers perform in the Windows operating system if you are a computer user. Additionally, if any of the device drivers become corrupted or begin to display driver issues, the computer will not function properly.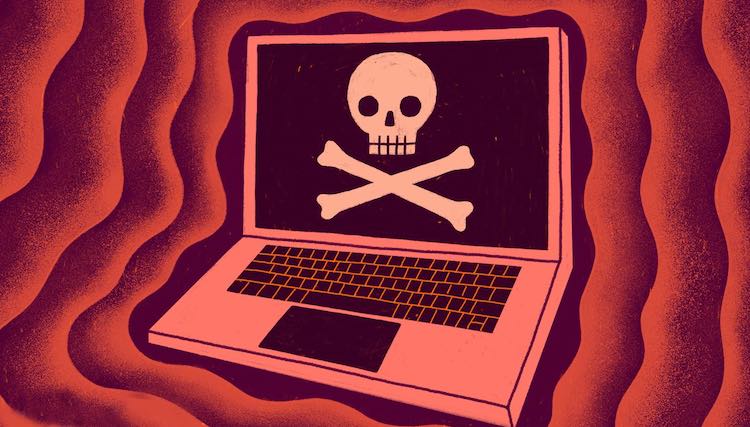 Even though the Windows 11/10 operating system includes built-in driver support for a wide range of hardware, many of these devices still need unique drivers to function properly.
But driver issues are frequently brought on by malfunctioning hardware, whether it's connected to the computer or placed elsewhere.
So, in this article, we have tried to list down the common driver problems encountered by the users and ways to fix them.
01 Printer driver problem
The most frequent issue that users had encountered is the printer driver problem, which prevents the printer from functioning. No matter which printer brand you use — Samsung, HP, Canon, Epson, or others. The driver issue is brought on by one of them.
Well, there are various causes for it, such as old or incompatible drivers or corrupted or damaged drivers.
Solution: The answers are essentially the same for printers from different brands, however you should first check for outdated drivers and try to update them or get in touch with the printer brand's customer care.
These are very complicated for you? We prepare an automatic solution for you.
Automatic solution for all your driver problems
Installing and updating drivers is a tedious task, so I recommend DriverTalent — The most reliable solution that provides one-click updates, backups, cleaning and monitoring of Windows drivers and devices. It's free to download for all users.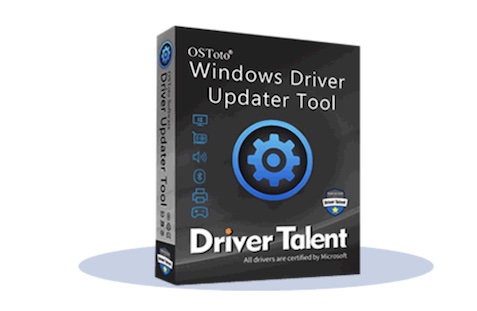 After you download and install the DriverTalent, your system will be automatically recognized by it. The application will then locate the appropriate drivers for your PC. DriverTalent PRO or FREE versions both allow you to automatically update your drivers. But, using the Pro version only takes 2 steps to finish. And it comes with a 30-day refund policy.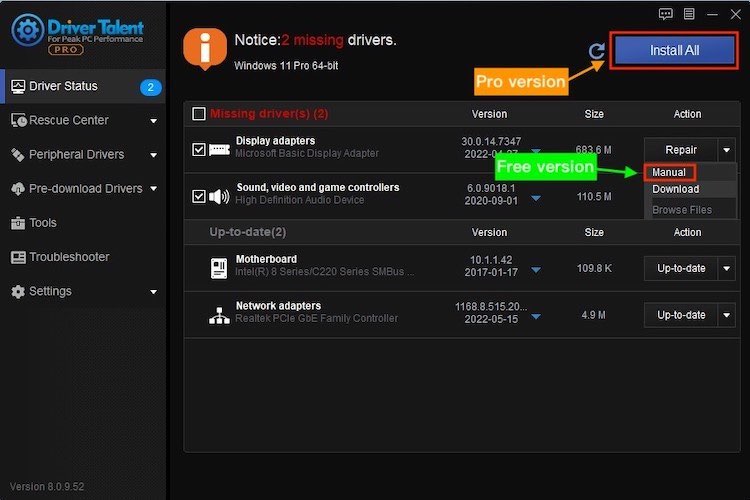 No matter what, you can leave all the driver problems to DriverTalent. Not just about drivers, DriverTalent has many other functions you can try on. Check this out:
Drivertalent can backup, restore and uninstall drivers for you, allowing you to easily manage the drivers on your computer.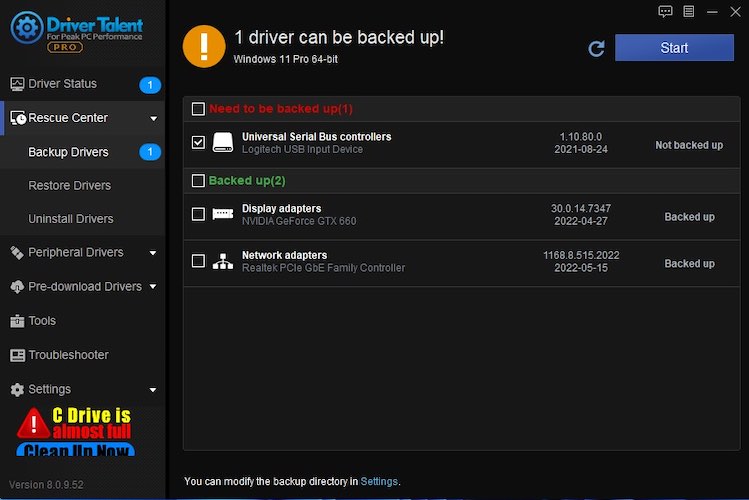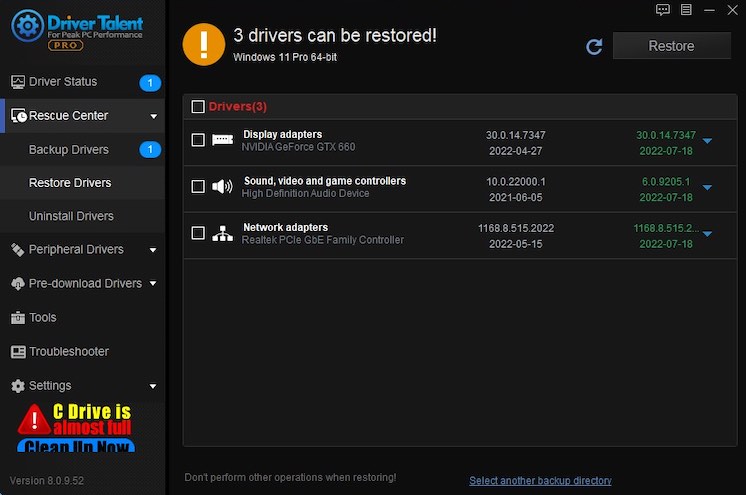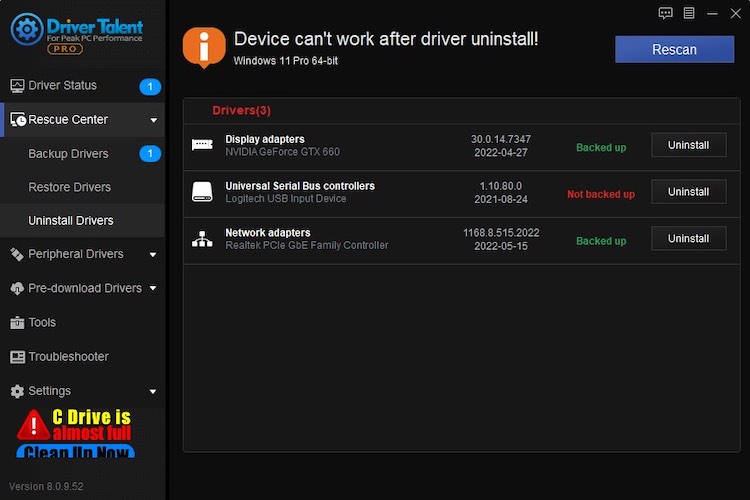 What are you waiting for? If you are interested, just click the button to download and try it.
✓The Pro version of DriverTalent comes with full technical support. If you have any technical questions, please have your visit on our Support site.
Check out other driver problems...
02 Audio driver problem
This issue is similar to the above one. Users have complained about a variety of driver problems and errors, including:
1. There is no wave device installed that can play files in the current format.
2. MIDI output fault detected
3. Your audio gear is unable to play files such as the present one.
Solution: re-install the audio driver
Follow the steps to do so:
1. Search Device Manager in Windows Search Bar.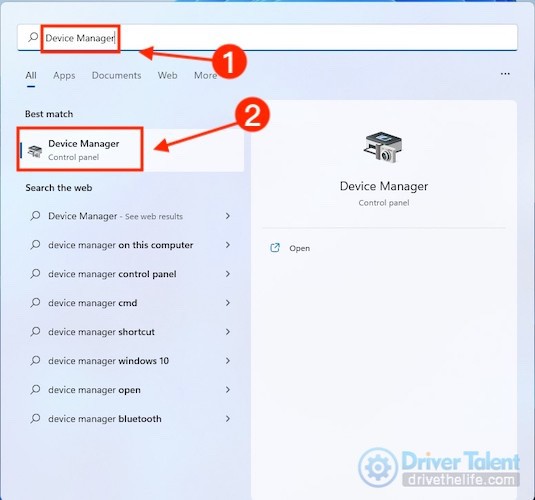 2. Expand Sound, video and game controllers.
3. Right-click sound card or audio device > choose Uninstall device > choose Uninstall.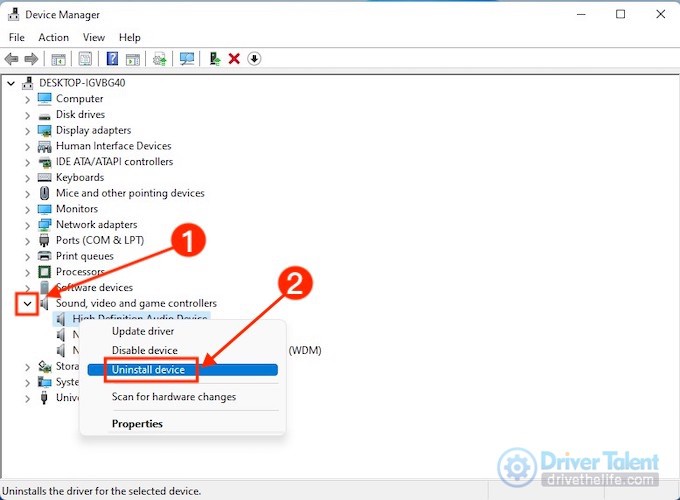 4. And Restart your PC.
5. As the PC restart, it will automatically prompt to re-install your audio driver.
Hope it would work, but if it doesn't, try updating the sound driver or using the generic audio driver that comes with Windows.
03 USB driver problem
Check out these common USB driver errors:
1. USB device not recognized
2. No USB Drivers Installed
3. Windows is unable to initialize the device driver for this hardware
4. Windows is unable to start the hardware device because the configuration information is damaged or it is incomplete.
... well, there are many error codes and messages that you may come across due to USB driver problems.
Solution: there are many solutions that you need to try to get rid of the USB driver not recognized error. Try updating or re-installing the device drivers.
04 Screen freezing problem
Problem Statement: Another prominent problem that users always complain about Windows 11 computers is the screen freezing issue. A sluggish, slow, or frozen computer screen can be a result of multiple underlying issues.
When too many programs are running simultaneously, the system drivers are overloaded, or the RAM is not having enough space, then the computer might end up giving you freezing screen issues.
Solution: To check if the screen resolution or the system is having loading or freezing problems due to memory issues, you can run a memory diagnostics and upgrade the RAM if needed.
05 Keyboard not working
Laptop keyboards can occasionally become inoperable. The error can often be traced to a Windows update patch (KB4074588 patch) or to problems with keyboard drivers.
Solution: Updating and re-installing keyboard drivers may resolve your issue.
---
Anyway, I hope you can find a suitable way to solve your problems. If you have any questions or suggestions, please contact us.
Recommended Download