Windows 10 October 2018 Update Re-released
Jun. 24, 2022 / Updated by Bessie Shaw to News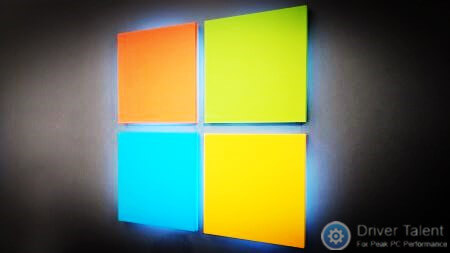 The tech giant Microsoft paused the rollout of the Windows 10 October 2018 Update (also known as Windows 10 version 1809) due to some serious issues reported after updating such as the data loss issue in early October. And today, the company declares beginning to re-release the Windows 10 October 2018 Update, accompanied by the release of cumulative updates KB4467708 (OS Build 17763.134) and KB4464455 (OS Build 17763.107).
It takes the company more than a month to investigate and resolve all related issues. Microsoft seems to have become more cautious after the last failed push. As we know, Windows 10 April 2018 Update had the fastest rollout velocity but problems abound. This time, the company takes a different and more measured approach to the rollout of Windows 10 October 2018 Update, which is called "Windows as a Service". It is the first time that Microsoft took such an action. It seems that the company is aware of the importance of testing. Therefore, it slows the rollout of Windows 10 October 2018 Update this time.
Note: If you want to know more about the Windows 10 quality approach "Windows as a Service", click here to read the complete note.
"As with all Windows releases, we will continue to carefully study the results, feedback and diagnostic data before we begin offering the update in phases to more devices in the coming weeks and months.
While the April Update had the fastest Windows 10 update rollout velocity, we are taking a more measured approach with the October Update, slowing our rollout to more carefully study device health data. We will offer the October Update to users via Windows Update when data shows your device is ready and you will have a great experience. If we detect that your device may have an issue, such as an application incompatibility, we will not install the update until that issue is resolved, even if you 'Check for updates,' so you avoid encountering any known problems. For those advanced users seeking to install the update early by manually using "Check for updates" in settings, know that we are slowly throttling up this availability, while we carefully monitor data and feedback." Microsoft explains.
As far as it is concerned, you may not receive the push immediately but will receive it gradually as Microsoft gathers up the installation and upgrade data. This might be a good thing for users. At least the stability should be better than before.
Read Also:
How to Get the Windows 10 October 2018 Update?
If you have turned on the automatic update option in Windows Update settings, Windows will automatically download the October 2018 Update and ask you to install it once the update is ready.
If you have turned off the automatic update option, you can take the steps below to get the October 2018 Update manually. Do as follows.
Step 1. Press Windows + I to launch Windows Settings.
Step 2. Click on Update & Security.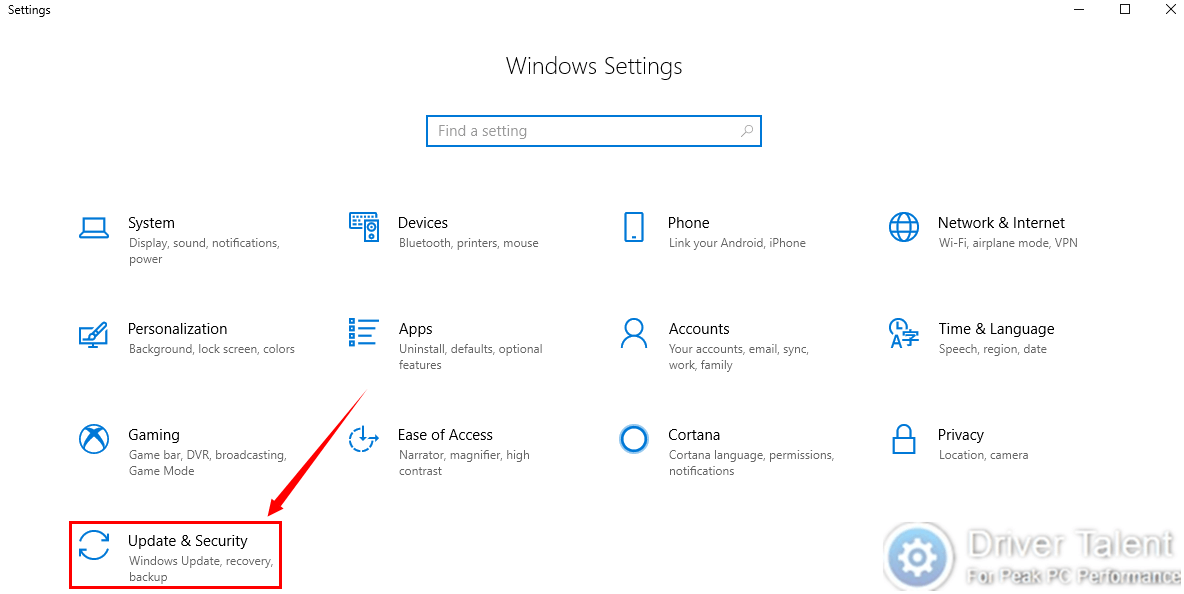 Step 3. Click on Check for updates.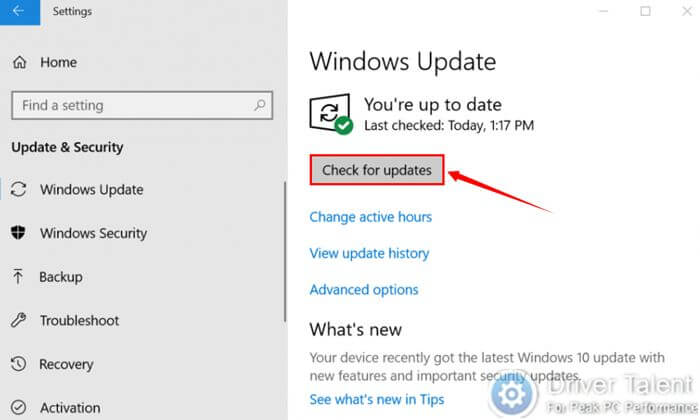 Or you can type "Check for updates" into the search box in the taskbar to access to the Windows Update interface. And then also click on Check for updates to begin seeking the update.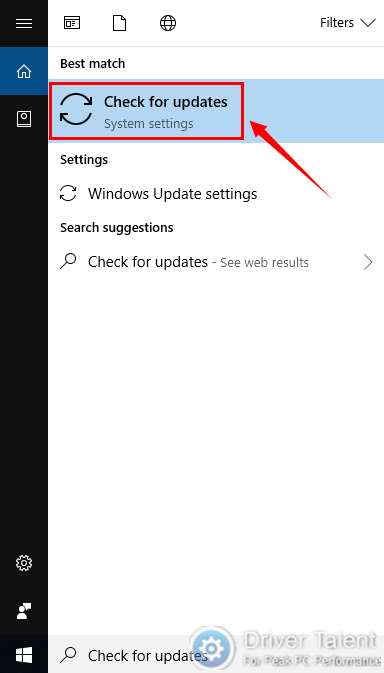 Note: If your device cannot detect the Windows 10 October 2018 Update via "Check for updates", it may mean that there is a compatibility issue on your device. You'd better wait until the issue is resolved.
How to Update Device Drivers for Windows 10 October 2018 Update?
After installing the Windows 10 October 2018 Update successfully, you may need to update all your device drivers to make them compatible with your new system. It is not easy to update all the drivers at once. It will take you a lot of time and energy. To save your time and update all the drivers safely, you'd better use a professional driver update tool like Driver Talent. It will automatically download and install the best-matched drivers for your device. Click on the Download Now button below to grab it directly and take the following tutorial to update your drivers with Driver Talent right now. No viruses.
To update device drivers for Windows 10 October 2018 Update with Driver Talent, do like this:
Step 1. Launch Driver Talent and click on the Scan button to start the scanning process. Then all your outdated, corrupted and missing device drivers will be identified within seconds.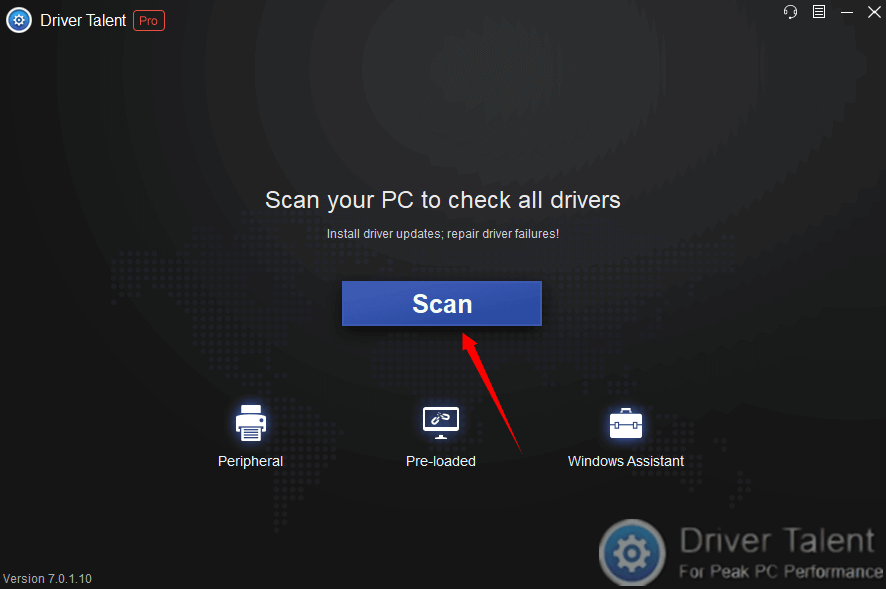 Step 2. Click on the Update button in the right of the drivers which are detected as outdated to update them.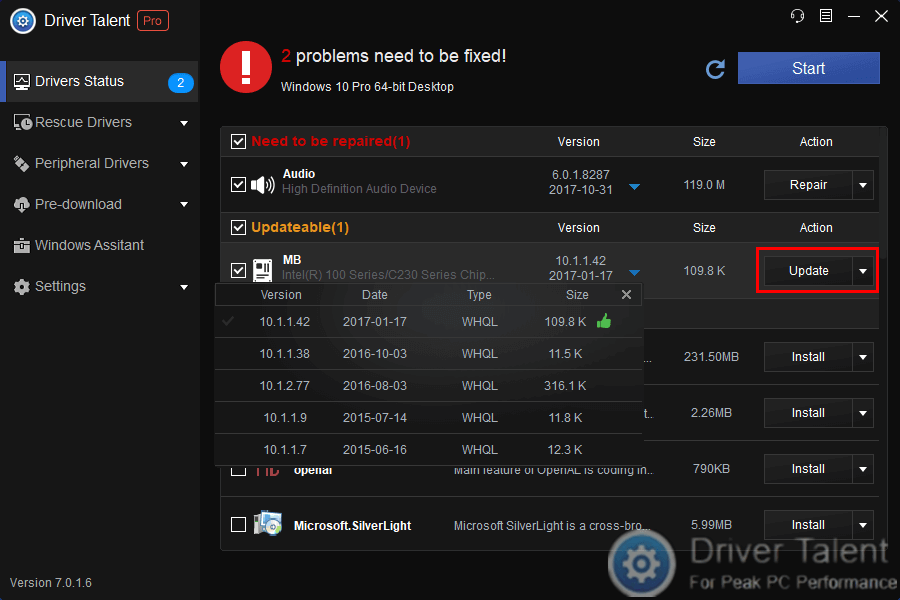 Step 3. Reboot your computer after completing the update process.
Welcome to share your views on the Windows 10 October 2018 Update in the comment section below with us. If your computer runs into issues after installing the Windows 10 October 2018 Update, you can search for the common fixes in the Windows 10 section on this site.
Recommended Download