Windows 11 Green Lines Full Screen
Jul. 27, 2022 / Updated by Hope Law to Windows 11
The full screen of green lines is too frightening. Look down quickly, and hope it can be solved as soon as possible.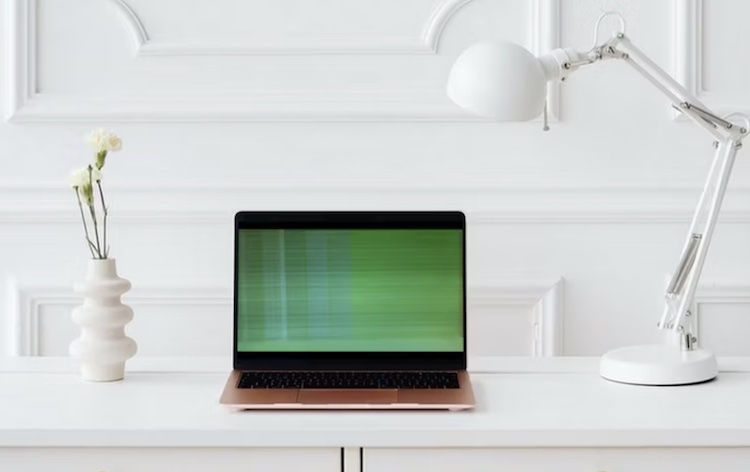 It is frightening to see flickering lines on a screen, whether they are horizontal or vertical. The majority of the time, our initial reaction is to believe that the computer will crash or that the monitor has experienced an irreparable problem.
Usually, these lines are red, black, or green. They could have a similar appearance, yet they could have distinct causes. The troubleshooting steps you can try if your screen has green horizontal lines are mentioned below. The first step will be to identify the reason, which could be either a software or hardware problem.
01 Differentiate if it is a hardware or software problem
Your computer screen may display green horizontal lines as a result of hardware or software issues. You must ascertain whether the problem is software or hardware-related in order to ensure that the proper remedies are applied.
First things first, unplug your monitor cable and then correctly re-plug it in to see if it makes a difference. If it doesn't work, try first removing the driver for your display using Device Manager.
By hitting Win + X and choosing Device Manager, you can start the Device Manager. Expand the Monitors section once it has opened.
You'll notice a few entries here if you have more than one monitor. Verify the model number of the monitor that is having a problem, then use the right-click menu to select Uninstall.
Once the monitor driver has been removed, restart your computer after shutting it down. The display driver will automatically reinstall itself after a reboot. This should resolve the problem if the monitor driver was the cause.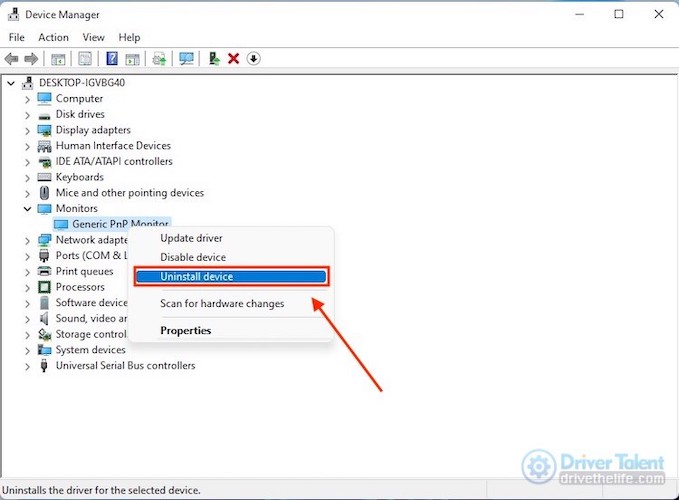 Problem is hardware related:
You might try a different set of monitor cords if the hardware seems to be the cause of the problem. You can also connect the monitor to a different computer to see if the problem persists there.
If the other computer also displays green lines, a technician should examine your screen to see whether it needs to be repaired or replaced.
02 Update your graphics driver
Using an outdated or incompatible graphics driver may cause some issues on display. So, you can try to update the graphics driver on your PC.
You can manually download the GPU driver from the manufacturer's website (eg. AMD or Nvidia) after determining the manufacturer, model, OS version, and system type of your graphics card. If you don't have that much time, patience, or ability to do so, DriverTalent can easily do it for you automatically.
Your system will be automatically recognized by DriverTalent, which will then locate the appropriate drivers for it. DriverTalent PRO or FREE versions both allow you to automatically update your drivers. But, using the Pro version only takes 2 steps to finish. And it comes with a 30-day refund policy.
1. Download and install DriverTalent.
2. Run DriverTalent and click Scan button, DriverTalent will then scan your PC to find any problematic drivers.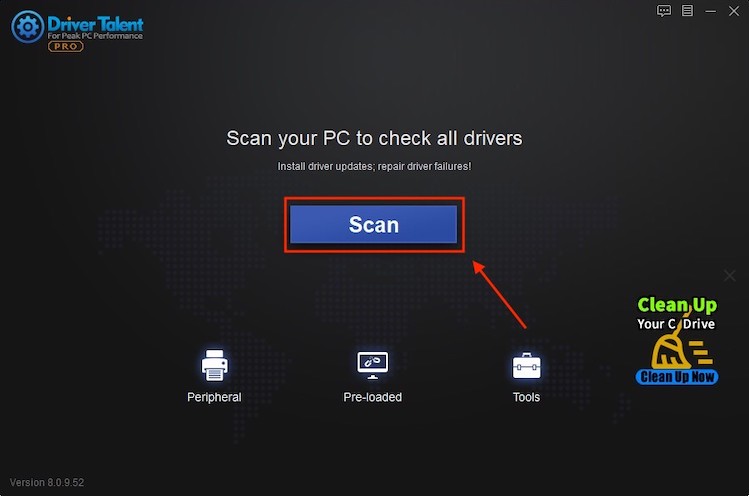 3. Click Install All to automatically download and install the most recent versions of all the drivers that are missing or out of date from your system. (This step requires the Pro version. When you click Install All, you'll be asked if you want to upgrade).
Alternately, you can click Manual button on the right side of each drivers, to automatically download the right version of that driver, then you can manually install it (you can do this with the FREE version).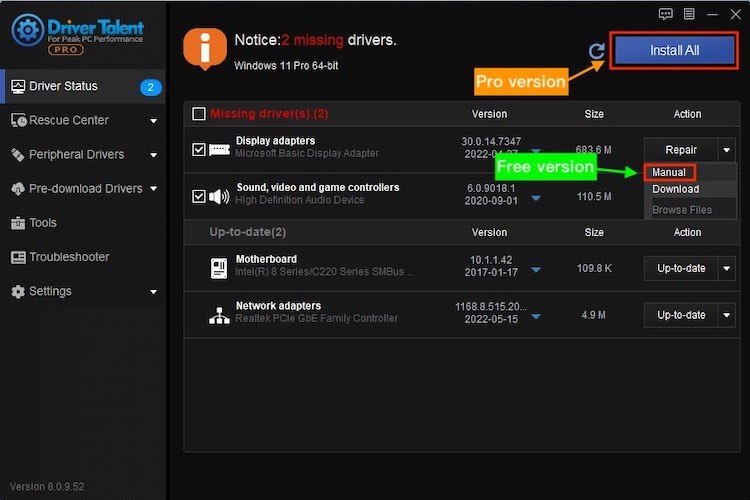 DriverTalent offered a 30-day Money Back Guarantee. We promise that all of your money will be immediately refunded if you discover that the application recognized your hardware as available but was unable to supply an available device driver after scanning it for you.

✓The Pro version of DriverTalent comes with full technical support. If you have any technical questions, please have your visit on our Support site.
Restart your computer, see if anything has changed. If the problem has not been solved, then we have to try the next method.
03 Adjust your screen resolution
If you're using the wrong resolution for your monitor, green bars can show up. Search online for your monitor model or get a copy of its user manual to learn what resolution it prefers because different sized displays have varied optimal resolutions.
Once you are aware of the idea resolution, take the following actions:
1. Search Settings in Windows Search Bar.
2. Head over to System > Display and scroll down in the following window.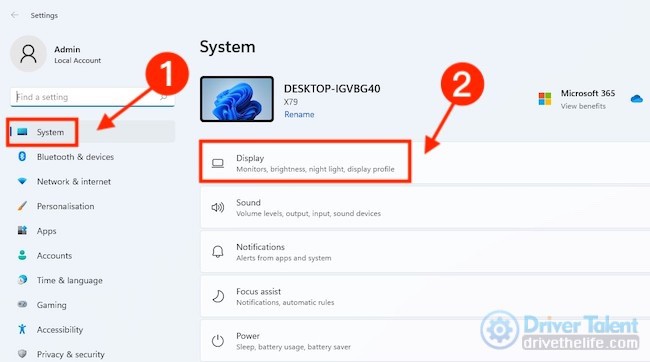 3. Expand the dropdown for Change the size of text, apps, and other items and choose 100%.
4. Next, expand the dropdown for the Display resolution and choose your monitor's preferred resolution.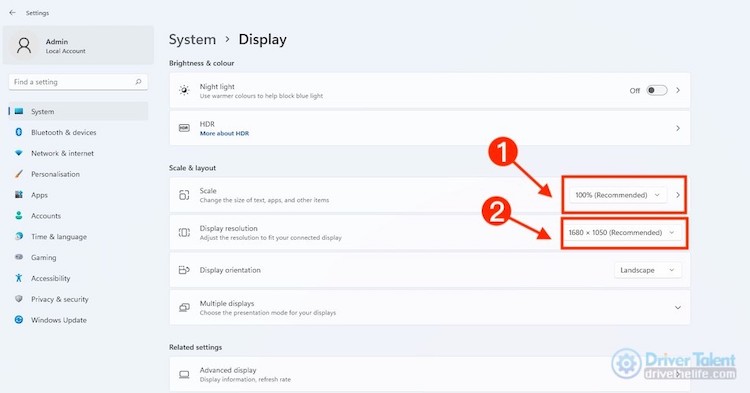 ---
Get Rid of the Green Lines for Good
The most terrifying problems are display-related because they can be caused by either hardware or software problems, and if they are hardware-related, they might cost some money and effort to fix. I hope one of the approaches above helped you fix the issue or at the very least determine its root.
Recommended Download