Fix with Windows 11/10 drivers disconnect problems
Mar. 08, 2023 / Updated by Renata to Windows Driver Solutions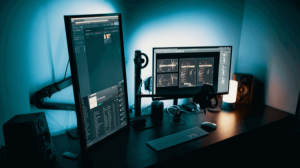 As the saying goes, if you know yourself and your enemy, you will never be imperiled in a hundred battles.
Are your drivers disabled from time to time and you have no idea how to prevent it? Does your computer often have system problems?
This article will introduce reasons that cause drivers unstable so that you can fix your computer yourself.
What is driver?
A driver is a small piece of code added to an operating system that contains information about a hardware device with which the computer can communicate.
The driver is a configuration file written by the hardware manufacturer according to the operating system. It can be said that the hardware in the computer cannot work without these drivers. It is the communication bridge between hardware and computer system.
Different operating systems have different hardware drivers, and each hardware manufacturer will continuously upgrade the drivers to ensure hardware compatibility and enhance hardware functions. Driver versions are also updated over time. For example NVIDIA(a well-known chip company) will upgrade the graphics card driver 2-3 times a month on average.
Whenever installing a hardware device that does not belong to your computer, the system will ask you to install a driver to connect the new hardware to the computer system.
For example the audio and earphones are not broken, but there is no sound when the computer plays video or music, there is likely a problem with the sound card driver.
How to solve the problem that the computer graphics card keeps disconnecting?
Takes graphics card driver as an example.
If the CPU device is uninstalled automatically by the system, it properly be caused by the files conflicts or the PSU(power supply unit) being unstable. Sometimes, the computer's overworking would cause CPU unwork.
The first step to be done is to troubleshoot the cause of the hardware damage to the graphics card: exchange your graphics card for another computer. If it works, then there is a problem with the system software or driver.
As the reason that users have installed a new application or updated system, the original files and data changed would cause a driver to be lost or disabled by the system.
How to solve the problem that a game with no audio?
The first thing is to re-plug your audio configuration and make sure it was not caused by physical damage. After completing this step, it can be confirmed that there is an internal problem in the system, which is easy to solve: That is to fix your driver information(restore sound card driver or update it)
For the same way.
How to solve the problem that USB devices not being recognized?
If you have also experienced a situation that the mouse, keyboard, external printer, and other devices cannot be recognized, how did you solve it? Have you checked the cause online and tried to fix it yourself? Now there is the easiest way to solve all driver problems with one-click installation, no need to spend time looking up answers online.
How to maintain drive security, once and for all?
The most efficient way is to download Driver Talent which offers free drivers scanning function. And you do not need to check what's going on with your computer. All driver problems will be fixed by Driver Talent.
Drive life supports all brands of motherboards, graphics cards, sound cards, network cards, modems, cameras, wireless, printers, scanners, card readers, array cards, Bluetooth, tablets, readers, USB interfaces, 1394. Identify and drive devices such as Bluetooth, Display, Image, MEDIA, Modem, Net, PCMCIA, SCSIA adapter, Smart Card Reader, System, MODEM, serial ports, and parallel ports.
Driver Talent is available for Windows 11, Windows 10, Windows 8, and is also suitable for desktop as well as laptop computers.
Driver Talent stores hundreds of driver versions. It will recommend you download the best driver for the computer application, unlike other driver updater which has only one driver version to download.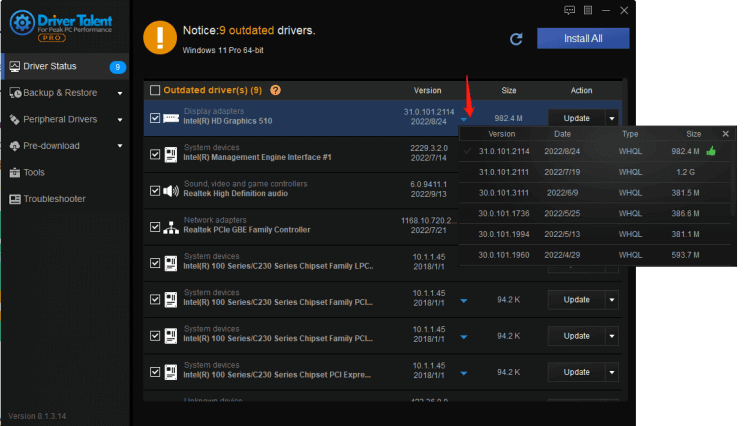 Does it affect the driver every time when changing the computer settings?
Driver Talent can prevent this situation!
Driver Talent can back up your drivers before you changed your system settings. You only need to backup the drivers and restore them after changing.
First, backed-up drivers.

Second, if your setting changed drivers occasionally, select the drivers to restore.
With one driver talent, you do not need to enter into the device manager to update drivers yourself, nor do you not need to enter the system background input program and wait for the system to repair.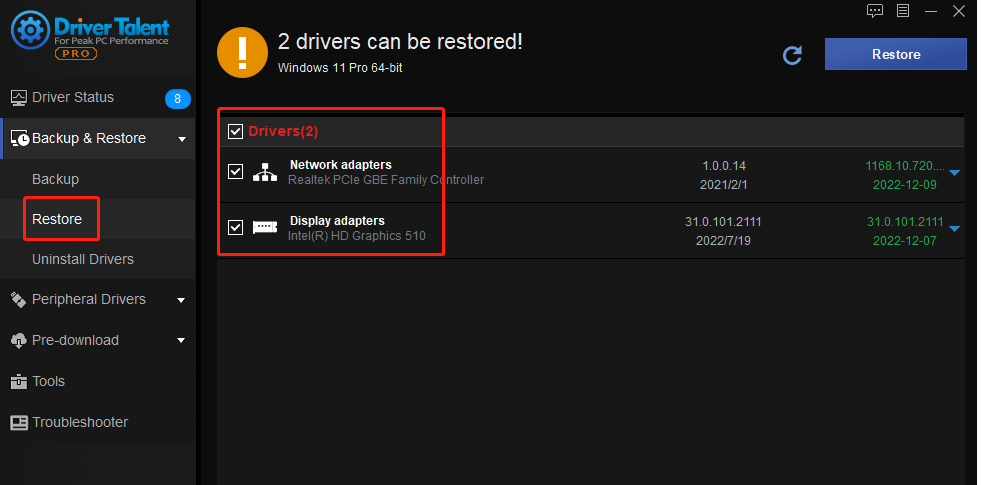 This driver updater, Driver Talent, updates the driver information/version at least once a month. It also reminds users which drivers need to be updated timely, which can avoid affecting the normal use of the computer due to the low version of the driver and provide a better using experience.
Recommended Download