[Tech Savvy] 6 Best Tips to Fix HP/Acer Laptop Won't Turn On
Jul. 26, 2023 / Updated by Eloise to Windows 10
Are you facing the dreaded HP/Acer laptop won't turn on issue? If so, you are not alone. Many HP and Acer laptop users have encountered this problem and wondered how to fix it. Don't worry, we have some good news for you. There are some simple and effective tips that you can try to get your laptop back to life. In this article, we will show you how to fix HP/Acer laptop won't boot issue and help you avoid this headache in the future.
Tip 2: Remove the battery and press the power button
Tip 1: Check the power supply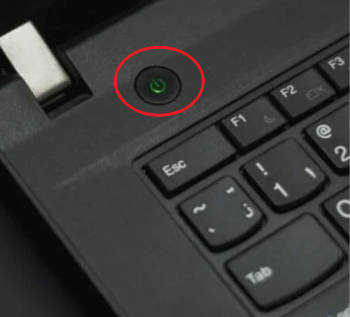 The first thing you should do is to check the power supply of your laptop. Make sure that the power cord is plugged in properly and that the power outlet is working. You can test the outlet by plugging in another device. If the power LED on your laptop does not light up when you connect the power cord, you may have a faulty power adapter or a damaged power jack. You can try using a different power adapter or a different power outlet to see if that helps. If not, you may need to replace the power adapter or repair the power jack.
See also Top 4 Fixes for Windows 10 Boot Loop after Fall Creators Update Problem
Tip 2: Remove the battery and press the power button

Another possible reason why your HP/Acer laptop won't turn on is that the battery is drained or defective. To rule out this possibility, you can try removing the battery from your laptop and then press and hold the power button for about 30 seconds. This will discharge any residual electricity on your motherboard and reset your laptop. Then, reconnect the power cord and try to turn on your laptop without the battery. If your laptop turns on, it means that your battery is the problem and you need to replace it. If your laptop still does not turn on, you can put the battery back and move on to the next tip.
Tip 3: Cool down your laptop
Sometimes, your HP/Acer laptop won't turn on because it is overheated. Overheating can cause your laptop to shut down automatically and prevent it from turning on again until it cools down. To avoid overheating, you should make sure that the cooling vents on your laptop are not blocked by dust or debris and that there is enough airflow around your laptop. You can also use a cooling pad or a fan to help dissipate the heat. If your laptop is too hot to touch, you should let it cool down for a while before trying to turn it on again.
Tip 4: Check the screen
If your HP/Acer laptop seems to be turning on but you don't see anything on the screen, you may have a problem with the display. The display may be dimmed, broken, or disconnected from the motherboard. To check if this is the case, you can try connecting an external monitor to your laptop via HDMI or VGA port. If you see something on the external monitor, it means that your laptop screen is not working properly and you need to repair or replace it. If you don't see anything on either screen, you may have a more serious problem with your motherboard or graphics card.
Tip 5: Update drivers
If the above methods don't work, the cause of HP/Acer laptop won't turn on issue might be outdated, corrupted, or missing drivers. Drivers are essential software components that enable your hardware devices to communicate with your operating system. If your drivers are not up to date or compatible with your system, they may cause conflicts and errors that prevent your laptop from booting up properly. To fix this problem, you need to update your drivers regularly and make sure they are working correctly.
See also Windows 10 Stuck on Boot/Splash Screen – How to Fix
However, you may not know which drivers are outdated or how to find and install the right ones for your system. You may also end up installing wrong or malicious drivers that can damage your system further. That's why we recommend using Driver Talent, a professional and easy-to-use driver updater tool that can help you solve all your driver issues with one click. It can scan your computer for all drivers and find out which ones are outdated, corrupted, or missing. It then will download and install the best-matched drivers for your system quickly and safely. With Driver Talent, you can keep your drivers up to date and ensure that your HP/Acer laptop runs smoothly and efficiently.
Step 1: Download and install Driver Talent on another working computer.
Step 2: Launch Driver Talent and click Tools.
Step 3: Choose Pre-download Drivers for Another PC option.
Step 4: Choose the hardware profile (the pre-download file), the download directory, in which the downloaded drivers will be saved (the default directory folder is recommended), and click Scan.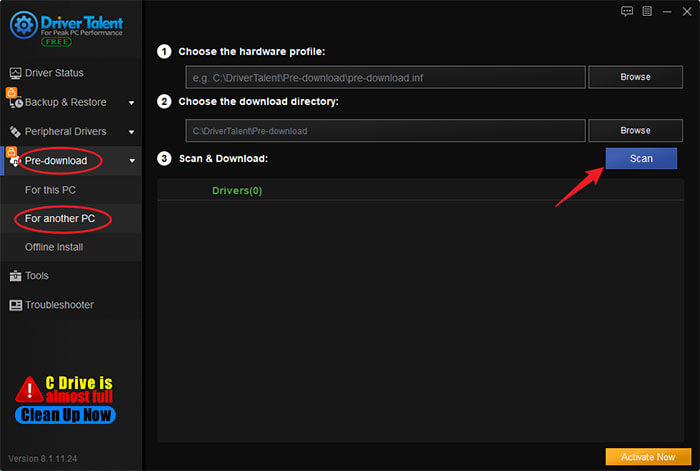 Step 5: Click Download button to download all drivers in a ZIP file. After download is done, you will see all the drivers are saved in the download directory.

Step 6: Copy the ZIP file to a USB flash drive or an external hard drive.
Step 7: Connect the USB flash drive or external hard drive to your HP/Acer laptop.
Step 8: Extract the ZIP file and run the setup.exe file to install the drivers.
Restart your HP/Acer laptop and see if it turns on normally.
Tip 6: Reset the CMOS
The CMOS (complementary metal-oxide-semiconductor) is a small chip that stores the BIOS settings and the system clock. Sometimes, the CMOS may get corrupted or misconfigured, causing your laptop to fail to boot. To fix this, you can try resetting the CMOS by removing the CMOS battery from your laptop's motherboard for a few minutes and then putting it back. This will clear the CMOS memory and restore the default BIOS settings. To do this, you will need to open your laptop's case and locate the CMOS battery, which is usually a round silver coin-like battery. Be careful not to damage any other components while doing this. You may also need to consult your laptop's manual or manufacturer's website for specific instructions.

You may also like
Recommended Download