How to solve HP Computer restarts unexpectedly
Jun. 24, 2022 / Updated by Daphne to Windows 10
This article applies to HP and Compaq computers and tablets with Windows 10.If Windows restarts suddenly without warning or when you are trying to shut down the system, this may be caused by a problem. You can use the information in this article to troubleshoot unexpected computer restarts.
If the computer restarts unexpectedly and the Windows system cannot be opened, please consult one of the following websites for steps to solve the problem:
Windows restarts for no reason
Please follow the steps in this article in order until the problem is resolved.
Way 1. Check for hardware failure
Hardware problems can cause the computer to restart unexpectedly. For more information about checking for hardware problems, please visit Test Hardware Failure.
Note: The cause of hardware failure is usually high heat in the computer. Over time, the heat dissipation area may be blocked by accumulated dust, causing the temperature inside the chassis to rise significantly. For more information, please refer to reducing internal heat of notebook computers to prevent overheating for notebook computers, or computer overheating prevention for desktop computers.
Way 2. Reinstall the graphics driver and motherboard driver
There are two ways to reinstall the driver: you manually install it through the official website and one-click installation using the driver talent.
Now I will introduce you the most convenient and quick way to install the driver that suits you.
Step 1. Download Driver Talent and go to the Rescue Center.
Step 2. Select uninstall and restart your computer.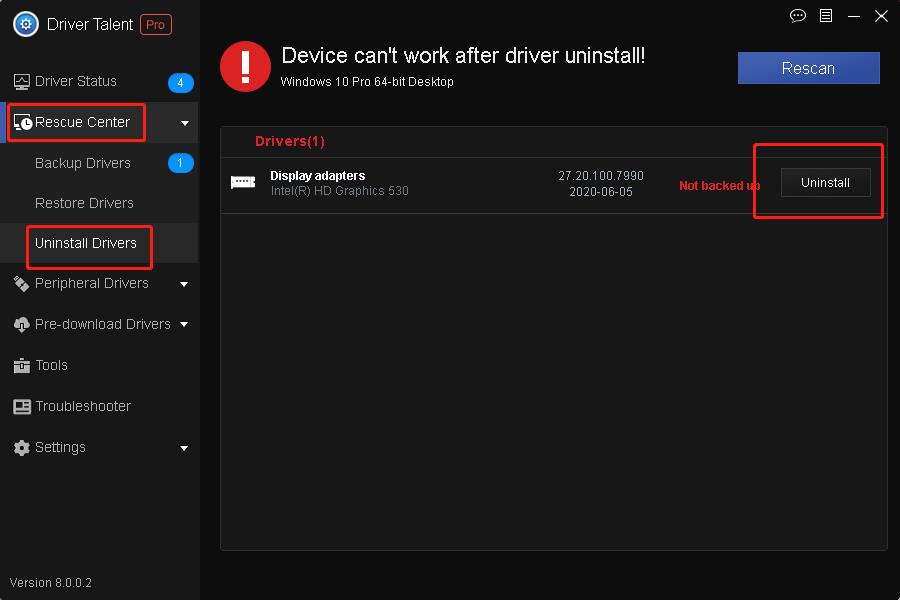 Way 3. Disable the "Automatic restart" option and check the error message
Many hardware driver or operating system errors can cause the computer to display an error message and then stop running or shut down. However, if the automatic restart option is enabled, the error message may not be displayed despite the error. Disable this option to allow the computer to display error messages.
Please follow the steps below to disable the "Automatic restart" option:
Step 1. On a Windows computer, search for and open to view advanced system settings.
Step 2. Click "Settings" in the "Start up and Recovery" section.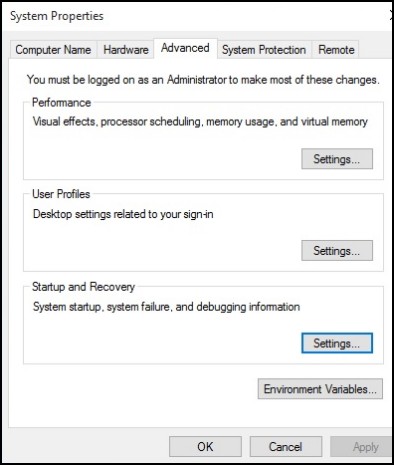 Step 3. Remove the check mark next to automatically restart in system failure, and click OK.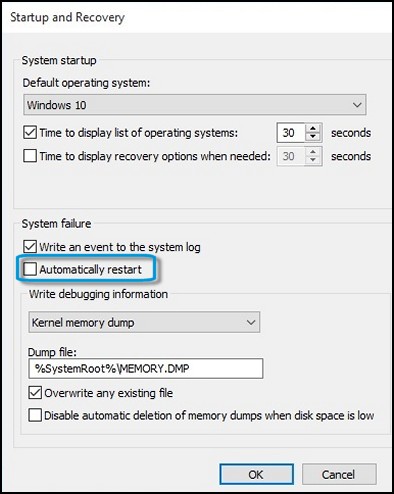 Step 4. Restart the computer.
Way 4. Restore your computer
If none of the above methods solve your problem, maybe trying to reset your computer will save you from this problem. For details, please see:
https://support.microsoft.com/en-us/windows/recovery-options-in-windows-10-31ce2444-7de3-818c-d626-e3b5a3024da5
Note:This method may cause you to lose some important files, so please back up your computer before proceeding.
Also see:
How to solve the win10 display driver has stopped responding and has recovered
Recommended Download