Microsoft has issued a repair patch specifically to solve APC_INDEX_MISMATCH errors or blue screen issues
Jun. 24, 2022 / Updated by Daphne to News
Last week, Microsoft confirmed that the Windows 10 March patch KB5000802 may cause some printers (Kyocera, Ricoh, etc.) to experience APC_INDEX_MISMATCH errors or blue screen problems. In some cases, KB5000802 also caused software printing errors, affecting LibreOffice, Notepad, print to PDF, etc. At that time, only temporary solutions such as uninstalling the patch and shielding the driver were given. This morning, the official repair patch KB5001567 for v2004/20H2 was released. After the upgrade, the operating system version number is updated to 19041.868 and 19042.868. Related users can go to the update in the settings Check the patch with security. In the optional update directory, if everything is normal for the print task, you can temporarily ignore it.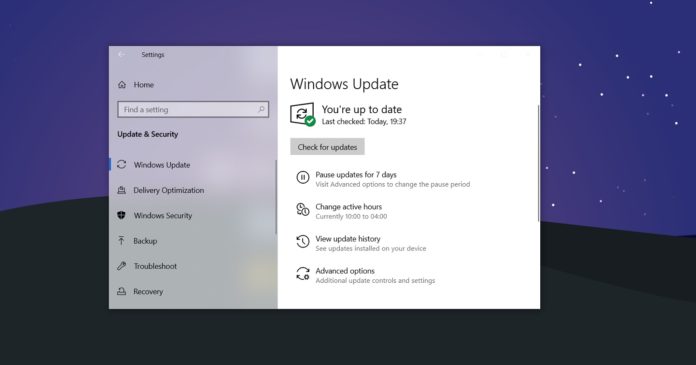 Download link for Windows 10 KB5001567
Windows 10 KB5001567 direct download link: https://www.catalog.update.microsoft.com/Search.aspx?q=KB5001567
APC_INDEX_MISMATCH fix for Windows 10 version 1909, version 1809 and earlier versions
For devices on older versions of Windows 10, new optional patch updates are also available for your device.
If you are still using version 1903/1909, Microsoft says that your device will receive Windows 10 KB5001566 to resolve the issue that may cause a blue screen "APC_INDEX_MISMATCH" when printing to certain printers using the application.
The following is a list of all cumulative updates released to resolve the "APC_INDEX_MISMATCH for win32kfull.sys" error:
Windows 10 version 20H2/2004 – KB5001567

Windows 10 version 1909/1903 – KB5001566

Windows 10 version 1809 – KB5001568 (Enterprise and Education Edition)

Windows 10 version 1803 – KB5001565 (Enterprise and Education Edition)
How to get the fix immediately
We strongly recommend that you back up the drivers you downloaded before before performing every Microsoft update, otherwise your device may not work normally due to driver conflicts
Use Driver Talent
You can also use professional driver backup utilities, like Driver Talent, to backup drivers on either 64-bit or 32-bit Windows 10, 8.1, 8, 7 and Vista. The utility is available via the button below:
It can backup Windows drivers for all laptops or desktops, such as Dell, HP, Lenovo, Asus, Acer, Microsoft, IBM, MSI, Samsung, Toshiba, Alienware, Sony, Compaq, Gateway, LG, etc.
Here is how:
1. Launch Driver Talent after you install it. Click the Tools to open the Backup menu. You'll see a list of backup-able drivers on the right-pane.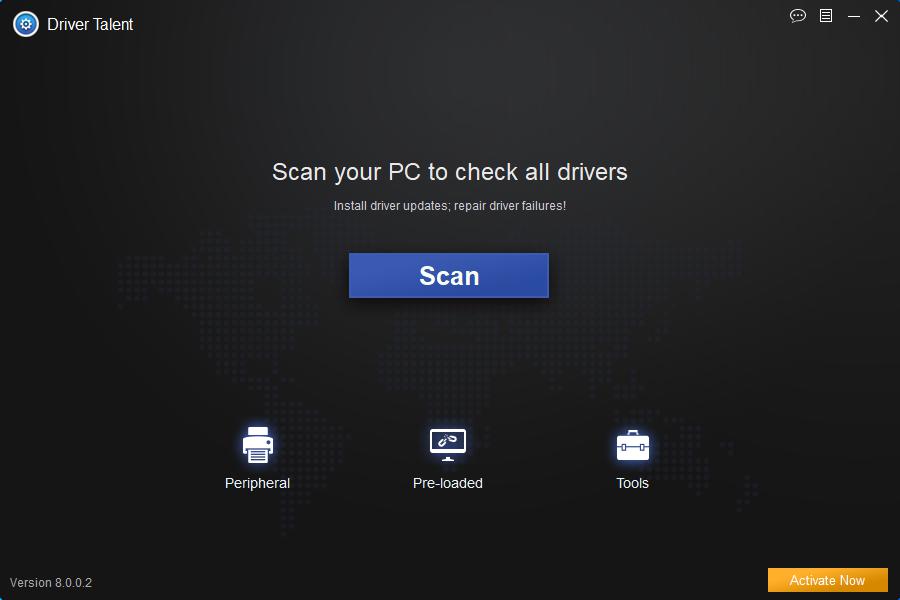 2. Check all the drivers and click the Start button to begin backing up the drivers. All the backed-up drivers are stored in a default folder. You are allowed to modify the backup directory in Driver Talent Settings.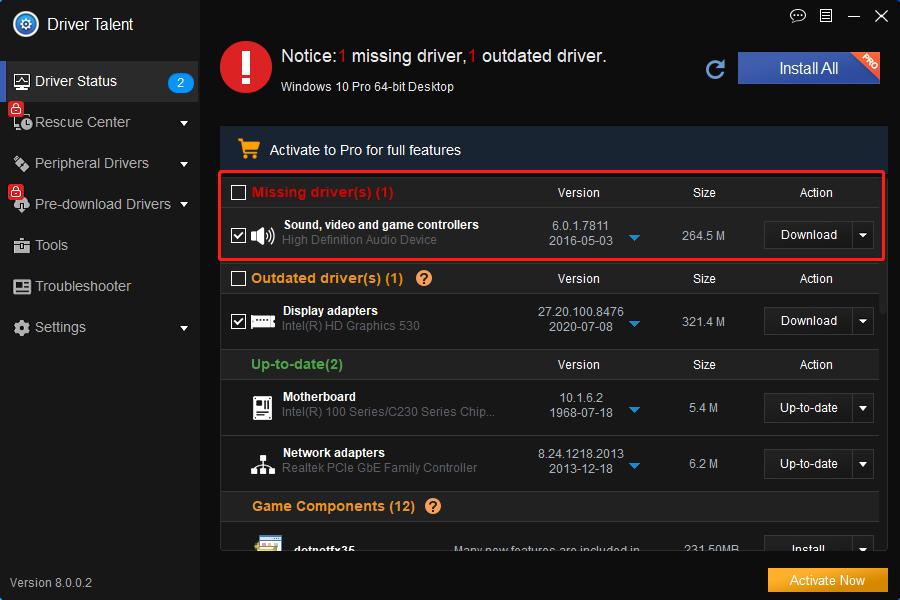 If you want to restore the drivers when the computer runs into driver issues, you can also use Driver Talent to make it. See: Top 2 Ways to Restore Driver on Windows 10/8.1/8/7/XP/Vista
A. downloading it manually from Windows Update
This fix is currently marked as "optional", which means it will not be downloaded automatically, at least not automatically downloaded and installed on your computer. If you want the patch now, you can get the cumulative update by downloading it manually from Windows Update.
To fix the win32kfull.sys error, Microsoft recommends the following steps:
1. Open the settings.
2. Click "Check for updates.
3. Under the "Optional Updates" section, click "Download and Install" or you can access optional updates in the "Settings" app.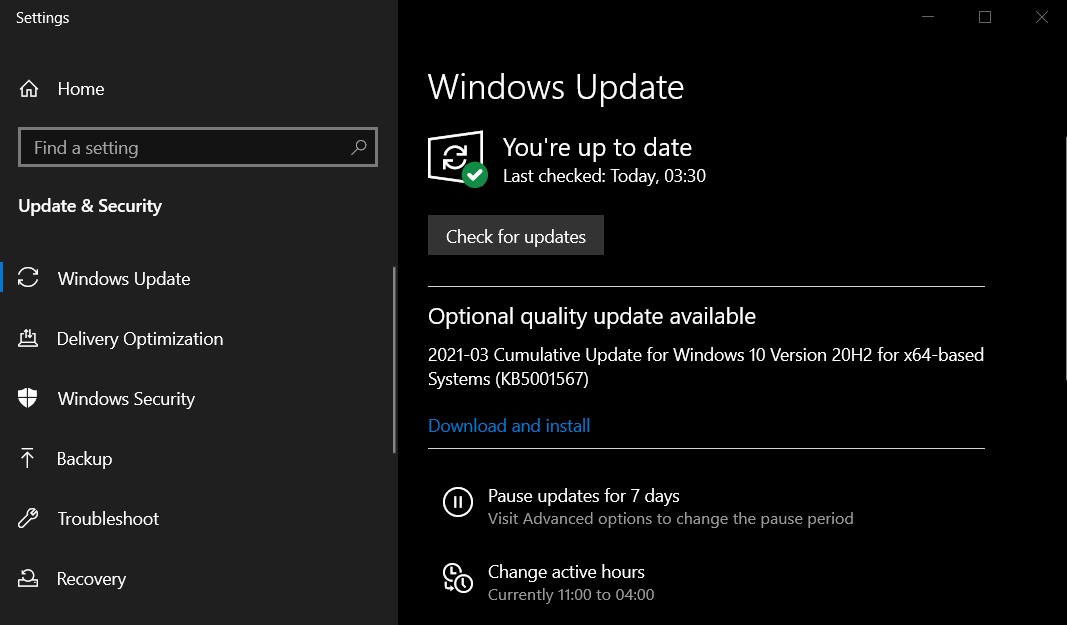 As you can see in the screenshot above, you can apply this patch by clicking the "Download and Install" button. After finishing, you need to restart the system, and then the printer will start working again.
B. downloading it directly from the Microsoft update catalog
The second way to get the cumulative update is to download it directly from the Microsoft update catalog, where you will find download links for 32-bit and 64-bit Windows 10 respectively.
Windows 10 blue screen cumulative update after March 2021
As we mentioned at the beginning, the new patch released on March 9 caused some users to experience a blue screen of death (BSoD) crash when clicking the "Print" option in some applications.
If your device is affected, it will immediately crash and display the following error message:
APC_INDEX_MISMATCH of win32kfull.sys
Microsoft said in a statement that the vulnerability only affected the "customer base", but users told us that various printers were affected. In user reports, we observed that the vulnerability is infecting printers of Kyocera, Ricoh and other companies. Now, it seems that you can apply out-of-band "optional updates" to resolve printing and blue screen errors. It should also be noted that Microsoft plans to include these patches in the April 2021 cumulative update (Tuesday Patch), which is currently scheduled to start on April 13.
Recommended Download