Windows 10 free download: How to get rid of Adobe Flash Player
Jun. 24, 2022 / Updated by Daphne to Windows 10
Microsoft stopped supporting Windows 7 as early as 2019, which means that Microsoft hopes that users can upgrade to Windows 10 to ensure safe and stable operation of the device. Buying the Windows 10 Home operating system through the Microsoft website now costs $139. But you don't have to pay for this: because Microsoft's technically terminated free upgrade offer in 2016 is still valid for many people. Although it takes more time to try this method, everyone who is currently in the New Year holiday can try it.
When Windows 10 was first released in July 2015, Microsoft offered an unprecedented free upgrade offer for Windows 7, 8 and 8.1 users, valid until July 2016. But in 2017, Ed Bott of CNET's sister site ZDNet said that the free upgrade tool's function is still there. I tried it in October 2020 and found that this tool can still be used.
"Microsoft has confirmed that the next update of Windows 10 will automatically remove Flash Player." - Microsoft
"Google urges Chromium developers to stop using Windows 7." - Google
It is known that Adobe flash player has been actively excluded by Windows 10, and Google confirmed that Windows 7 is no longer available for building Chromium, and Windows 10 is now required. Since Windows 7 is an unsupported operating system, when developers try to build their Chromium applications, a readable error message will be displayed. These messages are reminding you that now is your urgent time to use windows 10.
how to upgrade from Windows 7, 8 and 8.1 to Windows 10
Part 1. Back up your computer
Way 1. Mobile storage devices
If you want to back up the data on your mobile phone, there are actually many ways. The safer and easier to carry is to use some mobile storage devices, such as U disks or mobile hard drives.
As long as the data on the computer is copied to the mobile storage device, a backup can be made on it. If the data on the computer is accidentally lost, it can be retrieved on the mobile device.
Way 2. Cloud Disk
There are many online disk tools, and we can also upload the data directly to the online disk for backup.
(1) For example, with Baidu Cloud, you can log in to the web page directly, and you can see the option of "All files" on the left, and you can upload files according to classification.
(2) Click the "Upload" button, select "Upload File" or "Upload Folder", then you can select the file and upload the file to the network disk.
(3) Of course, we can also download Baidu SkyDrive directly on the computer, and then upload the file in "My SkyDrive".
Way 3. The system comes with backup
There is a built-in backup function in the Windows system, and we can also back up on the computer.
(1) Open "Control Panel-System and Security-Backup and Restore" in turn.
(2) After entering the next interface, in "Backup or Restore File", click "Setup Backup" on the right.
(3) At this time, a prompt box will pop up, indicating that Windows Backup is being started.
(4) Next, you can set the backup location. You can choose the disk partition for backup according to the actual situation. It is recommended to choose the largest capacity disk partition.
(5) Next is the backup content prompt box. If you have a better understanding of the Windows system, you can check "Let me choose", or you can check "Let Windows choose (recommended)" by default.
(6) At this time, you can see the backup summary, we click "Save settings and run backup" below. After completing the settings, Windows will automatically perform the backup work. Just wait patiently for the backup to complete.
Way 4. Driver Talent (Recommend)
When it comes to driver backup, OSToto Driver Talent is the powerhouse. It satisfies you with all features like free driver backup software, smart driver backup, system drivers backup, backup and restore drivers, professional, easy to use, one-click solution --- all the key works that erupt in your mind.
Free download and install Driver Talent on your computer. It will help to backup drivers for either 64 bit or 32 bit Windows OS. The more details you can see from /how-to-backup-driver-on-windows-10-8-7-xp-vista/
Part 2. update your computer
Step 1. Head for Donload Windows 10 site and select Download tool now.

Step 2. Open this app after downloading and You can see two options, please choose how to update according to your situation.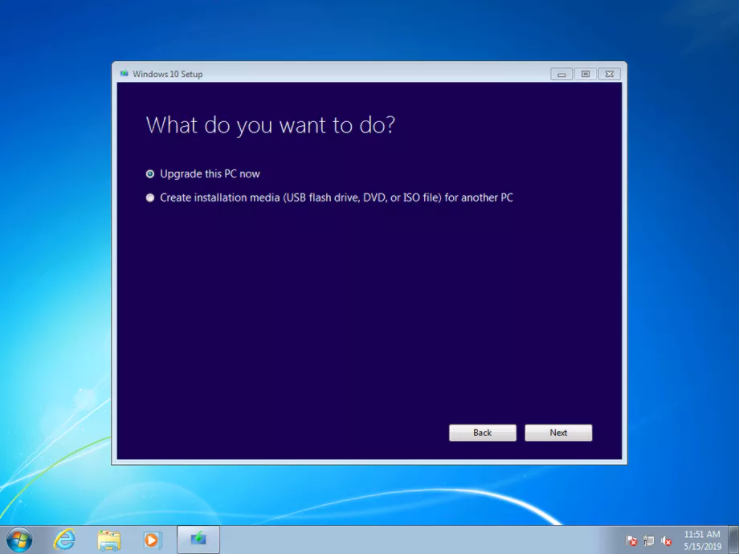 Step 3.You'll then be asked whether you want to keep your personal files or start fresh.
Remember: Do not keep your personal files in Personal Files(C:).
Step 4. Once the upgrade is complete, you should receive a digital license for Windows 10, which can be found under Settings > Update & Security > Activation.
Part 3. Update your drivers
Many users have reported that there will be black screen, "systems service exception, nvlddmkm.sys" and other error messages after the upgrade. This is caused by the incompatibility of your graphics card driver with windows 10, and you need to upgrade your graphics card driver.
Here we take Driver Talent as the example to illustrate the steps of updating/reinstalling your device driver.
1. Download and install Driver Talent on your computer.
2. Click Scan to check your driver status.
3. Click the corresponding button on the software to update or reinstall the driver for your problematic device.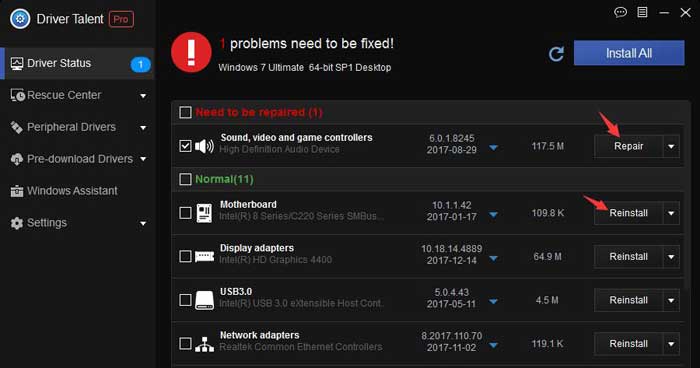 4. Reboot your computer to let the driver change take effect.
Note: Because everyone's computer configurations are different, you may encounter problems during the upgrade process. You can check the official Microsoft Windows 10 upgrade and installation error help!
Recommended Download